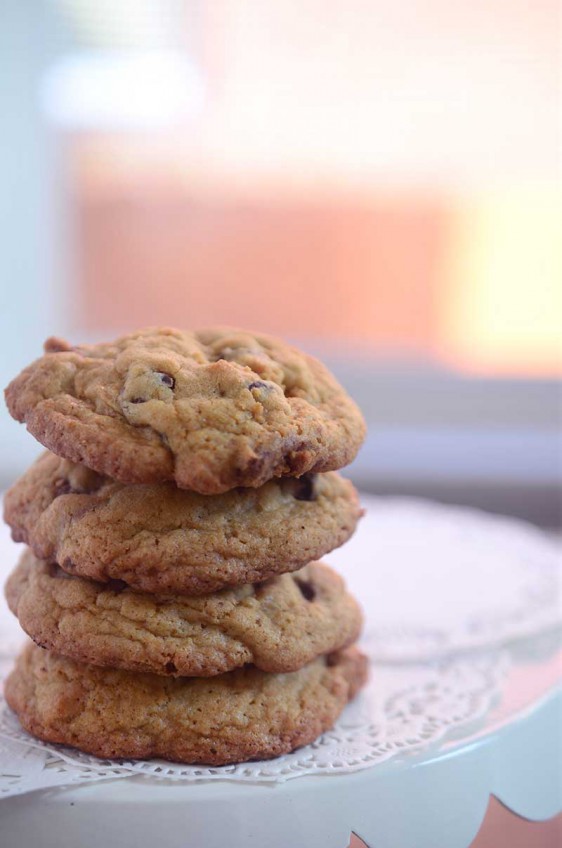 Peanut Butter Cup Chocolate Chip Cookies
Happy Monday everyone! And Happy November! Now that you have loads of leftover Halloween candy allow me to share this recipe with you. Peanut Butter Cup Chocolate Chip Cookies are a tasty and classic way to use up all those peanut butter cups that your little trick or treaters came home with.
How was your Halloween? Ours was full of family, friends (and Harry and Marv) and food as we celebrated Kellan's 4th birthday Nightmare Before Christmas Style complete with Jack Skellington Cake . I can't believe our little guy is already four. It doesn't seem like that long ago that they put that little 7 pound baby in my arms for the first time. Now he's running around, playing video games with daddy, helping me in the kitchen. And when I asked him the question in his birthday book "what makes you the most happy?" He said, without skipping a beat. "Kissing a girl."
…
Basically he'll be in college next week.
Giving his mother heart attacks aside, he's turned into such a loving, kind little guy. He loves to read, loves to play, LOVES his baby brother and loves loves loves anything peanut butter and chocolate.
These Peanut Butter Cup Chocolate Chip Cookies are his favorite, obviously.
And they are kind of my favorite too. There isn't anything out of the box crazy with these Peanut Butter Cup Chocolate Chip Cookies, it's my classic chocolate chip cookie recipe with just a few tweaks. First, I decided to add more brown sugar than granulated sugar to give the cookies a bit more chew. And then next, of course, comes the peanut butter cups. Instead of chopping them small, I quartered them so there would be chunks of peanut butter cups and chocolate chips. It is a 100 percent win.
A simple, peanut buttery, chocolaty win.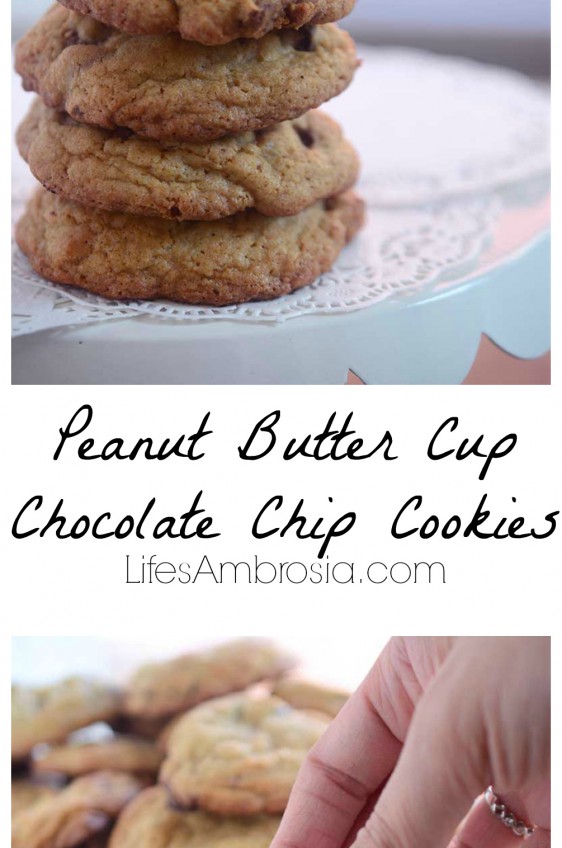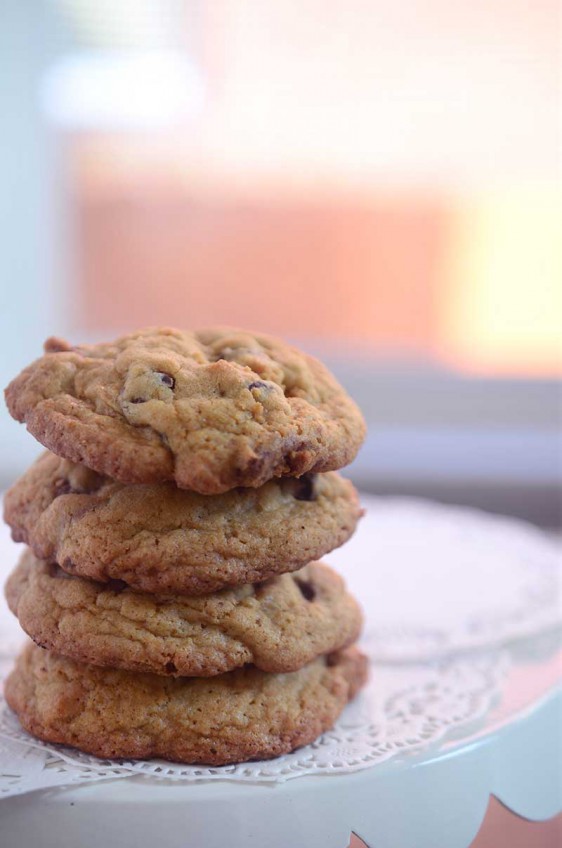 Peanut Butter Cup Chocolate Chip Cookies
Peanut Butter Cup Chocolate Chip Cookies. It doesn't get any better, really.
Ingredients:
1/2

cup

1 stick butter, softened

1

cup

dark brown sugar

1/2

cup

granulated sugar

2

eggs

1

teaspoon

vanilla extract

2 1/4

cups

all purpose flour

1

teaspoon

baking soda

1/4

teaspoon

salt

1

cup

semi-sweet chocolate chips

1

cup

quartered peanut butter cups
Preheat oven to 375 degrees.

Beat butter, brown sugar and granulated sugar together until fluffy. About 3 minutes. Beat in eggs one at a time. Scraping down the sides of the bowl after each egg. Beat in vanilla extract.

In another bowl combine flour, baking soda and salt. Slowly beat flour mixture into egg mixture. Mix well. Fold in semi-sweet chocolate chips and peanut butter cups.

Roll out tablespoonfuls of dough and place them on cookie sheets. Bake for 10 minutes or until edges have started to brown.

Note: when baked for 10 minutes these are chewy cookies. Baked for 12 minutes they get a bit crispy.

Allow to cool on the baking sheet for a few minutes. Transfer to a cooling rack to cool completely.
Keywords:
chocolate chip cookies, cookies, peanut butter