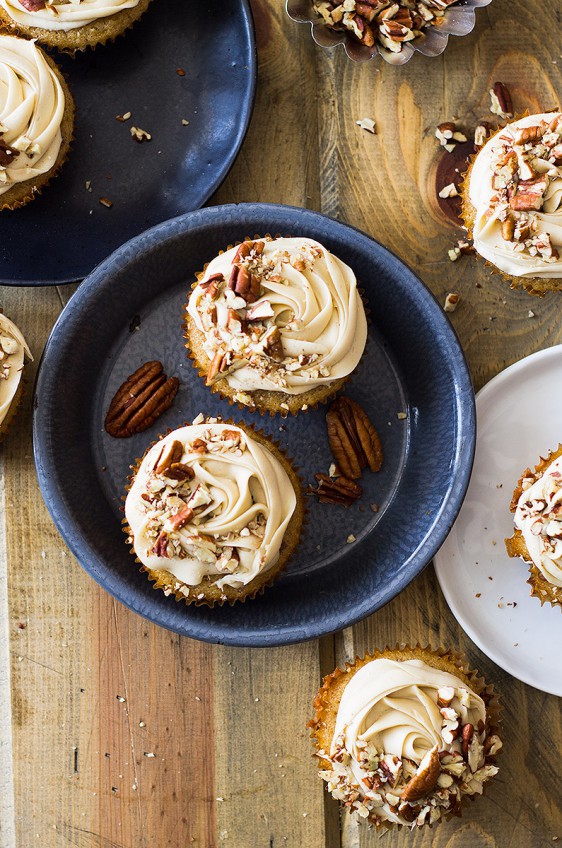 Pecan Pie Cupcakes
These Pecan Pie Cupcakes are light, fluffy, moist and studded with pecans. Then topped with a creamy pecan pie frosting!
How is everyone's fall going so far??  Cold, not cold enough???  We are definitely very, very warm for this time of year here in Colorado.  It really doesn't feel like fall at all which has me a little bummed because I love fall, the crisp air and all the lovely colors.  We're also extremely dry so everything just skipped changing colors and when straight to crispy brown.
So, I have been trying to do some fall baking to get me more into the fall mood.  I thought these pecan pie cupcakes would be great and they scream fall with all the pecans.  I used a simple cupcake recipe but changed it to use all brown sugar and added in some chopped pecans.
Now, the frosting is where I debated for a long time.  I thought about making a regular frosting and topping it with a pecan pie drizzle but then I thought why not just mix the pecan pie filling into the frosting!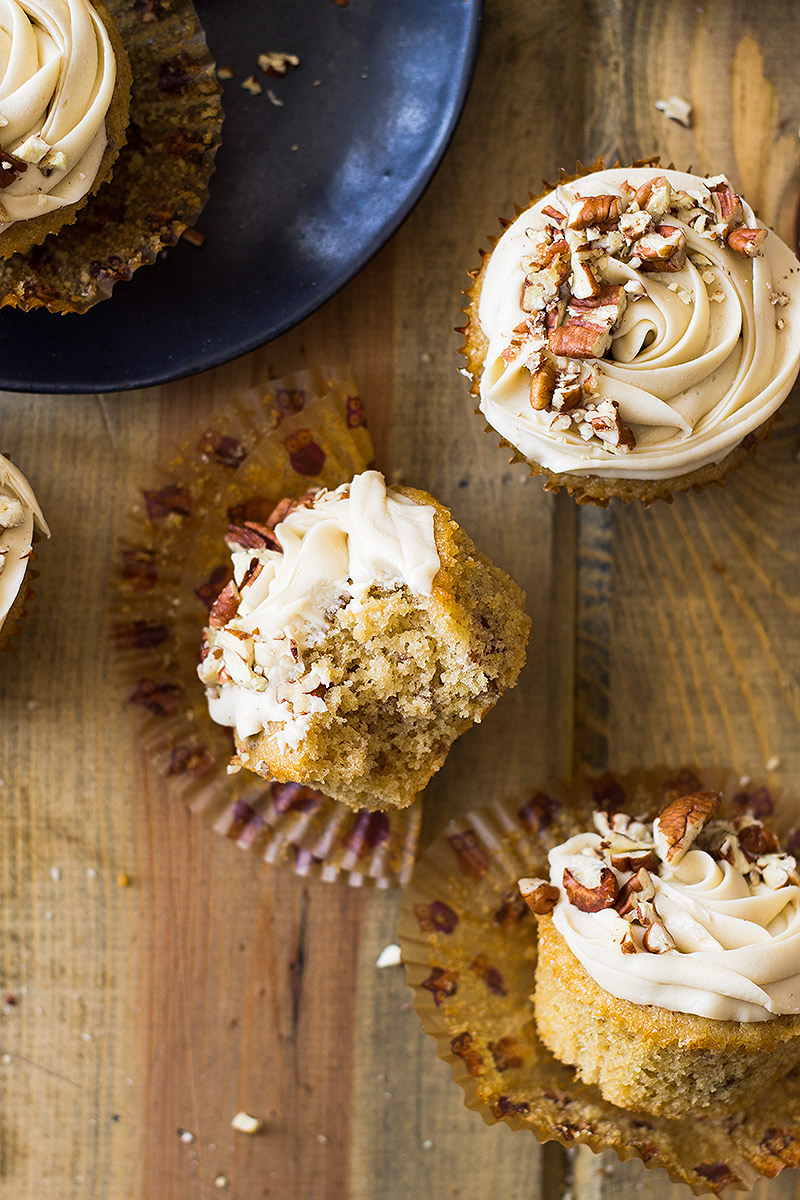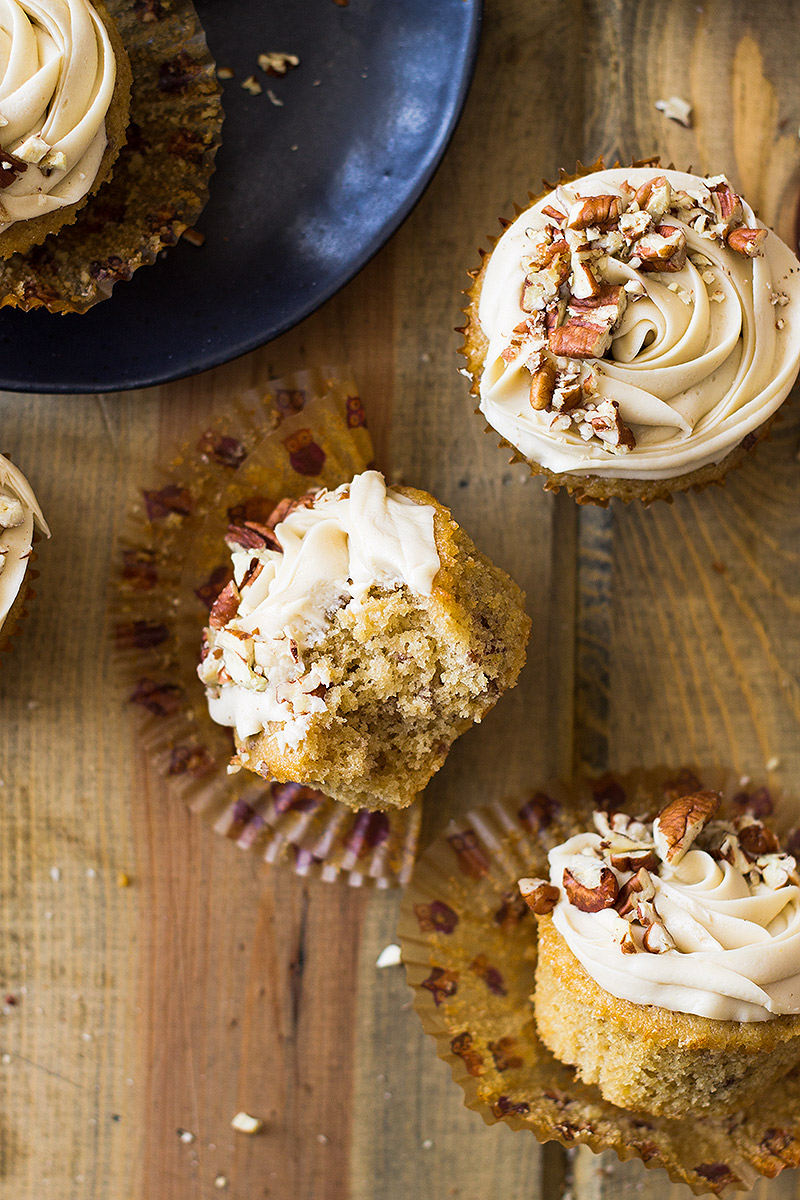 It made a smooth and creamy pecan pie filling type frosting and it paired great with the cupcakes.  If you decide to decorate your cupcakes in this same fashion you see in the pictures, you will have leftover frosting, not a bad thing just use it on some graham crackers.  Hope you enjoy!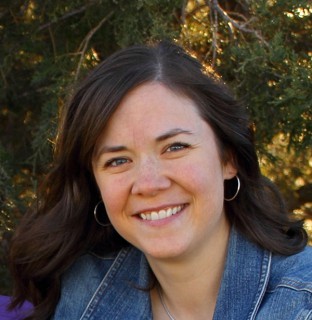 Connect with Malinda ~ Blog ~ Facebook ~ Twitter ~ Pinterest ~ Instagram
Pecan Pie Cupcakes Recipe
Ingredients:
CUPCAKE
1 cup all purpose flour
1 teaspoon baking powder
pinch of salt
3/4 cup packed brown sugar (dark or light)
2 large eggs
1/2 cup milk
1/2 cup butter, melted
1/2 cup chopped pecans
1 teaspoon vanilla
FROSTING:
1 large egg
1/3 cup packed brown sugar (light or dark)
1/3 cup corn syrup
1/2 cup butter, softened
pinch salt
3 cups powdered sugar
chopped pecans for decoration
Instructions
1
Preheat oven to 350 degrees F. Place 12 cupcake liners in a 12 cup muffin pan, set aside.

2
In a large bowl combine the flour, baking powder and salt. Add in the brown sugar, eggs, milk, butter, pecans and vanilla. Stir just until combined.

3
Divide batter evenly among muffin cups then bake for 18-20 minutes or until toothpick inserted in center comes out clean. Remove from pan and let cool completely before frosting.

4
To make the frosting: In a small saucepan combine the egg, brown sugar and corn syrup until smooth. Cook over medium low heat stirring constantly until mixture thickens (about 5 minutes). Cool completely.

5
Add cooled brown sugar mixture and softened butter to the bowl of a stand mixer and beat on high until smooth and light in color, scraping bowl often. (About 5 minutes) Add in salt and powdered sugar and mix on low until combined then beat on high until smooth and creamy. Spoon into a piping bag fitted with desired tip. Frost cupcakes as desired and sprinkle with chopped pecans.