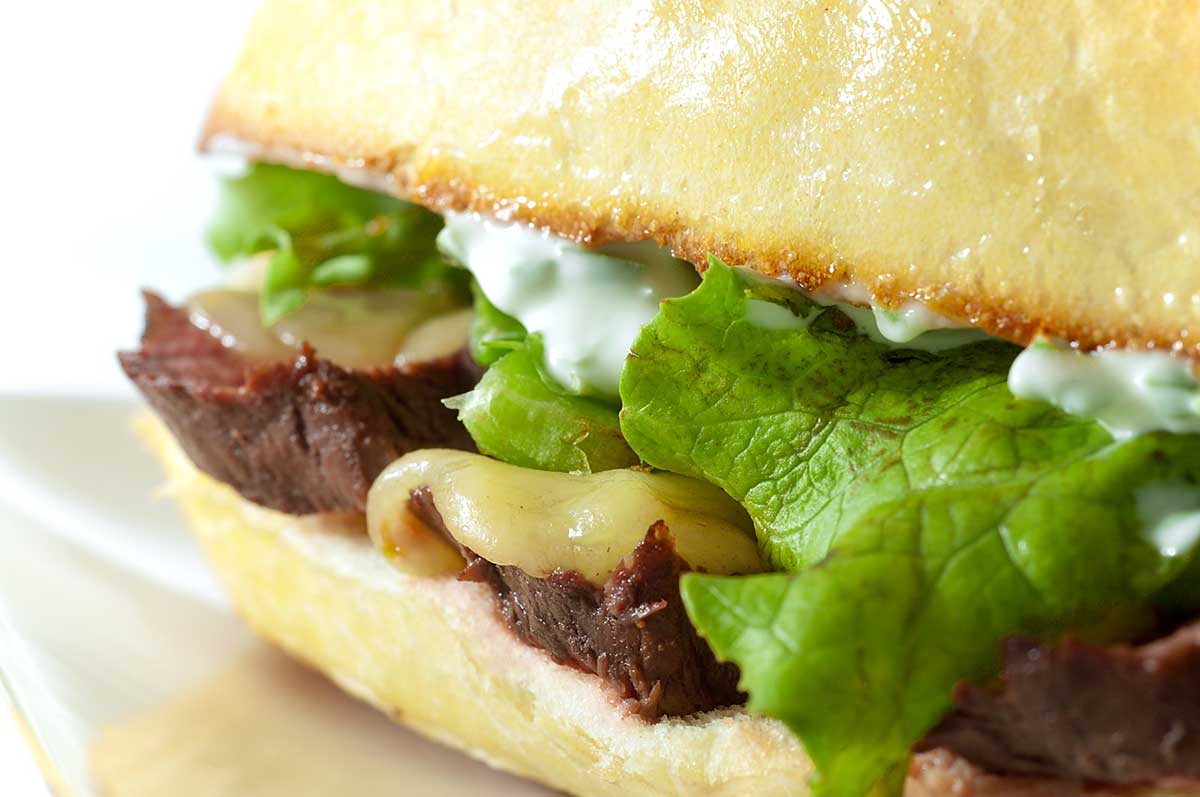 Pepper Jack Steak Sandwich
I think its safe to say that steak sandwiches are the ultimate man food. Or maybe its just the ultimate Ryan food. I'm not quite sure. All I know is that if I tell Ryan that I am making steak sandwiches he makes about 10 different trips to the kitchen to check my progress. If I tell him that I'm topping the steak sandwiches with pepper jack cheese and jalapeno mayo, he doesn't even leave the kitchen.
You will notice that the steak in this recipe requires a bit of marinating, about 2 hours to be exact. While it may seem like a lot of time for a Super Bowl snack, they are totally worth it. I would recommend marinating the steak while you make the rest of your Super Bowl snacks , that way by the time you are done, you are ready to make these sandwiches. After the marinating, these sandwiches come together in a snap.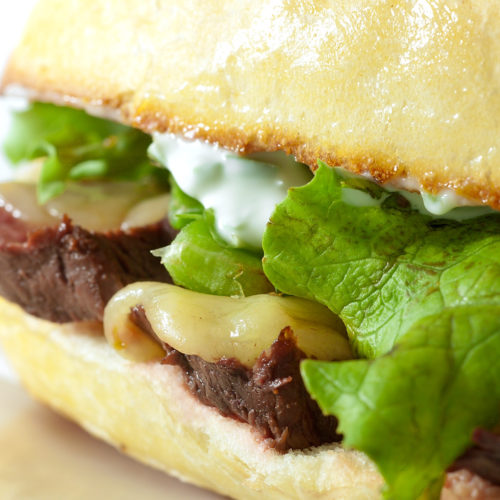 Pepper Jack Steak Sandwich
Perfectly cooked steak, melted pepper jack cheese and jalapeno mayonnaise on a toasted bun. The ultimate Super Bowl sandwich.
Pepper Jack Steak Sandwich
Place steak in a resealable plastic bag.

Whisk red wine, Worcestershire, garlic, seasoning salt and celery salt together in a bowl. Pour over steak. Seal bag and marinate in the refrigerator for 2 hours.

While the steak is marinating, make the jalapeno dressing by combining first four ingredients together in a bowl. Season to taste with salt. Cover and refrigerate 30 minutes.

After steak has marinated, heat butter and olive oil in a skillet over medium-high heat. Once butter melts add steak. Cook 5 - 6 minutes on each side for medium rare. (Keep in mind that the steak will cook a bit under the broiler as well)

Transfer cooked steak to the cutting board and allow to rest for 10 minutes. Once rested, thinly slice against the grain.

Preheat oven broiler.

Cut hoagie rolls in half. For each sandwich, place 4 - 5 slices of steak on the bottom half of the roll. Place 2 slices of cheese on top of the steak. Place under the broiler until the cheese melts, about 1 minute. You may also toast the top half of the roll at this time, but it won't take as long as the bottom half so keep an eye on it.

After cheese has melted, remove sandwich from oven, place lettuce on top. Spread jalapeno mayonnaise on top half of the roll.

Serve.
Keywords:
flat iron steak, hot sandwich, Jalapeno, jalapeno mayonnaise, mayonnaise, pepper jack cheese, sandwich, steak marinade, steak sandwich, super bowl, superbowl snack, toasted sandwich