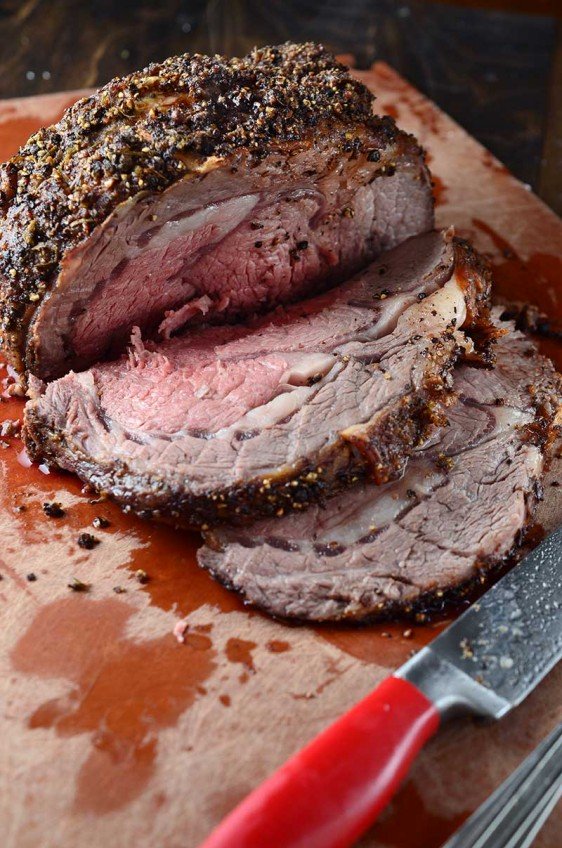 Peppercorn and Rosemary Crusted Prime Rib
A couple of weeks ago, I asked on the Life's Ambrosia Facebook page which entree people most like to grace their Christmas table. There were quite a few responses from turkey to seafood to ham but the majority said prime rib. I must say, I have to agree. Turkey is for Thanksgiving. Ham is for Easter. Prime Rib is for Christmas. It's probably because that is what my mom would make every year growing up so it's kind of a tradition. Surprisingly, I didn't have a prime rib recipe on the blog so I set out to create a simple yet scrumptious prime rib recipe for you. After a couple of tries, I've got it. I present to you Peppercorn and Rosemary Crusted Prime Rib. 
Prime rib sounds intimidating. Well at least it always did to me. But in actuality it's pretty easy to make. Season. Roast at high temperature for 20 minutes then reduce the heat and roast for another hour or so, until it reaches the desired doneness. Really, a meat thermometer will be your best friend when it comes to making a prime rib. And remember, while the prime rib is resting, it will continue to cook so take it out when it's about 10 degrees from where you want it. We like ours medium-rare to medium. If you have guests that like it a little more done, serve them the end pieces, they will be more on the well side.
When it comes to seasoning, Prime rib doesn't need a whole lot of anything to make it good. I do,however, think the outside needs a well seasoned crust. I've tried a horseradish and garlic crust. It was pretty tasty, but the garlic burnt.
Burnt garlic = no good.
I've tried simple salt and pepper. It works too. But I wanted a little bit more.
Enter crushed peppercorns and fresh chopped rosemary. The peppercorn adds a bit of spice and the rosemary a bit of herby earthiness. It worked perfectly well for the prime rib. It made a scrumptious crust, but the flavor of the meat was not lost.
Trust me when I say, served with some horseradish sour cream, this prime rib is the perfect roast for your holiday table.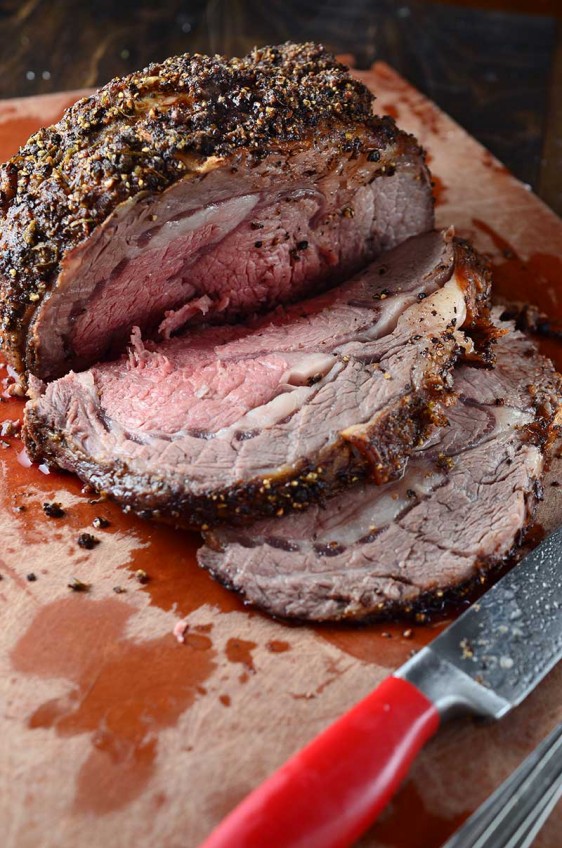 Peppercorn and Rosemary Crusted Prime Rib
Succulent prime rib crusted with peppercorns and rosemary. Perfect for Christmas!
Remove roast from the refrigerator about an hour before cooking.

Preheat oven to 450 degrees.

In a mortar and pestle grind peppercorns, salt and rosemary together. You can also do this in a plastic bag and crush with a rolling pin. Combine crushed spices with olive oil.

Rub mixture on the outside of the roast. Pressing it into the sides. Place roast on a roasting rack in a roasting pan.

Cook roast at 450 for 20 minutes. Reduce heat to 325 and cook for an additional 75 minutes. Check roast and continue cooking, keeping an eye on the temperature, until a meat thermometer inserted in the center reaches 120 degrees for medium rare.

Remove roast from oven and allow to rest for 15 minutes. Slice and serve.
Keywords:
Christmas, entree, prime rib, roast