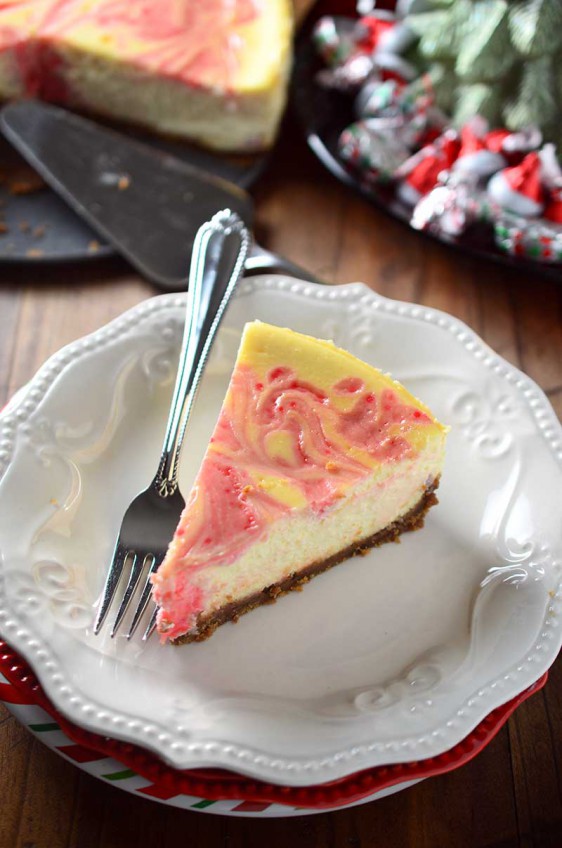 Peppermint Eggnog Cheesecake
Luscious eggnog cheesecake is swirled with melted Hershey's Candy Cane Kisses in this Peppermint Eggnog Cheesecake making it a perfect holiday treat! 
I have a new obsession in my life: Hershey's Candy Cane Kisses. Have you tried them? If not, then you need to. I didn't think any candy could possibly be better than the Hershey's Mint Truffle Kisses but I was wrong. The candy cane kisses are. Like times a million. And when you take a candy that good and bake it into a creamy cheesecake with a Biscoff crust then you have this Peppermint Eggnog Cheesecake, one of the best cheesecakes I have ever had. Ever.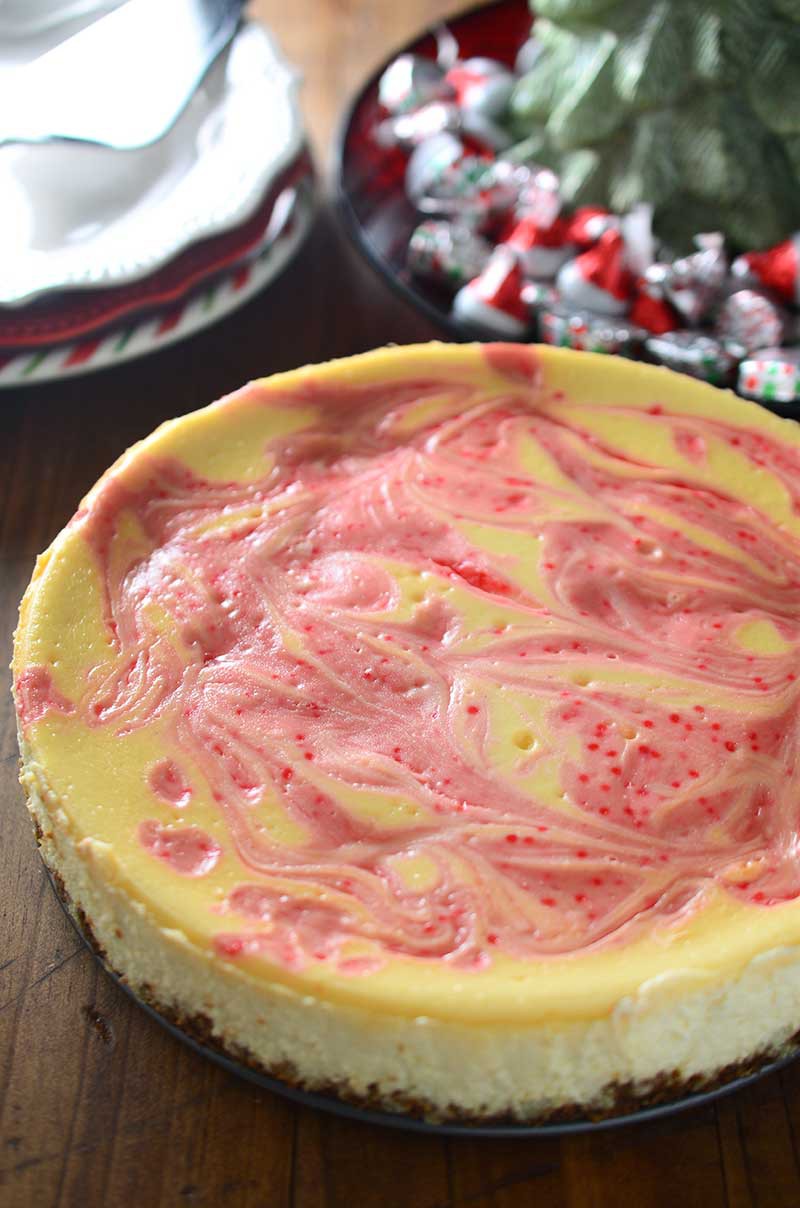 I've had one heck of a time making cheesecake lately. It always had a big crack right down the middle. I knew the trick to avoid the cracking was to bake in a water bath but I hadn't had good luck with that either. The water always seemed to find a way to seep though. However, after so many cracked cheesecakes I decided to give it a whirl one more time. This time, instead of 2 layers of aluminum foil on the outside of the pan, I used four and voila! It worked beautifully!
When I first made this cheesecake a few years back, I originally layered the candy cane kisses on the bottom of the cheesecake which left a little bit of the candy all throughout. That was pretty good but when I went to remake this cheesecake I wanted to keep the smoothness so I decided to melt and swirl the hershey kisses on top. It made a beautiful top to the cheesecake AND gave a hint of peppermint all throughout.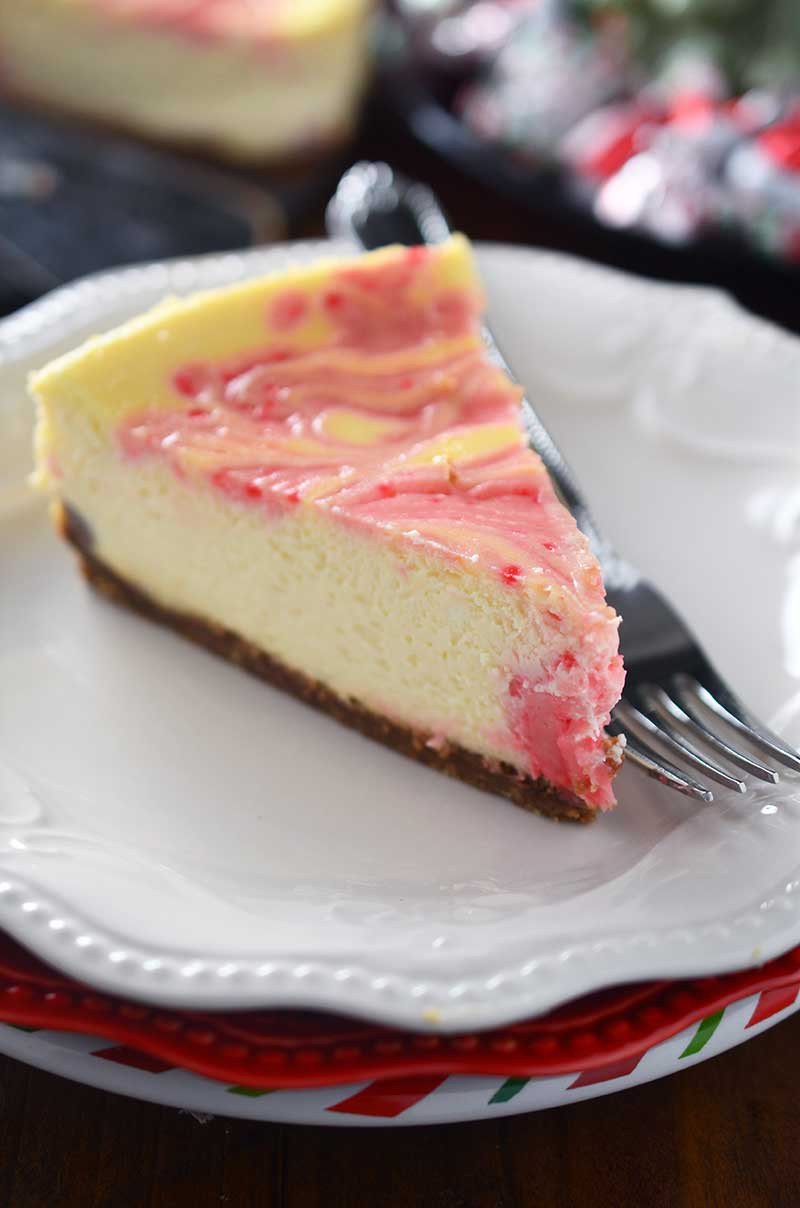 Basically, this cheesecake is all kinds of perfect.

Peppermint Eggnog Cheesecake Recipe
Ingredients:
2 cups biscoff cookie crumbs
5 tablespoons unsalted butter, melted
3 (8 ounce) packages cream cheese, softened
1 cup granulated sugar
3 large eggs
1 cup eggnog
1/2 cup sour cream
1 teaspoon vanilla extract
35 Hershey Candy Cane Kisses, unwrapped
2 tablespoons milk
Instructions
1
Preheat oven t0 350 degrees. Begin to bring a large pot of water to boil. Place the spring form pan in the middle of two large pieces of heavy duty aluminum foil. Bring the foil up the sides of the pan. Crimp the pieces together around the pan. Make sure it is tight and secure so no water gets in during the baking process.

2
Combine cookie crumbs and butter together in a bowl. Press into the bottom of a spring form pan. Bake for 10 minutes. Remove from oven and cool.

3
While crust is cooling, beat cream cheese and sugar together in the bowl of a stand mixer (or using a regular bowl and hand held mixer). Beat in eggs one at a time, making sure to scrape down the sides of the bowl after adding each egg. Beat in eggnog, sour cream and vanilla extract.

4
Combine the Hershey Candy Cane Kisses and milk together in a microwave safe bowl. Heat in 30 second increments until they start to melt. Stir until smooth.

5
Pour cheesecake batter into cooled crust, reserve 1/4 cup of batter.

6
Gently stir reserved batter into melted candy cane kisses. Drop by teaspoonfuls on top of cheesecake. Use a knife or toothpick to swirl mixture into filling.

7
Place cheesecake in a roasting pan. Pour hot water around the cheesecake. Bake in preheated oven for 45 - 55 minutes or until cheesecake is set. The middle will still be jiggly. Turn off oven, keep oven door closed and allow cheesecake to cool 1 hour in oven. It will finish cooking during this time.

8
Remove cheesecake from oven, carefully remove it from the water bath. Remove the aluminum foil, being careful of any water that may have worked its way in.

9
Chill cheesecake in the refrigerator 8 hours or overnight.

10
When ready, slice and serve.