Pesto Grilled Cheese. Pesto and Mozzarella sandwiched between Parmesan crusted bread and then grilled to perfection.
Every once in a while I just need a good grilled cheese. One where the bread is crunchy and buttery and the cheese just oozes out as soon as you slice it. Simple, Grilled Cheese perfection.
That is exactly what this Pesto Grilled Cheese Sandwich is.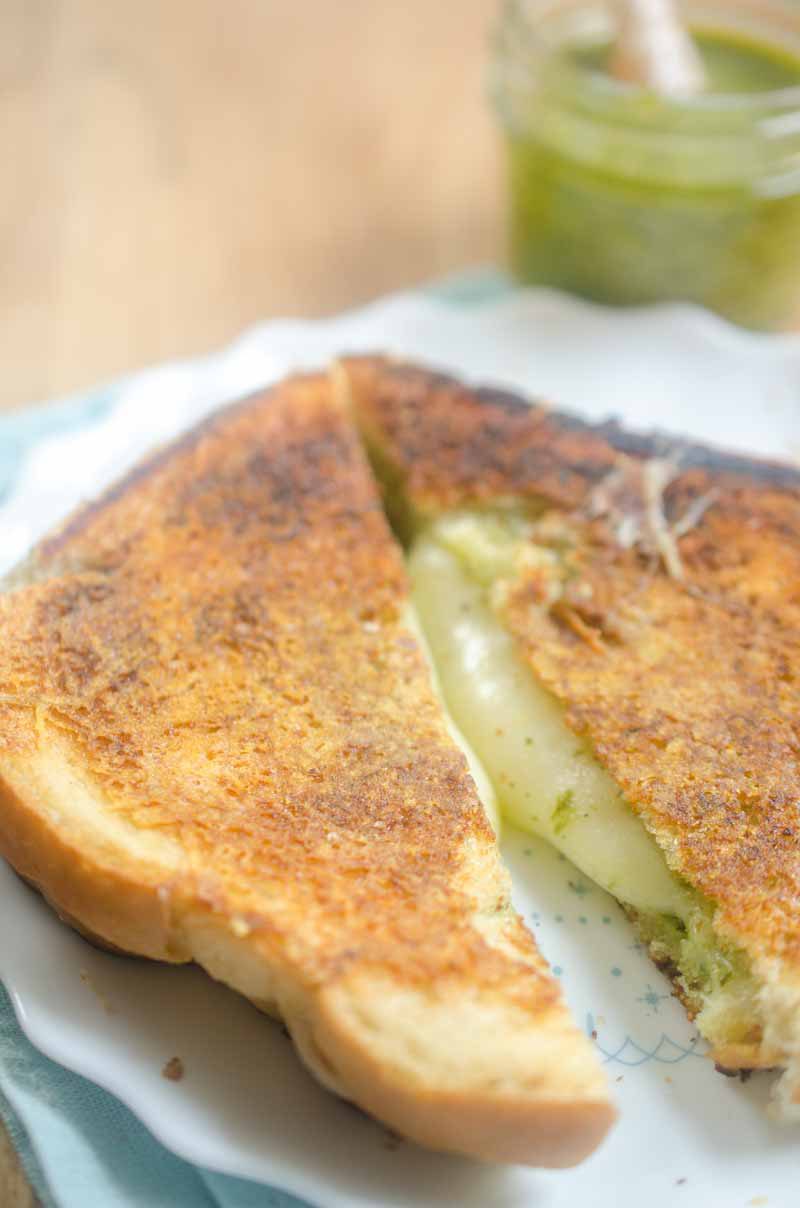 There are a few things that helped make this Pesto Grilled Cheese one of my favorite things.
First, I made my own pesto. SUPER easy guys. Basil, garlic, pine nuts, parmesan, crushed red pepper and olive oil. In a food processor and BAM pesto. If you don't have the time, store-bought pesto would be fine.
Next comes the mozzarella. For this recipe, I wanted to use fresh mozzarella. It's the stuff you find in the deli either vacuum packed or in a container of water. If it's in water just pat it dry. Trust me, you really want to use this stuff. It's creamier and has so much more flavor than the other stuff.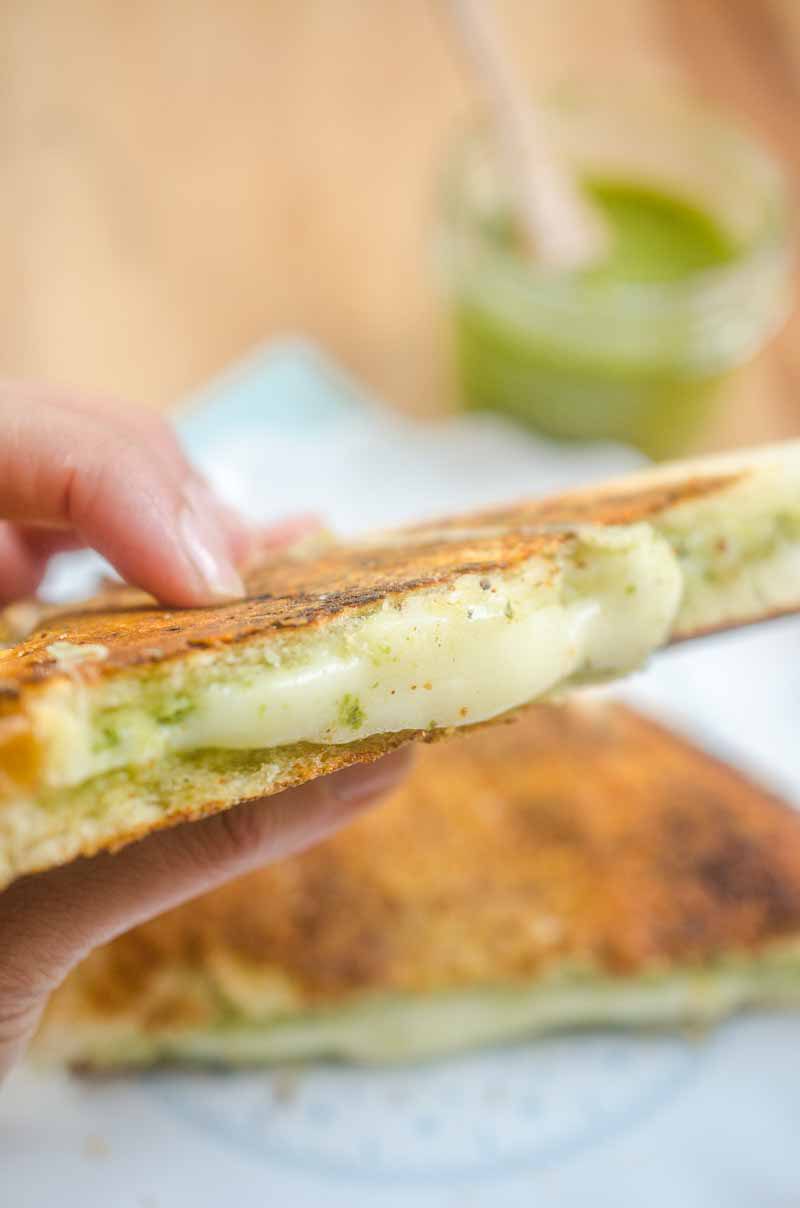 Finally, I couldn't just have buttered bread for this grilled cheese. No. I needed to do something a little different so I shredded some fresh Parmesan cheese and pressed the buttered bread into it. That way when it grilled up, the outside was like this buttery, Parmesan crisp.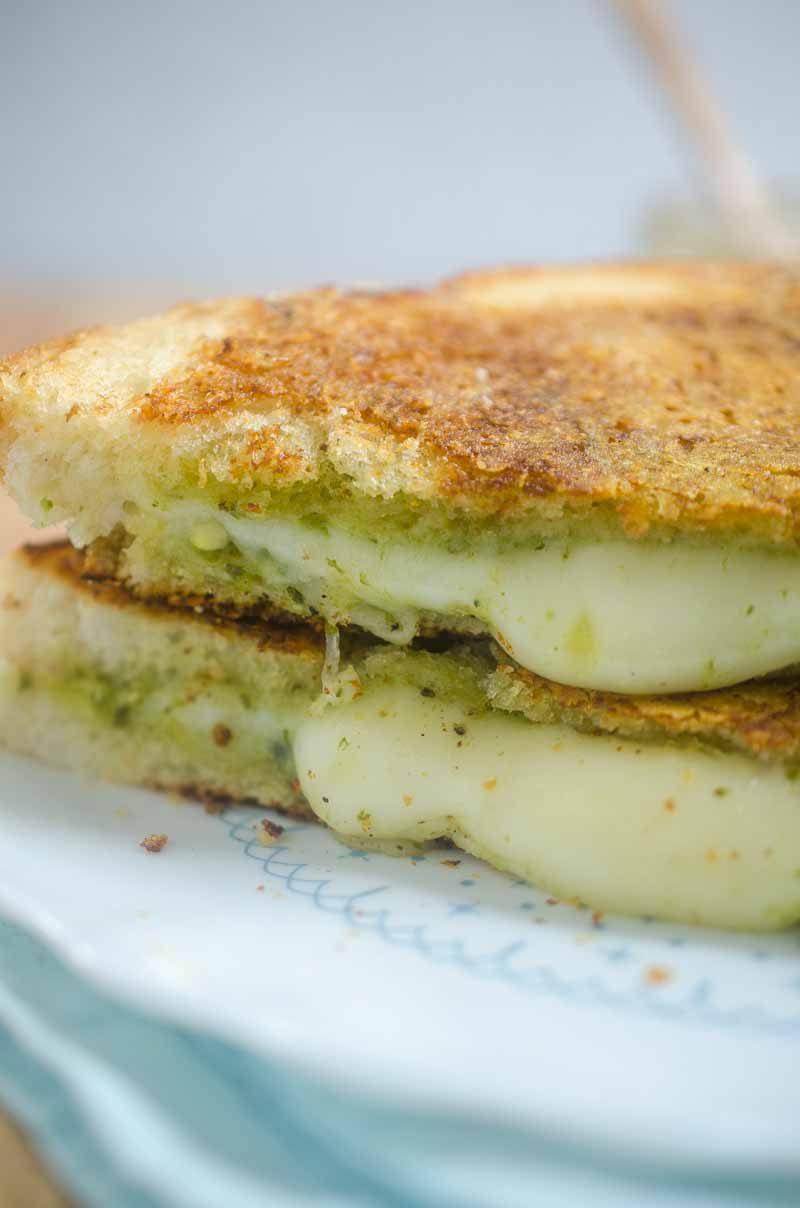 So lets run through this again, we've got the fresh pesto. The creamy, gooey melted mozzarella. The crunchy buttery bread. And the crisp, golden brown Parmesan.
Yeah. There's no denying it. This Pesto Grilled Cheese is kind of amazeballs.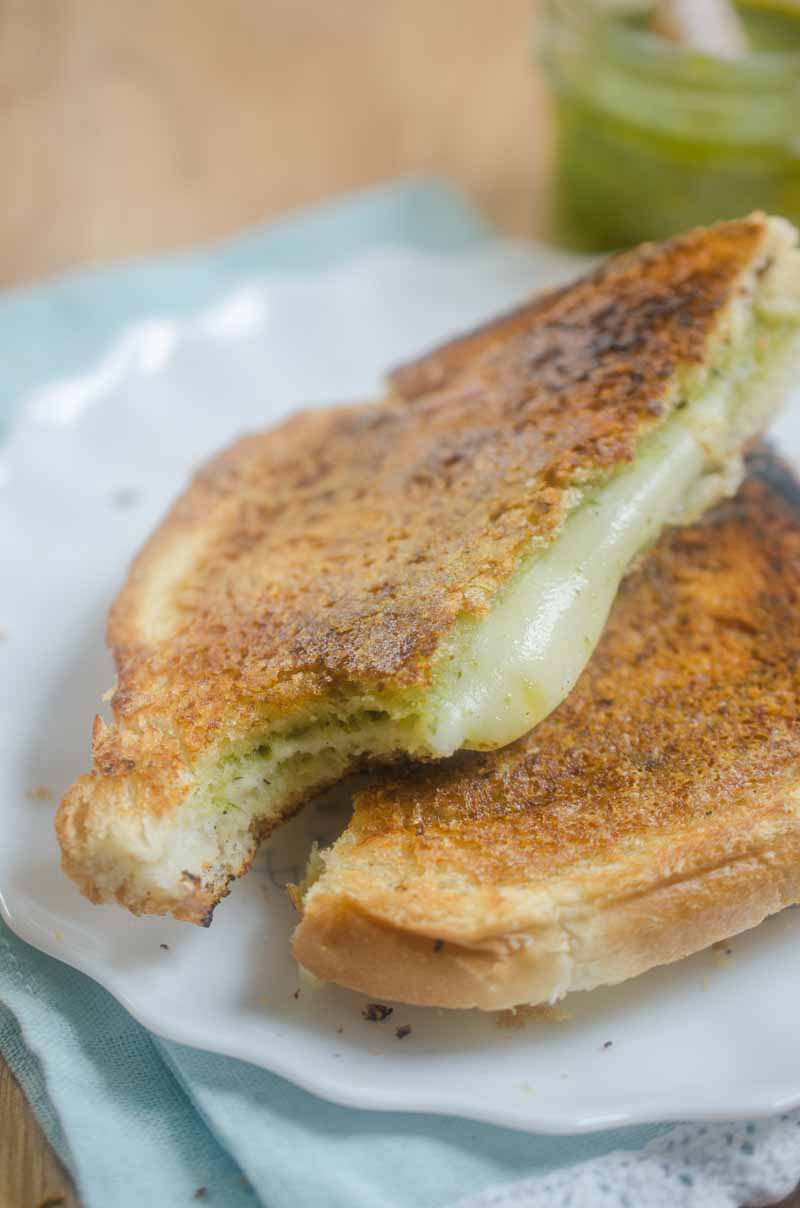 Dip it in some tomato basil soup and you'll have pure, unadulterated Pesto Grilled Cheese heaven.

Pesto Mozzarella Grilled Cheese Ingredients:
8 slices crusty bread (such as Como)
2 - 3 tablespoons softened butter
1 cup freshly shredded parmesan
8 ounces fresh mozzarella cheese, sliced
Pesto (homemade or store-bought)
Pesto Ingredients:
2 cups packed fresh basil

2 cloves garlic, peeled

1/4 cup pine nuts

1/4 cup shredded Parmesan cheese

pinch crushed red pepper

1/2 cup extra virgin olive oil
Instructions
1
Prepare the pesto first by combining basil, garlic, pine nuts, Parmesan and crushed red pepper in a food processor. Pulse until basil is minced fine. With the food processor running, slowly drizzle in olive oil until emulsified. Set aside until ready to use.

2
To make a sandwich: Spread softened butter on one side of two slices of bread. Turn slices over and spread a generous amount of pesto on the other side. Place two slices of cheese on one slice of bread and top with the other slice, butter side out. Repeat with remaining ingredients until 4 sandwiches are made.

3
Place the shredded parmesan cheese on a plate. Press the the sandwiches, on both sides, into the Parmesan. Place the sandwiches in a pan. Cook over medium heat until the outside is golden and the cheese has melted. About 2 minutes per side. Transfer to a plate, cut in half and serve.