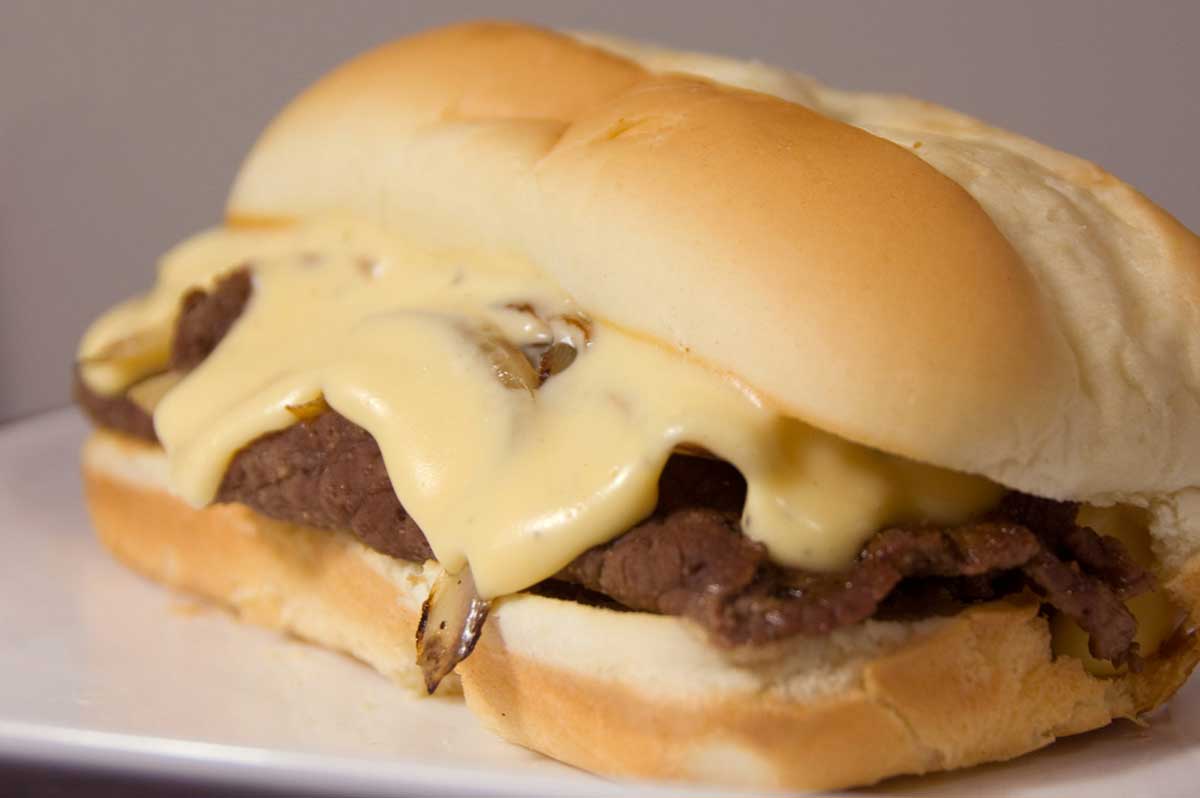 Philly Cheesesteak Sandwiches
On day three of Super Bowl Snack week I am breaking the rules by not sharing a "snack", but to me Philly Cheesesteak Sandwiches are a great super bowl food.  In my version of of this classic, I pile sauteed steak and onions on a toasted hoagie roll and top it all with a savory cheese sauce. I wont lie, it is very messy, but it is totally worth it.
Philly Cheesesteak Sandwiches Recipe
Ingredients:
1 onion, sliced
3 tablespoons butter, divided
1 tablespoon olive oil
1 pound thinly sliced round steak (I found this in the meat section of my local grocery store)
1/2 teaspoon granulated garlic
1 tablespoon Worcestershire
2 hoagie rolls
1 cup milk
1 tablespoon flour
2 ounces cream cheese, softened
3 cups shredded cheddar cheese
kosher salt and pepper to taste
Instructions
1
Preheat your oven broiler.

2
In a skillet over medium heat, add 1 tablespoon butter and olive oil. When butter melts add onion. Cook until onions start to turn brown and caramelize, about 10-15 minutes. Remove and set aside.

3
In the same skillet add round steak, granulated garlic, worcestershire, salt and pepper. Cook until meat is cooked through, about 3 minutes.

4
While you're cooking the meat, in a sauce pan over medium heat, melt remaining 2 tablespoons butter. When butter has melted, whisk in flour. Cook 1 minute. Slowly stir in milk.

5
Stir in cream cheese and shredded cheddar and cook until melted. Season to taste with salt and pepper

6
Toast the hoagie rolls under the broiler until they turn golden, about 1 minute.

7
Layer the meat, onions and cheese sauce on the hoagie roll. Serve