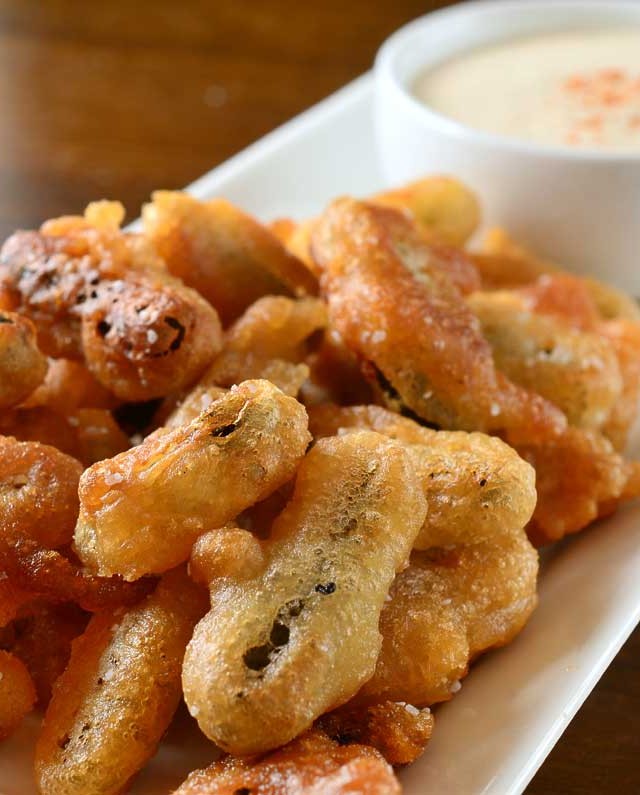 Pickle Fries with Cajun Dijon Dip
This is 100% a pregnancy craving realized.
As if you couldn't tell. I mean, really,  pickle fries just scream 6 month pregnant woman.
The truth is I have actually been very stereotypical when it comes to pregnancy cravings in that I cannot get enough pickles. Seriously I want them all the time. That is why when the nice people at Maille offered to send me some of their cornichons to try I was all over it.
If you're not familiar with cornichons the best way to describe them is like little baby pickles but with more of a bite. The Maille cornichons for instance are marinated in a mixture of vinegar and other spices like tarragon, cloves, mustard seeds and onions. And they work perfectly for these pickle fries.
I have made fried pickles before, but these are a bit different. Instead of a bread crumb coating, these pickles are dipped in a quick thin batter made simply with egg, carbonated water and flour. It is just light enough to really let the flavor of the cornichons shine.
I really enjoyed these friends, and not just because I'm pregnant. They are really, really good. Crispy, crunchy, fried perfection.
And the Cajun Dijon Dip? Well that is just creamy Dijon deliciousness with a little kick.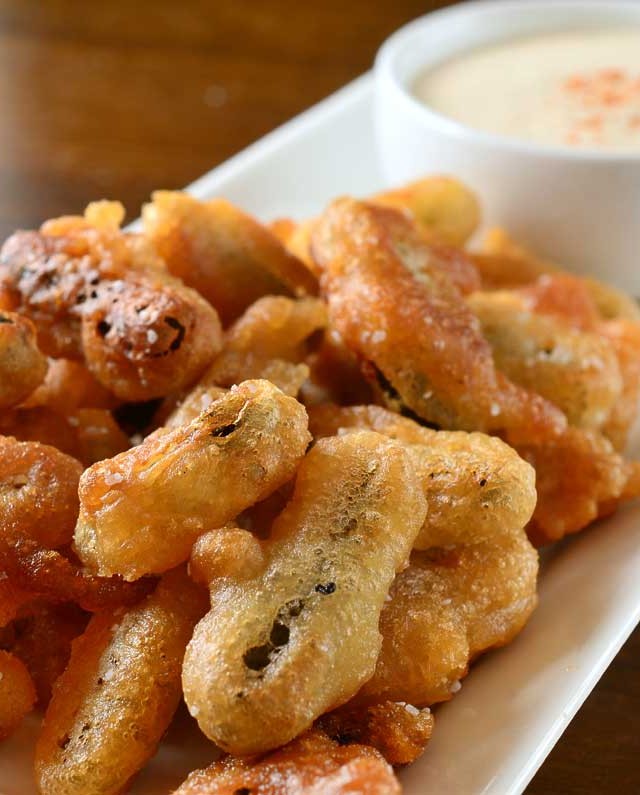 Pickle Fries with Cajun Dijon Dip
Crunchy cornichons dipped in batter, fried until golden and served with a Cajun Dijon dipping sauce.
Pickle Fries Ingredients:
1/2

cup

carbonated water

1

egg

1/2

cup

all purpose flour

30 - 35

cornichons

oil for frying
Cajun Dijon Dip
1/4

cup

plus 1 tablespoon mayonnaise

1

tablespoon

vinegar

1/2

teaspoon

salt-free Cajun seasoning

1

teaspoon

Maille Rich Country Dijon
Combine all the ingredients for the dip together in a bowl. Mix well, cover and refrigerate while you prepare the pickle fries.

Preheat 1 inch of oil in a skillet over medium heat to 350 degrees.

Pat dry the cornichons.

In a shallow bowl, whisk together water and egg until frothy. Slowly whisk in flour until a batter forms.

When the oil is hot, use tongs to dip the cornichons into the batter and then into the oil. Fry, in batches if necessary to avoid over crowding, until the cornichons are golden brown 2 - 3 minutes. Use a slotted spoon to transfer them to a paper towel lined plate. Sprinkle lightly with salt, if desired but remember the pickles are already salted. Serve with dip.
Disclosure: I was given the cornichons and mustard to try but was not compensated in any other way. I chose to write about these products because I really love them!
Enjoy!
Keywords:
fried pickles, maille mustard, pickles, Vegetarian