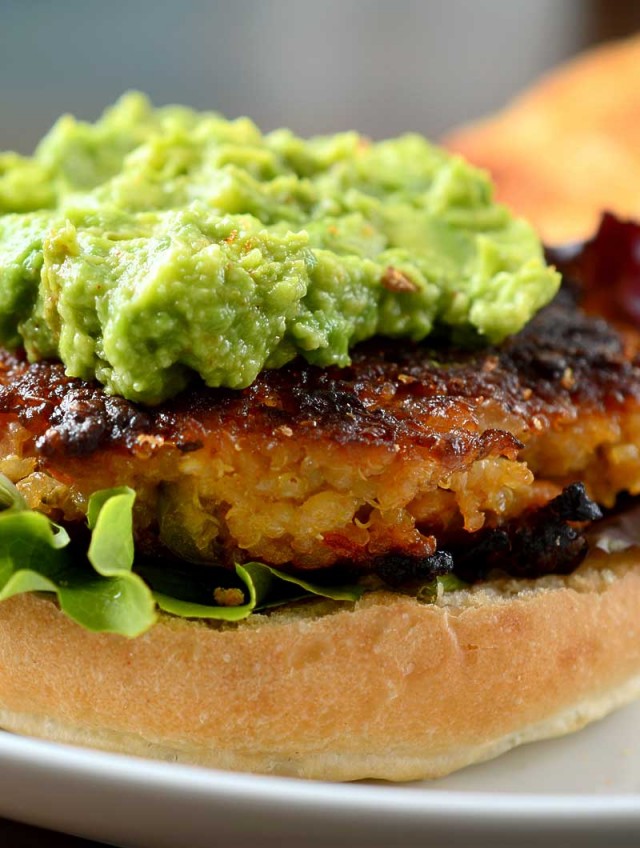 Pico de Gallo Quinoa Burgers
Why oh why did it take me 29 years to try a quinoa burger??? I feel like I have been deprived all of my life.
One of the reasons that I didn't eat my first quinoa burger until last week was because we are not huge fans of veggie burgers in our home. For one, I'm not a huge fan of the frozen variety. They just don't taste the best to me. Second, Ryan is not a huge fan of me not serving some kind of meat at dinner. Third, I always assumed that veggie burgers were hard to make.
Well…You know what they say about assuming.
But now that I know just how good and how easy quinoa burgers are to make, you can bet that I will be making them constantly. Quinoa itself is such a blank canvas. I can't wait to find out all of the different combinations I can come up with.
First up is this Pico de Gallo Quinoa Burger. It's loaded with tomatoes, cilantro, jalapenos, onions and every burger needs cheese so this one is studded with cotija cheese. It all gets mixed together then pan fried until the outside is golden brown. Finally you put it on a bun, top it with some lettuce and guacamole. It's heaven I tell you. Heaven.
And to those of you that think that a burger is not a burger unless it has meat, my husband is the same way, and he gobbled these up. Trust me, even the most carnivorous won't miss the meat.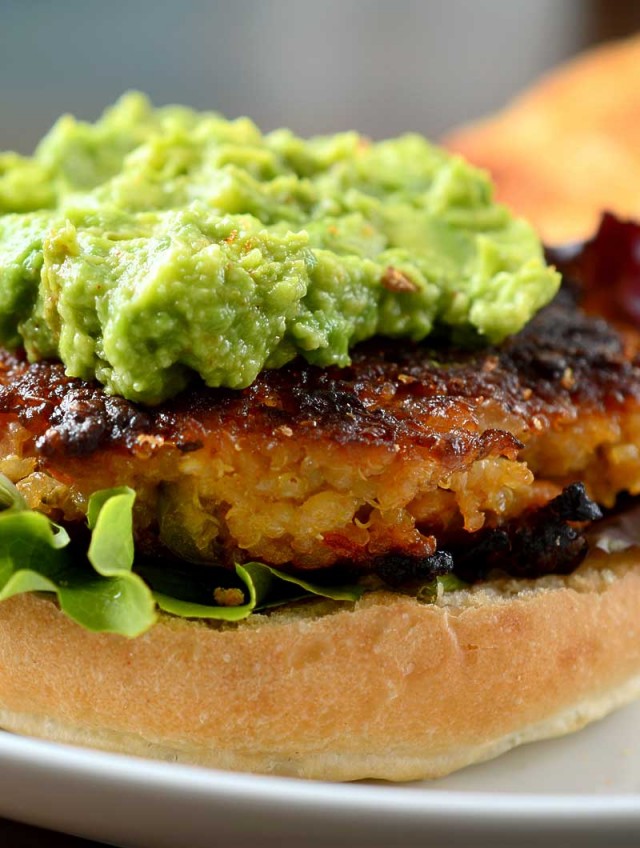 Pico de Gallo Quinoa Burgers
A hearty, vegetarian quinoa burger with pico de gallo and cotija cheese, topped with guacamole. Even the most carnivorous won't miss the meat.
Ingredients:
3/4

cup

uncooked quinoa

1/2

teaspoon

salt

1/4

teaspoon

cumin

1/2

cup

crumbled cotija cheese

2 to

matoes

seeds removed, diced

1/2

medium onion

diced

1/4

cup

chopped fresh cilantro

1

teaspoon

lime juice

1/2

cup

plain dried bread crumbs

2

eggs

beaten

canola oil

6

Hamburger Buns

Lettuce
Cook quinoa according to package directions. Allow to cool.

Combine cooked quinoa, salt, cumin, cheese, tomatoes, onion, cilantro, lime juice, bread crumbs and eggs together in a bowl. Use your hands to mix well. Once everything is well combined, use your hands to form the mixture into 6 patties. Place in the refrigerator to chill for at least 30 minutes. This will allow them to firm up.

When you are ready to cook, heat a thin layer of oil in a skillet over medium heat. Cook patties 5 - 7 minutes on each side or until the outside is golden brown and the patties are cooked through (since there is egg in them).

Toast buns if desired.

To assemble a burger, place lettuce on bottom bun, top with quinoa burger and spoon guacamole on top, top with top bun. Repeat with remaining ingredients. Serve.
Note: These patties are also great sans bun with a spoonful of guacamole on top. But if I tried to serve Ryan a meal that didn't have meat or a bun and called it a burger he would just laugh at me. :)
Enjoy!
Keywords:
bbq, burger, cojita cheese, Food, guacamole, pico de gallo, qunioa, Recipe, Vegetarian, vegetarian burger, veggie burger