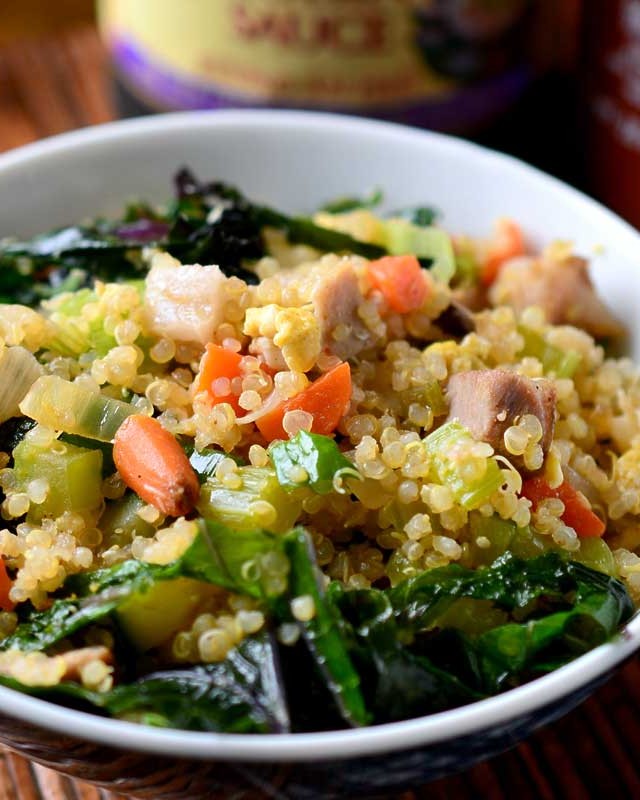 Pork Fried Quinoa
These last couple weeks have been super busy around our household so busy that I have had a hard time figuring out what to make for dinner. And an even harder time making something that takes a lot of time. That is when dishes like this Pork Fried Quinoa come in hand. Quick, easy and scrumptious. Everything this busy mama needs.
So my uncle came to visit us over Kellan's birthday. My Filipino uncle. The day he arrived we were discussing what food we were going to make while he was here. He mentioned adobo. And I said "YUM! But I don't have any rice, I serve it over quinoa"
Oh man I wish you could've seen the look on his face. It was hilarious.
This hilarious look was followed by "You don't have rice?" And nope, I didn't. I actually use quinoa all the time in place of rice. Ryan and I made the switch a few years ago. I love the nutty flavor and I love that it's a complete protein. It also works very well as the base for a pseudo-fried rice. And the best part? You don't have to make and chill the quinoa in advance like you would have to with the rice.
I happened to have some leftover pork roast when I made this recipe so that is what I used. If you don't have any you could easily substitute chicken or even bacon, one of my personal faves.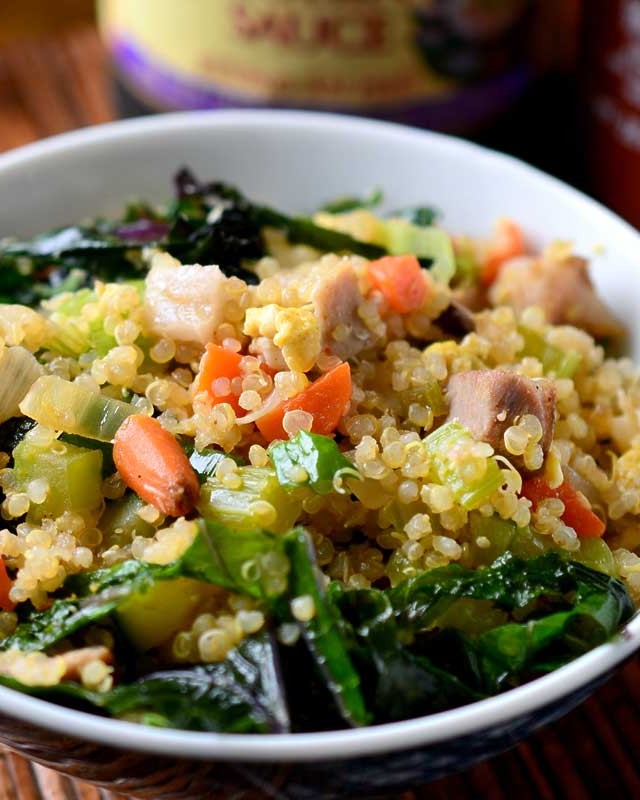 Pork Fried Quinoa
Quinoa with diced pork and stir-fried veggies.
Ingredients:
1/2

cup

quinoa

1

tablespoon

olive oil

2 1/2

cups

diced pork roast

2

celery stalks

diced

2

carrots

diced

1/2

medium onion

diced

6

cloves

garlic

minced

1

small

zucchini, diced

2

teaspoons

sesame oil

2

teaspoons

soy sauce

2

teaspoons

teriyaki

1/2

teaspoon

hot oil

1/2

teaspoon

ginger

4

cups

chopped kale

salt
Cook quinoa according to package directions. Remove from heat and set aside.

Heat olive oil in a skillet over medium heat. Add in pork and all veggies except kale. Cook 1 minute. Add in sesame oil, soy sauce, teriyaki, hot oil and ginger. Cook just until vegetables have started to soften, about 3 minutes. Add in kale and cook just until kale is wilted. Add in quinoa and mix until well combined.

Season to taste with salt and serve.
Keywords:
entree, Food, fried rice, quinoa, Recipe