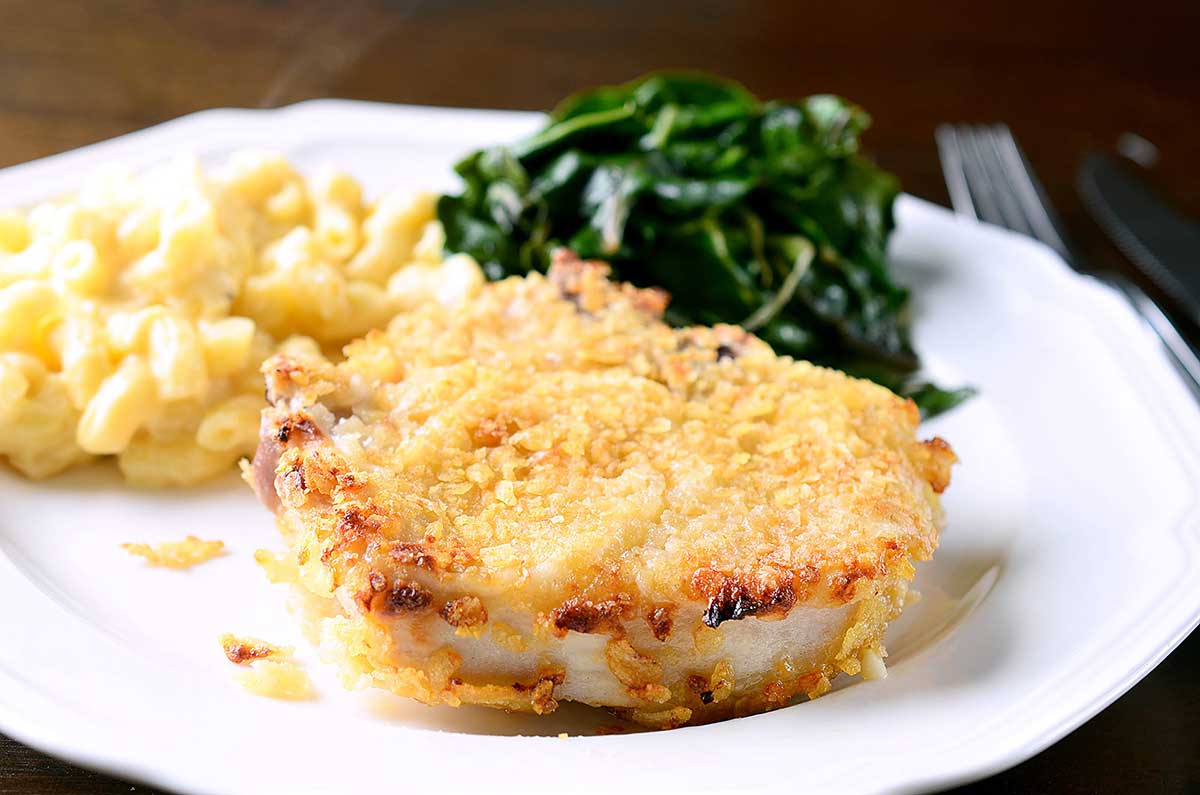 Potato Chip Crusted Pork Chops
I know, I know two pork recipes in one week. But I just couldn't resist. They are scrumptious and I thought it would be perfect to share them today because they would make the perfect entree for your Sunday dinner this weekend. Imagine juicy pork chops brined in a Cajun brine. Then coated in a crispy, garlicky crust and baked until golden. Perfection I tell you. Perfection.
I just recently discovered brining and am in love with it. It involves soaking the meat in a marinade type mixture with water and salt. Salt is what makes it a brine. This process helps make the meat incredibly moist. I find it works very well with chicken and pork. It does take a little bit of time, about 4 hours for this recipe, but it's worth every minute. For this brine I chose to add some sugar and Cajun seasoning to add a little more flavor.
When it comes to the coating, I had actually planned to use panko bread crumbs but I was all out. So I stood there, staring in the pantry for a few minutes and my eyes settled on the potato chips. I thought hey why not? They are crunchy. They just might make a perfect coating. And as it turns out, it was a brilliant idea. I love it when that happens.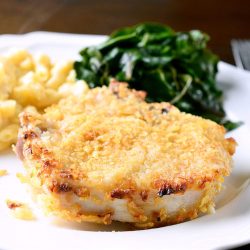 Potato Chip Crusted Pork Chops
Juicy pork chops coated in crispy potato chips and baked until golden. A perfect entree for your Sunday supper.
Ingredients:
2

quarts

cold water

1/2

cup

kosher salt

1/4

cup

brown sugar

1

tablespoon

cajun seasoning

4

bone in pork chops

About 8 ounces potato chips

I used Kettle Brand Sea Salt

1

clove

garlic

peeled

1

cup

all purpose flour

1

egg

1/3

cup

whole milk
Heat 1 quart water in a pot over medium heat with kosher salt, brown sugar and cajun seasoning. Cook until sugar and salt dissolve. Remove from heat and pour in remaining quart of water. Cool to room temperature.

Place pork chops in a one gallon plastic bag or non-reactive bowl. Carefully pour cooled brine over the pork chops. Seal or cover. If you're using a bag place the bag into a bowl just in case there are any leaks. Refrigerate for 4 hours but no more then 6.

When ready to cook, preheat oven to 375 degrees. Line a baking sheet with aluminum foil. Grease the aluminum foil lightly with olive oil or cooking spray.

Remove pork chops from the brine and rinse.

Pulse the potato chips and garlic together in a food processor until the chips are crumbs. You want about 2 cups.

Place the flour on a plate. In a bowl whisk together egg and milk. Place potato chip crumbs onto another plate.

Dredge the brined pork chops in the flour. Then dip into the egg/milk mixture. Then press into the potato chips to coat completely.

Place pork chops onto prepared baking sheet and bake for 15 minutes. Turn and bake for 15 more minutes or until cooked through. Turn on the broiler for 2 - 3 minutes to crisp up the coating. Transfer to a serving platter and serve immediately.