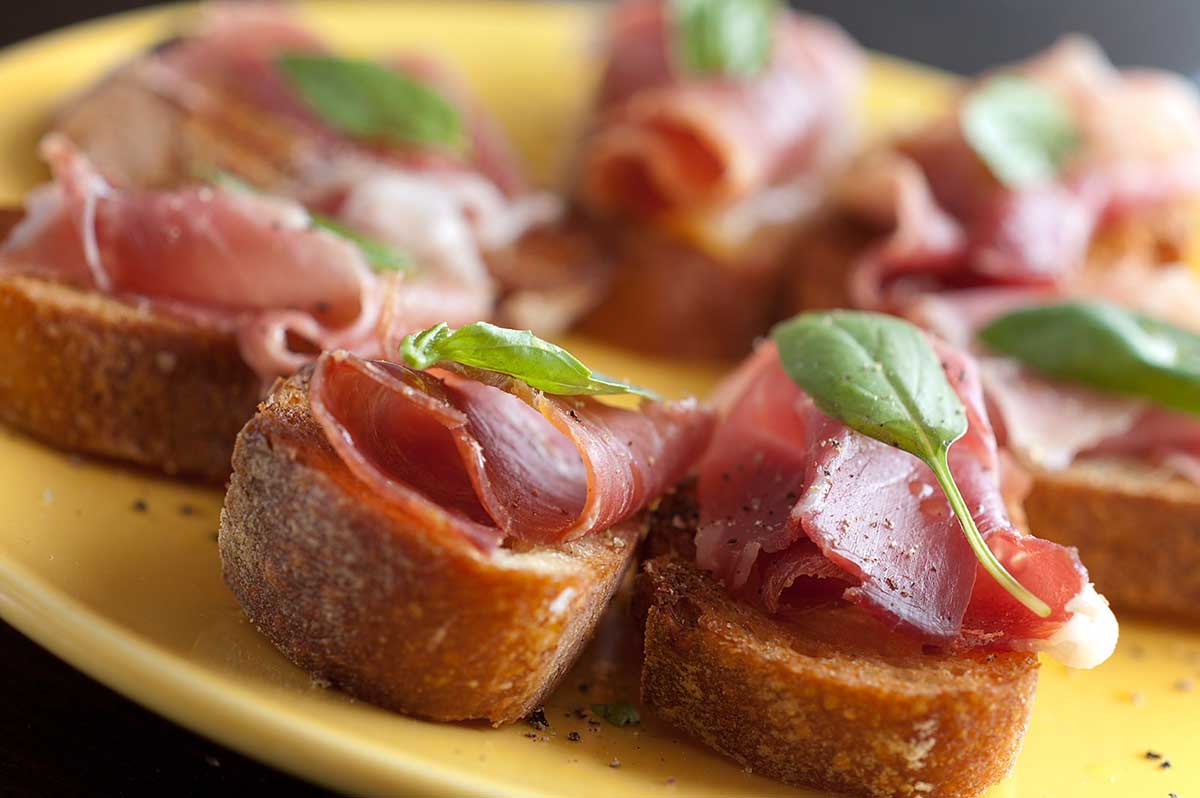 Prosciutto and Basil Crostini
Happy Monday all! How was your weekend? Mine was full of trips to home depot, looking at paint swatches, sanding hardwood floors and a day full of furniture shopping. Just typing it makes me tired. So needless to say, by the time last night rolled around I was ready for a hearty, rustic sunday supper. It was just what I needed and it all started with this lovely appetizer.
I served this dish as an appetizer along side some oven roasted chicken, sauteed spinach and rosemary potatoes. However, I think that this would make a fantastic light summer supper for two as well. If I was making it for Ryan and I, I'd serve it along side some fresh greens with a drizzle of balsamic vinaigrette and extra virgin olive oil and a cool glass of pinot grigio.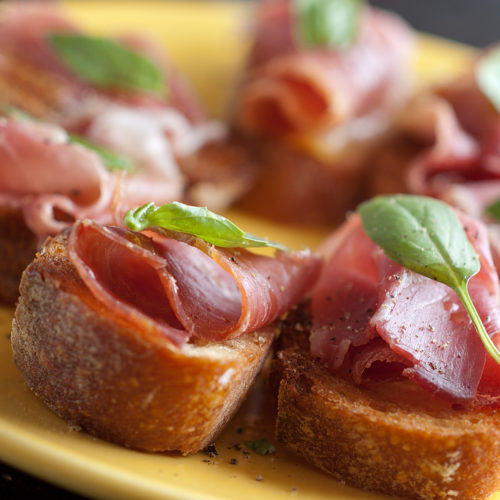 Prosciutto and Basil Crostini
Salty prosciutto, sweet basil, toasted bread & drizzle of olive oil and some fresh black pepper = the perfect summer appetizer.
Ingredients:
10

slices

rustic baguette

extra virgin olive oil

5

slices

thinly sliced prosciutto cut in half

10

small basil leaves

fresh cracked black pepper
Heat a cast iron skillet over medium heat.

Brush baguette slices with olive oil. Place, oiled side down, in the skillet and cook just until toasted, about 3 minutes. You can also do this step by placing the baguette slices on a baking sheet and placing them under the broiler for a couple of minutes.

Transfer to a serving plate. Place sliced prosciutto and basil leaves on top. Drizzle with more extra virgin olive oil and a few grinds of fresh black pepper. Serve.
Keywords:
baguette, basil, bruschetta, crostini, Food, french bread, italian, prosciutto, Recipe