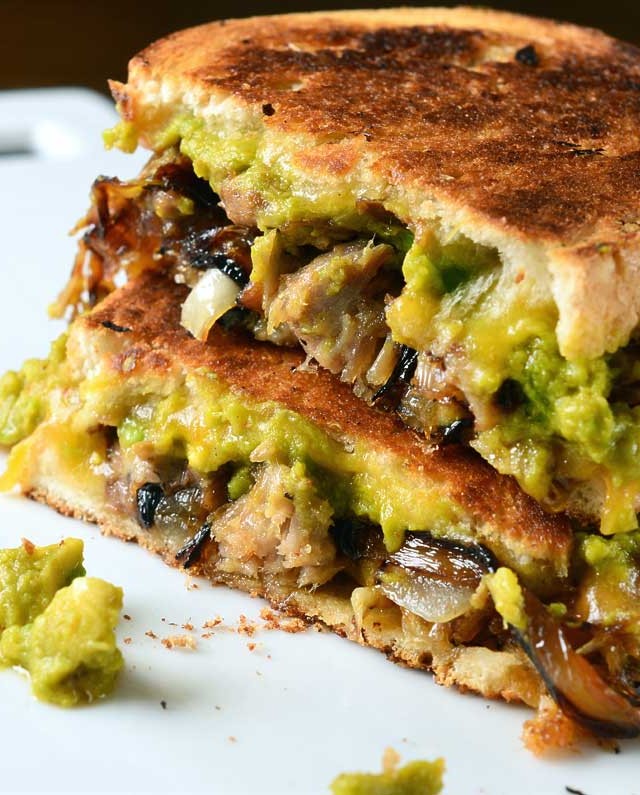 Pulled Pork and Sriracha Guacamole Grilled Cheese
Hey! It's been a while. I hope you all had a wonderful holiday. Ours was perfect. I said the reason that I wasn't blogging was because I was spending time with family over the holidays. And while that was the truth, it was only part of the truth. The whole truth is I've been keeping a little secret.
A little secret that has made me so nauseous that even the idea of standing in the kitchen was not appealing.
A little secret that now has me craving spicy pickles, chicken nuggets and cheese whiz.
A little secret that will show it's chubby, cute little face come July.
That's right friends, I'm pregnant!
We're going to have another little baby running around. Kellan is going to be a big brother. We're going to be a family of four.
And we couldn't be happier.
And now that I'm out of the first trimester, I'm hoping the morning sickness (read: all day sickness) will go away and I'll be able to get back in the kitchen and start creating more recipes to share with you. In the mean time, I thought I would share this absolutely delicious Pulled Pork and Sriracha Guacamole Grilled Cheese. It's cheesy. It's porky. It's spicy guacamole goodness. And I promise that's not just crazy pregnancy cravings talking. Try for yourself!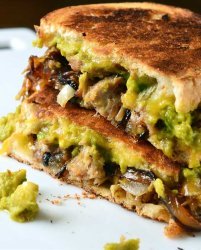 Pulled Pork and Sriracha Guacamole Grilled Cheese
A delectable grilled cheese sandwich with pulled pork, caramelized onions and spicy sriracha guacamole.
Pulled Pork and Sriracha Guacamole Grilled Cheese Ingredients:
1

tablespoon

olive oil

1

medium yellow onion

sliced

2

tablespoons

butter

8

slices

french bread

8

slices

cheddar cheese
Sriracha Guacamole Ingredients
2

large avocados

1

tablespoon

lime juice

1

clove

garlic

minced

1

serrano pepper

seeded and diced

1/2

teaspoon

cumin

1/4

teaspoon

salt

3/4

teaspoon

sriracha sauce
Make the guacamole first so the flavors have a chance to meld. To make the guacamole, mash avocados together in a bowl. Add in remaining guacamole ingredients. Cover and refrigerate for 30 minutes.

Heat the olive oil in a skillet over a medium heat. Cook onions over medium-low heat until they start to brown and caramelize. About 20 minutes. Add in pulled pork. Cook just until pork is warmed through. Remove from the pan and set aside.

To assemble a sandwich, butter one side of each slice of bread. With the buttered side down, place one slice of cheese on the bread. Top with 1/4 of the pork. Spoon guacamole over the top. Place a second slice of cheese on top of the guacamole and place another slice of bread on top with the buttered side facing up. Repeat with remaining ingredients.

In the same skillet that you cooked the pork and onions in, cook sandwiches over medium heat until bread is golden brown and cheese has melted. Serve immediately.
Keywords:
Food, grilled cheese, guacamole, pulled pork, Recipe, sandwich, sriracha