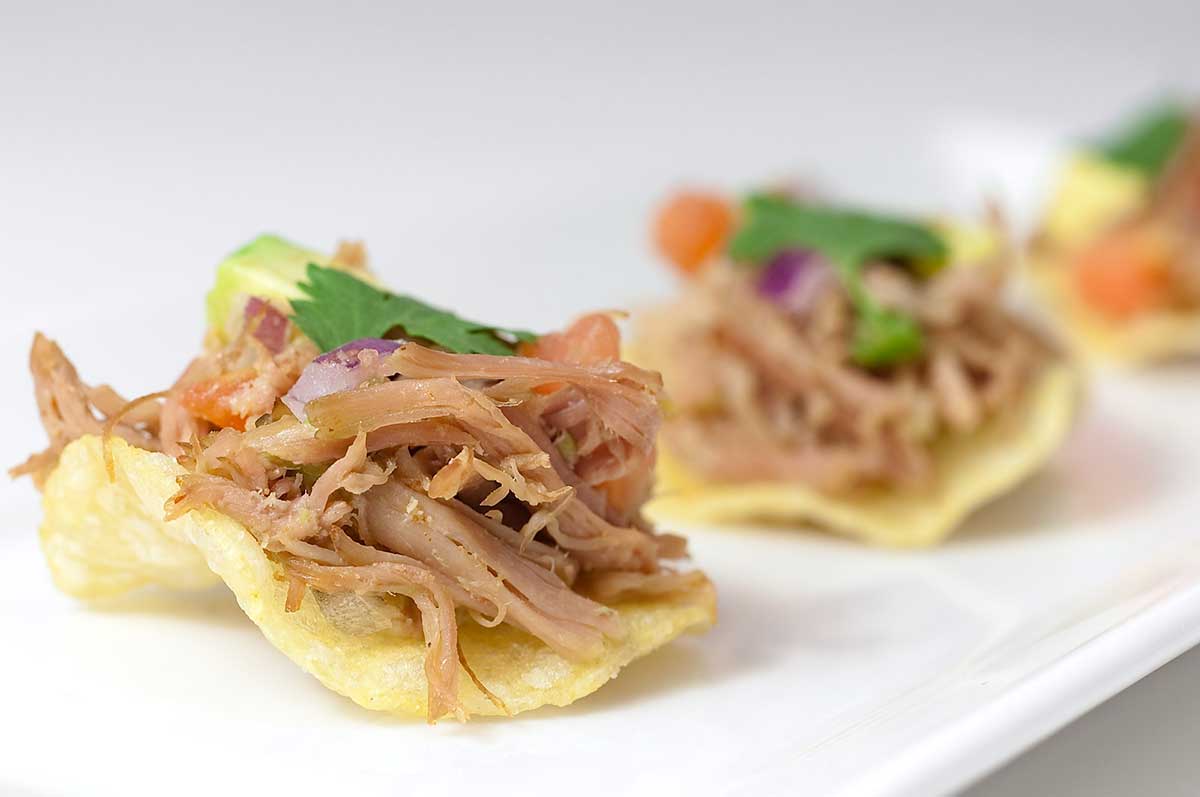 Pulled Pork Crisps
When I made Pulled Pork Tacos last week I had a feeling that Ryan needed a little something to hold him over until dinner.  You could attribute this feeling to woman's intuition or to the fact that Ryan was grabbing and eating the pork faster than I could shred it.  Either way, if that kept up, we wouldn't have anything left over for tacos. In other words, I needed to do something and I needed to do it quickly. These bite size pork crisps were a great solution. With all of the yummy flavor of a pulled pork taco in bite size appetizer form, they are filling enough to tide over even the hungriest of husbands.
The idea for this was kind of like a shot in the dark. I had all of the fixin's for tacos right there in front of me so I decided what the heck, lets give it a try. In a bowl I mixed together some of the shredded pork, a few diced onions, some avocado and jalapenos. Next I opened a bag of my favorite kettle style potato chips and picked out a few that were rather flat or had just a slight curl, creating a nice pocket that was perfect for a scoop of the pork mixture. I piled the pork mixture on top and that was that. The salty, crunchiness of the potato chip paired nicely with the tender pork , creamy avocado and spicy jalapeno. The combination of flavors created a tasty treat that we couldn't stop eating, yet they are small enough that we still had room for tacos.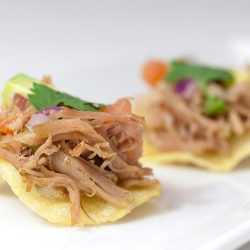 Pulled Pork Crisps
All of the goodness of pulled pork tacos piled high on a crispy potato chip. A filling bite size appetizer perfect for holiday parties.
Ingredients:
2

teaspoons

minced red onion

2

teaspoons

minced jalapeno

1

tablespoon

seeded and diced tomato

2

tablespoons

diced avocado

thick cut potato chips

cilantro
In a skillet cook shredded pork over medium heat until warmed through. Transfer to a bowl.

In the same bowl as pork, add red onion, jalapeno, tomato and avocado. Stir to combine.

Spoon pork mixture onto potato chips. Top with a cilantro leaf.

Transfer to a serving platter and serve.
If you're not a potato chip fan, these would also be good with crispy, salty tortilla chips. Enjoy!
Keywords:
appetizer, avocado, crispy, Food, football snack, holiday, holiday appetizer, holiday snack, man food, mexican, onion, pulled pork, Recipe, shredded portk, snack, superbowl, superbowl snack, tomato