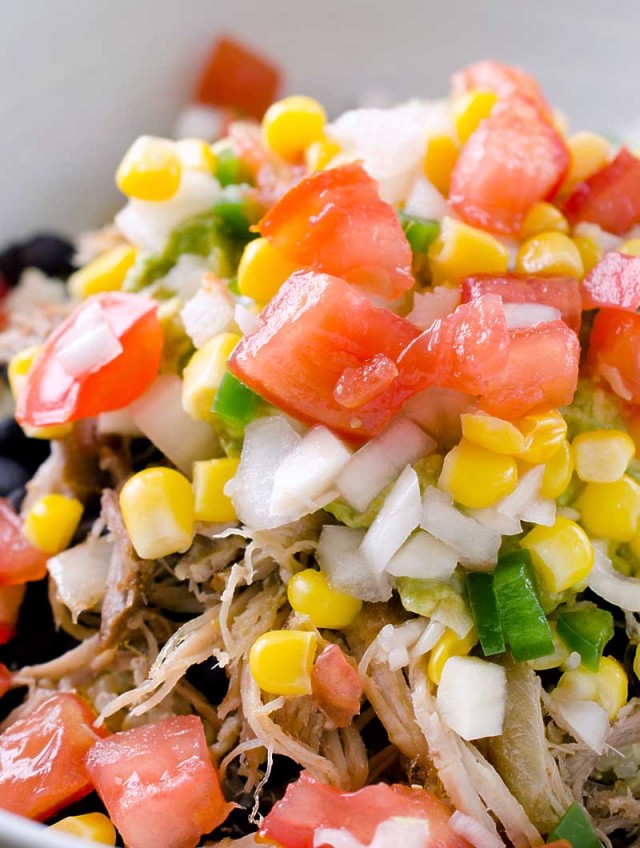 Pulled Pork Quinoa Bowl
I hope that you have enjoyed Pulled Pork Week friends! I've had fun and with the amount of pulled pork recipes floating around in my head right now, have no fear there will be another one in the future. But for today, I'm wrapping things up with one of my favorite ways to enjoy pulled pork, a Pulled Pork Quinoa Bowl. It's so hearty and filling and is the perfect way to end pulled pork week.
When I was pregnant, I constantly craved Chipotle. Seriously. I wanted it every day. And I could live on their carnitas rice bowl. With the corn salsa. Oooh and the rice. Ooooh and the guacamole. I'm making myself hungry just thinking about it. And even when I'm not pregnant I still love them, except I now make them at home. And I also forgo rice for quinoa.
That's right, there is no rice in my house…
Did you hear that? That was my Filipino side of the family yelling "SAY WHAT?!?"
It's true. There isn't one grain of rice in the house. It's not that I'm against rice but we were just eating it so much. So often and with so many different things that I decided I wanted to get more bang for my buck nutrition wise and switched to quinoa.
I love quinoa because it's got so many good things going for it. It's a complete protein. Has tons of fiber and iron. And really, it just tastes good. It has a nutty flavor to it but it's not too overpowering and works with just about everything. Just like rice.
Take this quinoa bowl for instance. It is loaded with pulled pork, black beans, corn, salsa and guacamole. It is pulled pork, quinoa hearty meal perfection. And trust me you won't miss the rice.
Yes, Uncles, I'm serious, you won't miss it.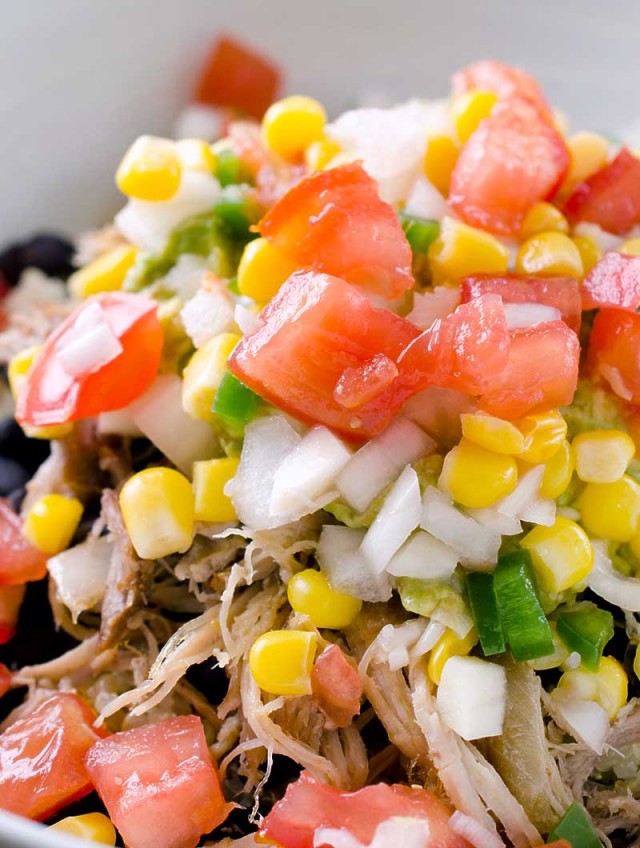 Pulled Pork Quinoa Bowl
A hearty dish with quinoa, pulled pork, black beans, corn, jalapenos and salsa.
Ingredients:
2

medium tomatoes

diced

2

cloves

garlic

minced

1

medium yellow onion

diced and divided

1

tablespoon

lime juice

1

cup

quinoa

1

14.5 ounce can black beans, drained

1

tablespoon

olive oil

1

jalapeno

diced (seeds removed if desired)

1

cup

frozen corn
Make a quick salsa. Combine diced tomatoes, garlic, 1/2 of diced onion and lime juice together in a bowl. Allow to set at room temperature until ready to use.

Cook quinoa according to package directions.

Heat beans in a small pan over medium heat just until warmed through.

While quinoa and beans are cooking, heat olive oil in a skillet over medium heat. Cook remaining half of onion, jalapeno and corn together just until corn cooks through. Transfer to a plate and set aside.

In the same skillet heat the pulled pork until it is warmed through.

Scoop quinoa into a bowl. Top with pulled pork, then black beans and guacamole. Spoon corn mixture over the top followed by the quick salsa. Serve.
Keywords:
chipotle, entree, Food, guacamole, Latin American, mexican, pulled pork, quinoa, quinoa bowl. black beans, Recipe, rice bowl, salsa