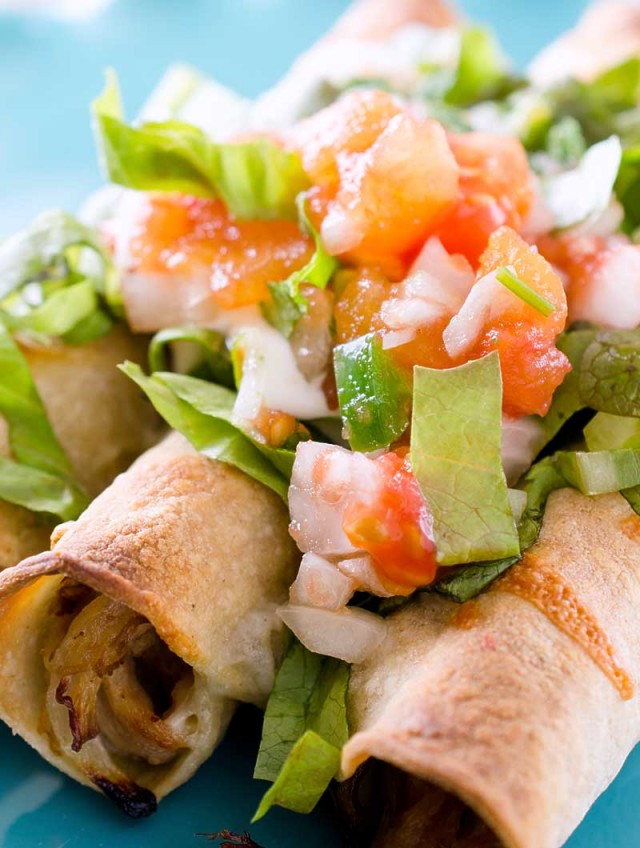 Pulled Pork Taquitos with Grilled Tomato Salsa
Welcome to Pulled Pork Week! That's right, this week I'm going to be posting recipes that include the succulent loveliness that is pulled pork. All of the recipes this week will use my slow cooker pulled pork. It is a recipe I make at least a couple times a month. It is so versatile and inexpensive. Seriously, I can spend $10 – 15 on a 3 – 5 pound pork shoulder and get 3 meals out of it. How awesome is that? So bust out that slow cooker, get yourself some pork shoulder and celebrate pulled pork week with me. I'm going to kick things off with these Pulled Pork Taquitos with Grilled Tomato Salsa because well, I love taquitos and salsa and pulled pork, so really, I think it's a winner all around.
Did you know you can grill tomatoes? I had no idea until I tried recently for the Grilled Veggie Salad I shared last week. I always thought that they would be too soft to grill. That they would turn into mush. And they will. If the tomatoes that you use are not firm.
Firm tomatoes on the other hand grill up very nicely. They get a nice charred flavor as well as a bit of a sweet one. I think that the little bit of sweetness that they have is what made them perfect for this salsa.
It's that whole sweet and spicy thing that everyone loves. I mean, why wouldn't you?
Not only is this grilled tomato salsa perfect for dipping your favorite chips, but it is also the perfect addition to these taquitos that are stuffed with pulled pork and caramelized onions then topped with pepper jack cheese and shredded lettuce. They are great for a weeknight meal. They are great for any meal really. I mean, they are taquitos. With pulled pork.
Heck, I'd even eat them for breakfast.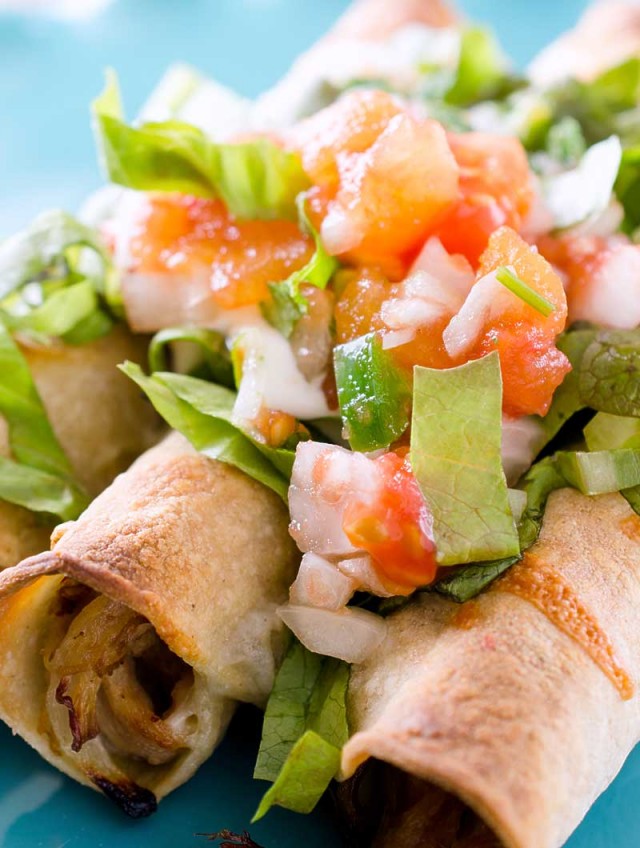 Pulled Pork Taquitos with Grilled Tomato Salsa
Crispy taquitos filled with succulent pulled pork and caramelized onions. Topped with shredded lettuce, pepper jack cheese and grilled tomato salsa.
Grilled Tomato Salsa Ingredients:
3

medium

firm tomatoes. sliced into 1/2 inch slices

olive oil

1/2

medium yellow onion

diced

2

cloves

garlic

minced

1

tablespoon

lime juice

2

tablespoons

cilantro

1

jalapeno

diced (seeds removed if desired)

1/4

teaspoon

salt
Pulled Pork Taquitos Ingredients:
non-stick spray

1 - 2

tablespoons

olive oil

1

medium onion

sliced

12

small corn tortillas

shredded lettuce

1

cup

pepper jack cheese
Heat your grill to medium-high heat. Brush both sides of the tomatoes with olive oil. Place on grill and grill about 2 minutes per side or until they have softened slightly and have dark grill marks. Remove from grill. Set aside to cool.

While tomatoes are cooling combine the remaining ingredients for the salsa together in a bowl. Mix well. Once tomatoes are cool, dice them and add them to the rest of the ingredients. Mix well. Cover and let set at room temperature until ready to use.

Preheat oven to 350 degrees. Spray a baking sheet lightly with non-stick spray

Heat 1 tablespoon olive oil in a skillet over medium-low heat. Cook onions until they are brown and caramelized, 15 - 20 minutes. Remove from heat and set aside.

In the same skillet add the remaining tablespoon of olive oil and cook tortillas, one at a time, until soft and pliable. About 30 seconds on each side. Repeat with all tortillas.

In a bowl combine caramelized onions and pork. Mix well. Place a heaping tablespoon of the mixture in the center of a tortilla and roll up. Place the taquitos seam side down on the prepared baking sheet. Repeat with remaining ingredients until you've made 12 taquitos.

Cook taquitos in the preheated oven for 15 minutes. Sprinkle pepper jack cheese on top and return to the oven and cook until cheese has melted, about 5 minutes.

Place taquitos on a serving platter, top with shredded lettuce and grilled tomato salsa. Serve.
Keywords:
entree, Food, grilled tomatoes, mexican, pulled pork, Recipe, salsa, tacos, taquitos