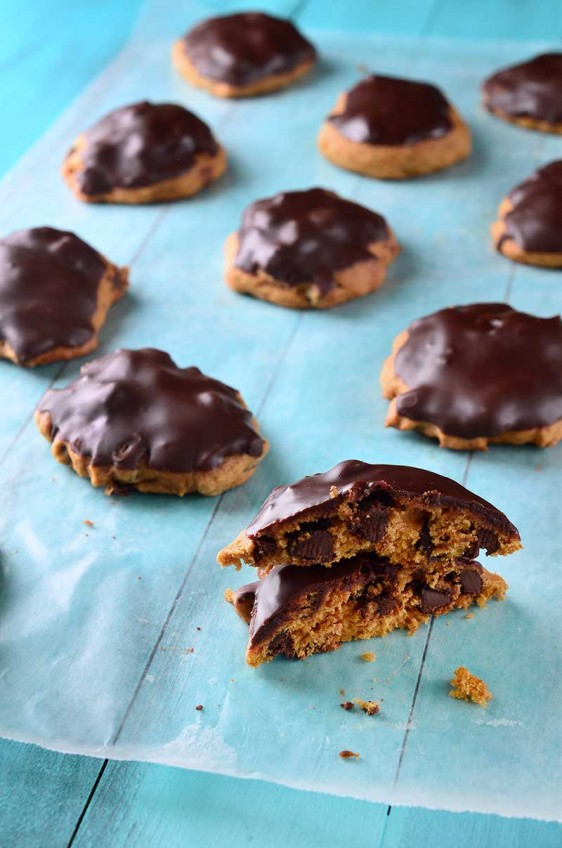 Pumpkin Chocolate Chip Cookies with Chocolate Ganache
So…these cookies, I have made them 3 times in the last 3 weeks. They are the most perfectly soft, decadent cookies I have had in a long time and have quickly run to the top of my list as far as cookies go. That's a bold statement right? I know. But seriously, I cannot get enough of these cookies. In fact, I'm eating a couple while I type this. :)
For those of you that say ugh you've gone and pumpkin-ed something else, bear with me. I've realized something about pumpkin: the only way that pumpkin has that pumpkin pie taste that we are all familiar with is if you season it with ginger, cinnamon, cloves and nutmeg. If you don't do that, pumpkin really doesn't add too much flavor but it adds a TON of moistness to baked goods. Seriously, these cookies are so soft, you'll wonder why you never added pumpkin to cookies before.
The fact that I used brown sugar only, instead of a combo of white and brown, makes these cookies even more moist.
Not only are they super moist but they are also studded with loads of chocolate chips.
BUT WAIT THERE'S MORE.
Ganache. Decadent, perfect, chocolatey ganache.
Who puts ganache on cookies you ask? THIS GIRL.
And you should too.
In my opinion, people don't frost cookies enough and they definitely do not ganache them enough. But trust me, one bite of these cookies and you'll be doing it ALL. THE. TIME.
I really just cant say enough about how scrumptious these cookies are. Don't take my word for it, do yourself a favor and make them. ASAP.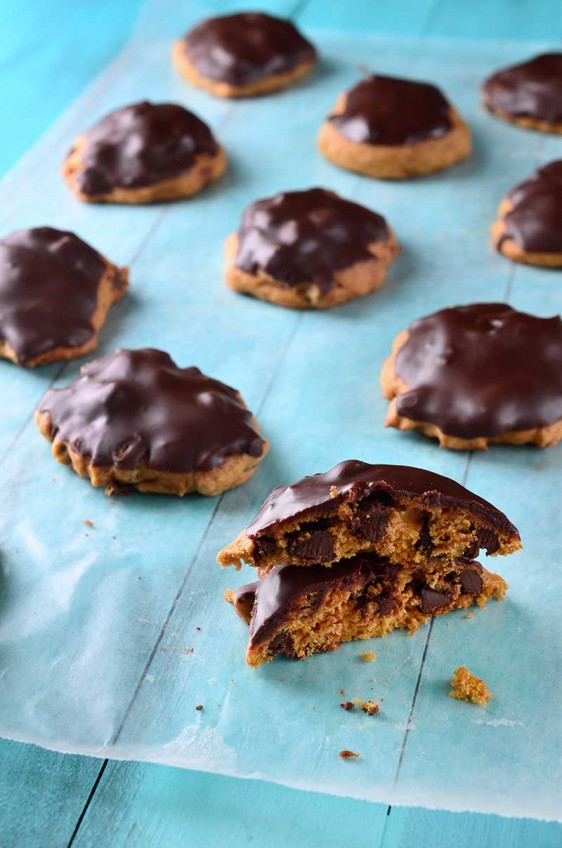 Pumpkin Chocolate Chip Cookies with Chocolate Ganache
Super soft, chocolaty pumpkin cookies topped with a decadent chocolate ganache.
Pumpkin Chocolate Chip Cookie Ingredients:
Ganache Ingredients:
2/3

cup

heavy cream

3/4

cup

dark chocolate chips
Preheat oven to 350 degrees.

In the bowl of a stand mixer cream together butter and brown sugar until light and fluffy. Beat in eggs one at a time. Beat in vanilla.

Combine flour, baking soda, cinnamon and salt together in a bowl. Beat into wet mixture. Beat in pumpkin puree and chocolate chips.

Scoop heaping tablespoonfuls of dough onto a cookie sheet 1 inch apart. Bake in preheated oven for 12 minutes.

Remove from oven allow to cool a couple minutes on the cookie sheet. Transfer to a cooling rack to cool completely.

Once cool, make ganache by combining chocolate chips and heavy cream together in a bowl. Microwave for 30 seconds. Stir. If chocolate isn't melting, microwave for another 30 seconds. Stir. Let stand one minute and stir until the mixture becomes glossy.

Dip the cooled cookies into the chocolate ganache. Place on a piece of wax paper until the ganache hardens. Serve.
Keywords:
chocolate chip cookies, chocolate ganache, cookies, dessert, pumpkin