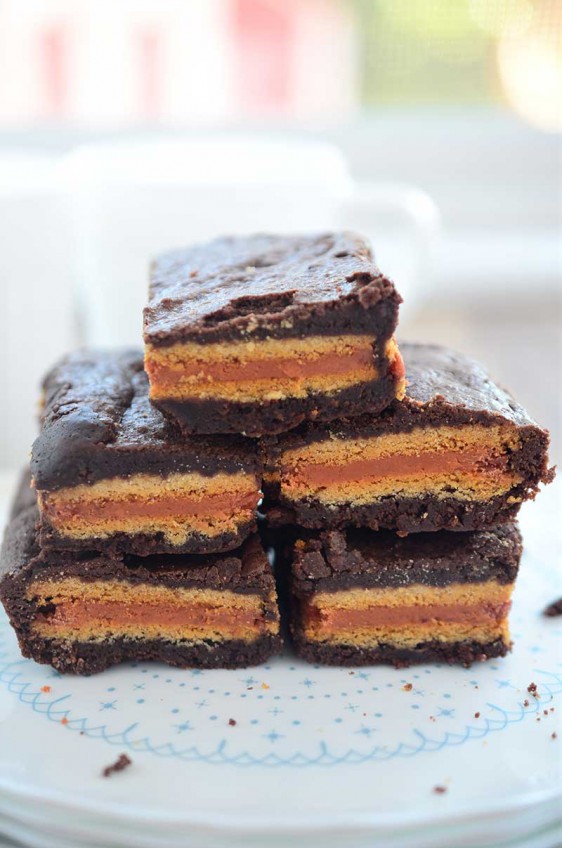 Pumpkin Spice Oreo Stuffed Brownies
Two of my favorite sweet treats collide in. Decadent chocolate brownies with a pumpkin spice Oreo stuffed inside make these Pumpkin Spice Oreo Stuffed Brownies a perfect fall treat!
I decorated for fall this weekend. I'm talking full on leaves, pumpkins and scarecrows. I know fall doesn't officially start until Wednesday but I just couldn't wait.  And as I type this my pumpkin spice candle is lit. It's official, I've dived headfirst into fall.
And I am SO excited.
Fall is my favorite time of year. Ryan and I will celebrate our 9th wedding anniversary next week. Then comes my birthday, Halloween, Kellan's Birthday and then Ryan's a few days later. Then of course there is Halloween and Thanksgiving thrown in there. With all of these special occasions, I always make sure to have plenty of fall treats on hand. These Pumpkin Spice Oreo Stuffed Brownies are my latest creation.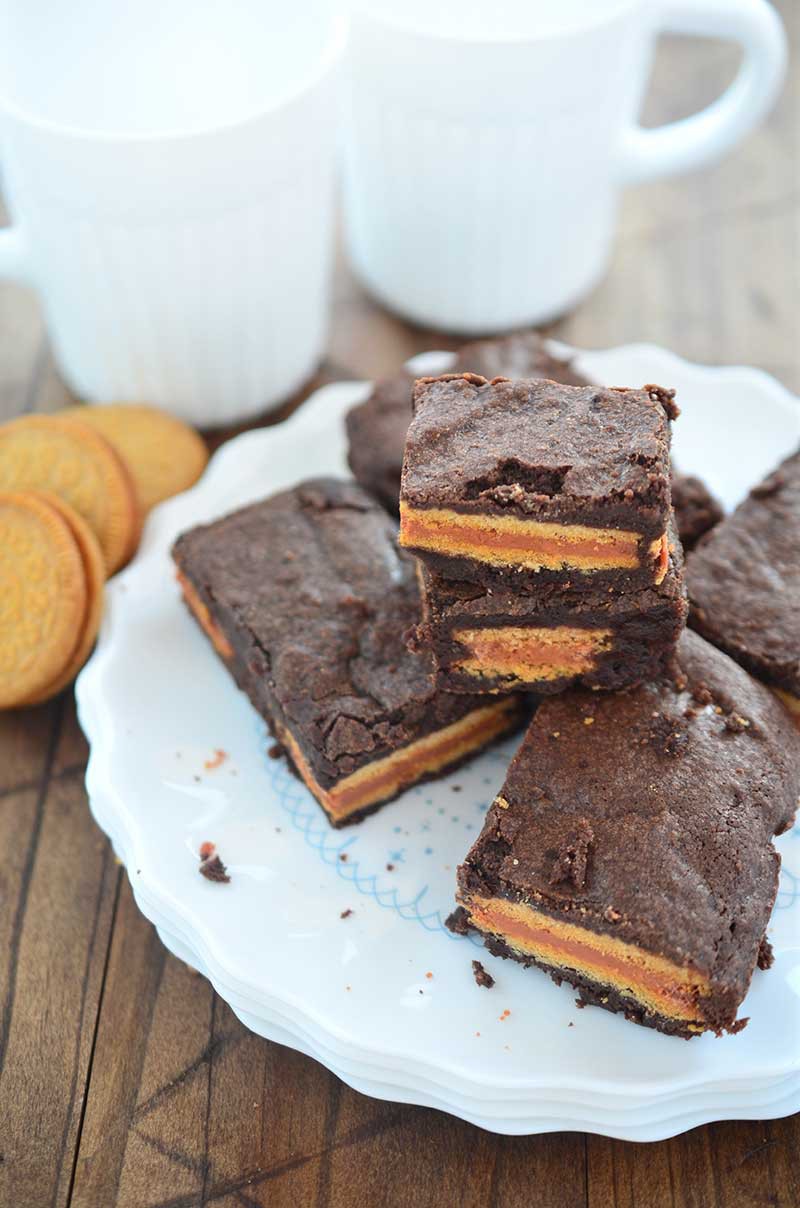 When it comes to pumpkin spice flavored foods, I'm not as much as a fanatic as some people might guess. Despite my love for fall, I don't think everything needs to be pumpkin spice flavored. With that said,  I love a pumpkin spice latte from time to time and my favorite guilty pleasure is Pumpkin Spice Oreos.
I'm not quite sure why they decided to make Pumpkin Spice Oreo with the golden Oreos instead of the chocolate Oreos because I adore the combination of chocolate and pumpkin. I think it works so well together. My love of chocolate and pumpkin is probably why I loved these brownies so much. They are the perfect combination of both.
Just look at those layers!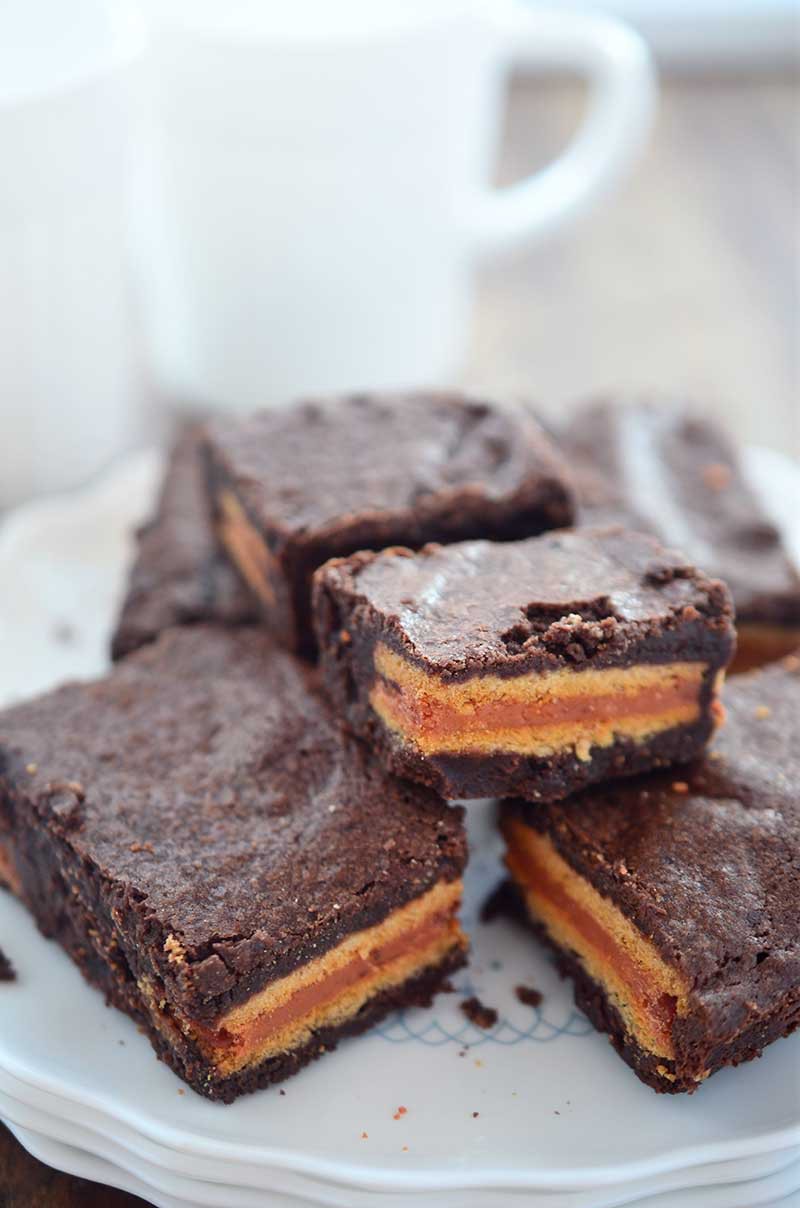 Chocolate, cookie, pumpkin spice filling, cookie, chocolate. Fall treats don't get much more perfect!
Pumpkin Spice Oreo Stuffed Brownies Recipe
Ingredients:
1/2 cup unsalted butter
1/2 cup unsweetened cocoa powder
1 cup granulated sugar
2 eggs
1 teaspoon vanilla
1/2 cup all purpose flour
1/4 teaspoon salt
16 pumpkin spice Oreo cookies
Instructions
1
Preheat oven to 350 degrees. Line an 8 x 8 baking dish with enough aluminum foil to have some hang over the sides. Grease and flour the aluminum foil.

2
Melt butter in a saucepan over medium heat. Once melted allow to cool.

3
Once cool, whisk in cocoa powder. Whisk in sugar. Once mixed, whisk in eggs one at a time. Whisk in vanilla. Add in flour and salt and mix just until combined. Don't over mix.

4
Spread half of the batter in the bottom of the prepared pan. Place Oreos in rows of 4. Press gently into brownie mixture. Spread remaining brownie mixture over the top. Bake in preheated oven for 25 - 30 minutes or until a toothpick inserted comes out clean. Place on a cooling rack to cool completely. Slice and serve.