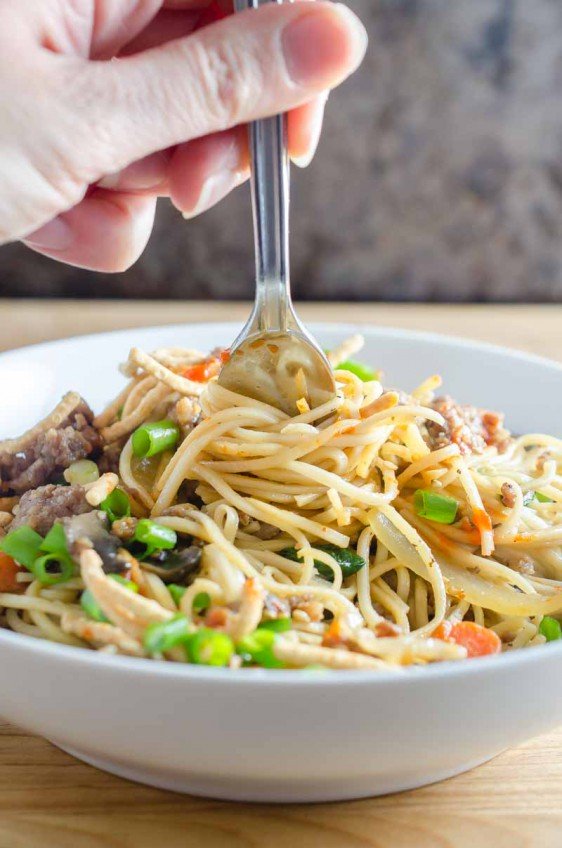 Quick and Easy Pork Veggie Stir Fry
A quick and easy pork veggie stir fry with ground pork, carrots, baby bok choy, onions and mushrooms.
Alas vacation is over! It's time to get back to normal. That means back to school, work and our regular routines. Regular busy routines usually means that you're also too busy to cook. I can't help you with your work and school load, but I thought today I'd help you with the too busy to cook part and share one of our favorite quick an easy meals: Pork Veggie Stir Fry. Pork Veggie Stir Fry is loaded with veggies and ground pork and comes together quickly. It is a total crowd pleaser with kids and adults alike.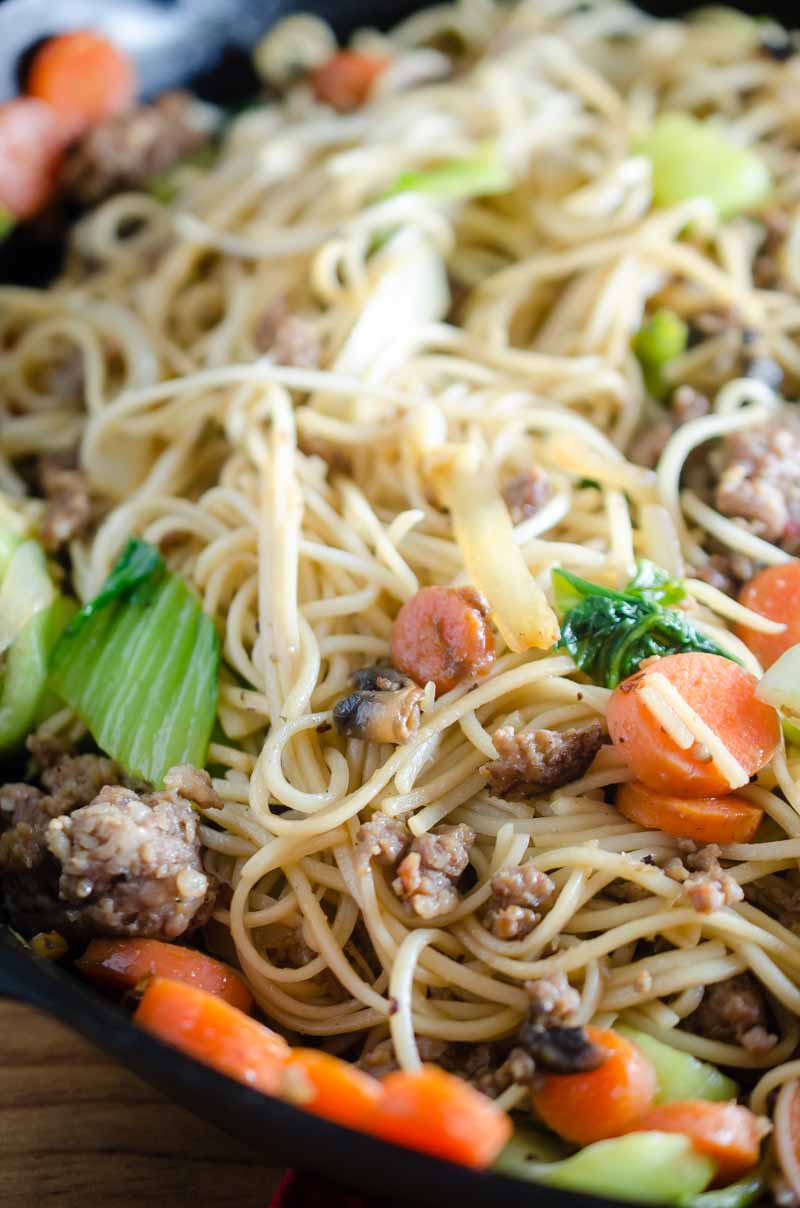 Speaking of crowd pleasing, our kiddos love this Pork Veggie Stir Fry. Which is saying a lot these days. It seems like our youngest doesn't love a whole lot of things.
Is it just me or are three year olds like really picky? I mean if I cut my son's sandwich the wrong way or he doesn't have "big strawberry" pieces mixed in with his jelly you'd think that I took his favorite toy and chucked it out the window. I kid you not, it's a complete and total meltdown.
Yet, at the same time, he will drop a chip on the floor, step on it and then eat it.
Go figure.
But this dish is a completely different story. If you serve Pork Veggie Stir Fry and squeeze some hoisin on top he will gobble it up in no time and then ask for more. The fact that it is loaded with veggies like bok choy, carrots, mushrooms and onions makes me even happier that he will gladly eat it.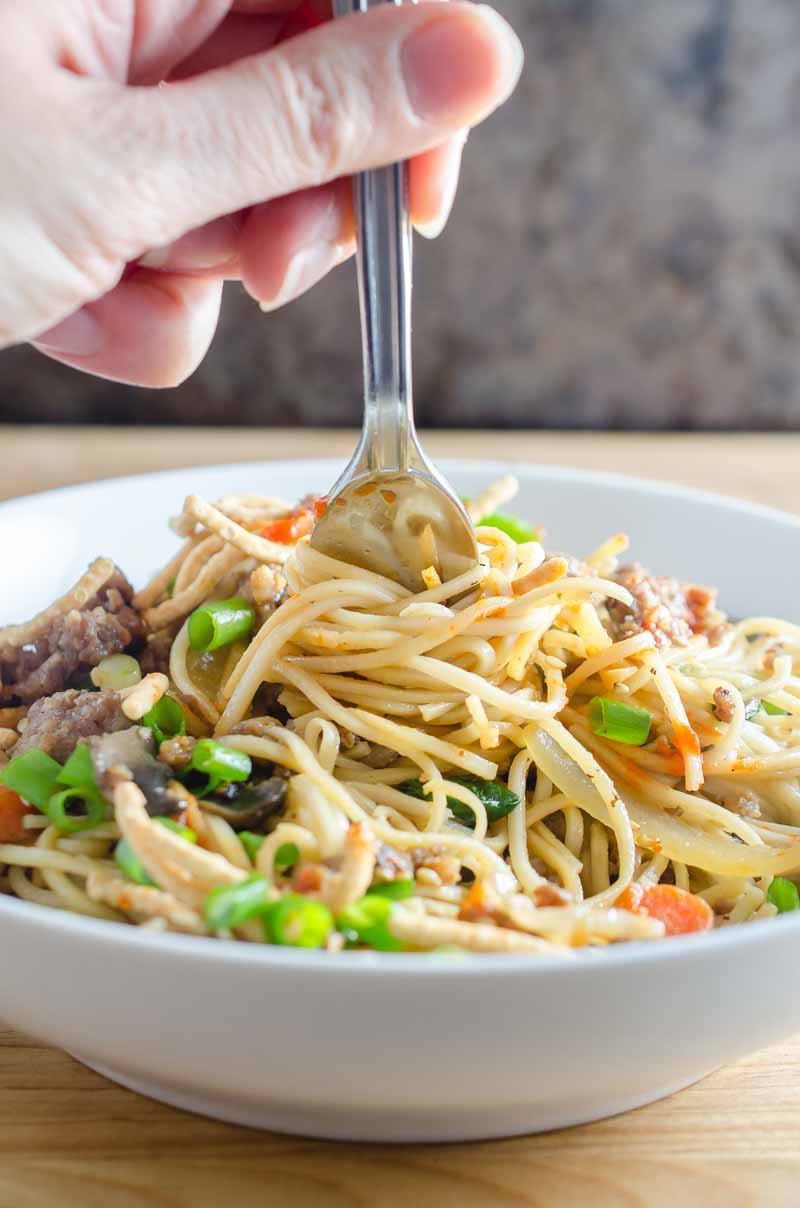 I think the crispy chow mein noodles are also one of the reasons he likes it.   Can't blame him. I still remember digging into the take out bag when I was a kid and searching for the little bag of crispy noodles. It was my favorite part of ordering Chinese food.
Crispy noodles aside, after making Pork Veggie Stir Fry several times, I do have a tip: make sure you do not over cook the noodles when you originally boil them and make sure you use a large enough pan to hold everything. I like to use my wok. If you over cook the noodles or use a pan that is too small, the noodles will get mushy.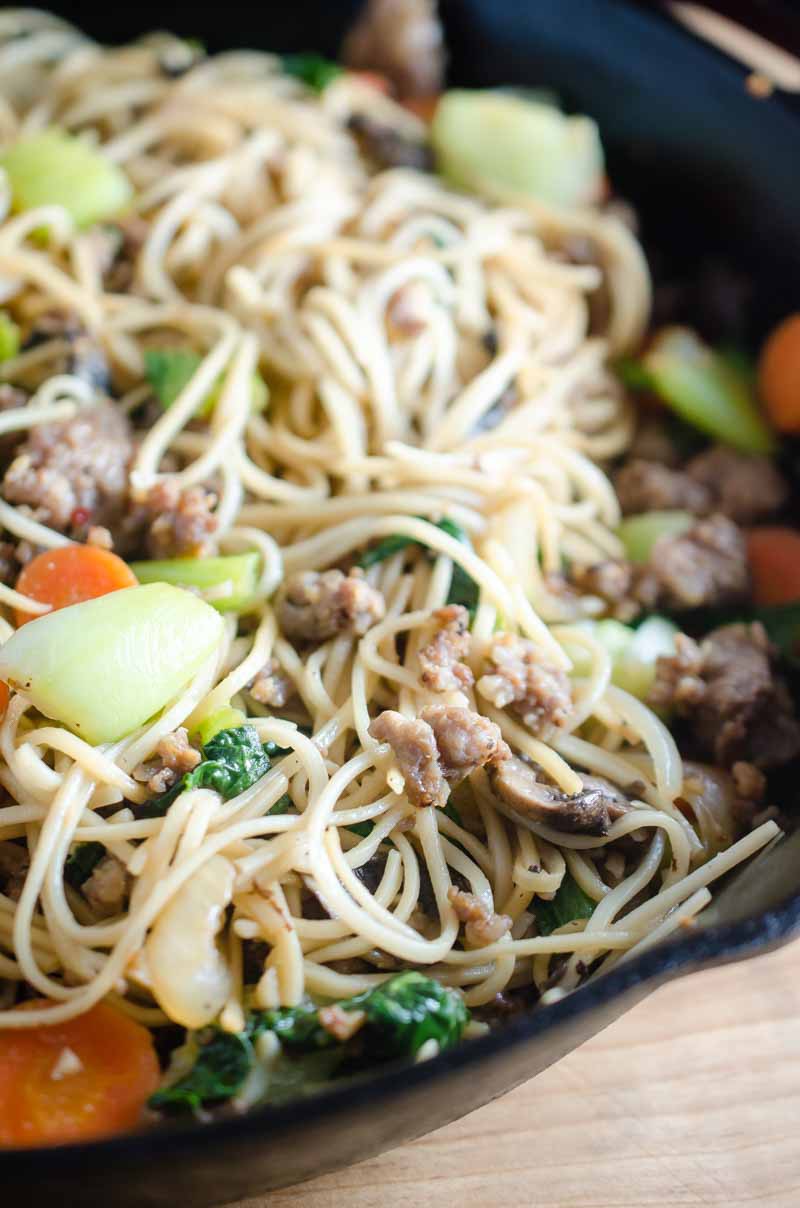 And lord have mercy if you give a toddler a mushy noodle.
Watch the video below to see just how easy this Quick and Easy Pork Stir Fry is to make!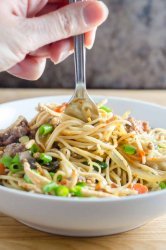 Quick and Easy Pork Veggie Stir Fry
A quick and easy pork veggie stir fry with ground pork, carrots, baby bok choy, onions and mushrooms. It's perfect for weeknight meals!
Ingredients:
2

6 ounce packages dried chow mein noodles

1

pound

ground pork

1

cup

diced carrots

1

cup

sliced yellow onions

1

cup

diced mushrooms

10

cloves

garlic

minced

1

tablespoon

plus 1 teaspoon soy sauce

1

teaspoon

ground ginger

1

teaspoon

sesame oil

1

teaspoon

hot oil

5

cups

diced baby bok choy

3

green onions

diced

Crispy chow mein noodles
Cook noodles according to package directions. Drain, rinse under cool water.

In a large skillet or work over medium-high heat, cook pork until cooked through 3 -5 minutes. Add in carrots, onions, mushrooms, garlic, soy sauce, ginger, sesame oil and hot oil. Cook, stirring frequently, until veggies soften, about 3 minutes.

Add in baby bok choy. Cook just until wilted. About 2 minutes. Add in noodles. Use tongs to mix and toss together. Continue cooking, using the tongs to toss frequently, until the noodles are warmed through, 1 - 2 minutes.

Transfer to serving platter, sprinkle with diced green onions and crispy chow mein noodles. Serve hot.
Keywords:
entree, pork, stir fry