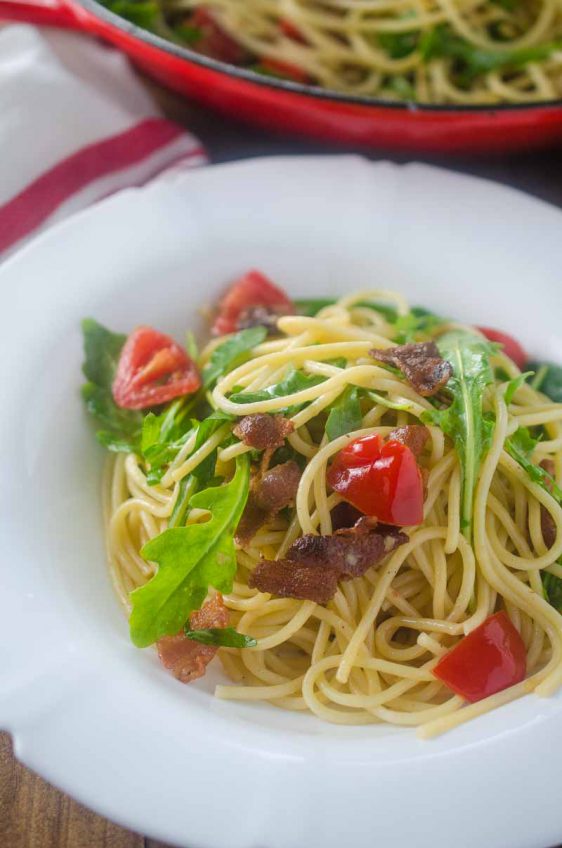 Ranch BLT Spaghetti
This Ranch BLT Spaghetti is full of thick cut bacon, diced tomatoes, arugula and a drizzle of ranch. It'll be a family favorite for sure!
This post is sponsored by Safeway and Albertsons grocery stores through Kitchen PLAY. We are grateful for our sponsors because they allow us to bring you delicious free content every week!
BLTs are always a favorite around here. We usually serve them for lunch on weekends. We do take a couple of liberties. For starters, while lettuce is good and all, the "L" in our BLTs often changes. Sometimes it'll be lettuce. Other times it'll be spinach or, my personal favorite, arugula. I just love the pepper bite that it adds.
The next liberty we take is, instead of mayo, BLTs get a drizzle of ranch dressing. Because…ranch.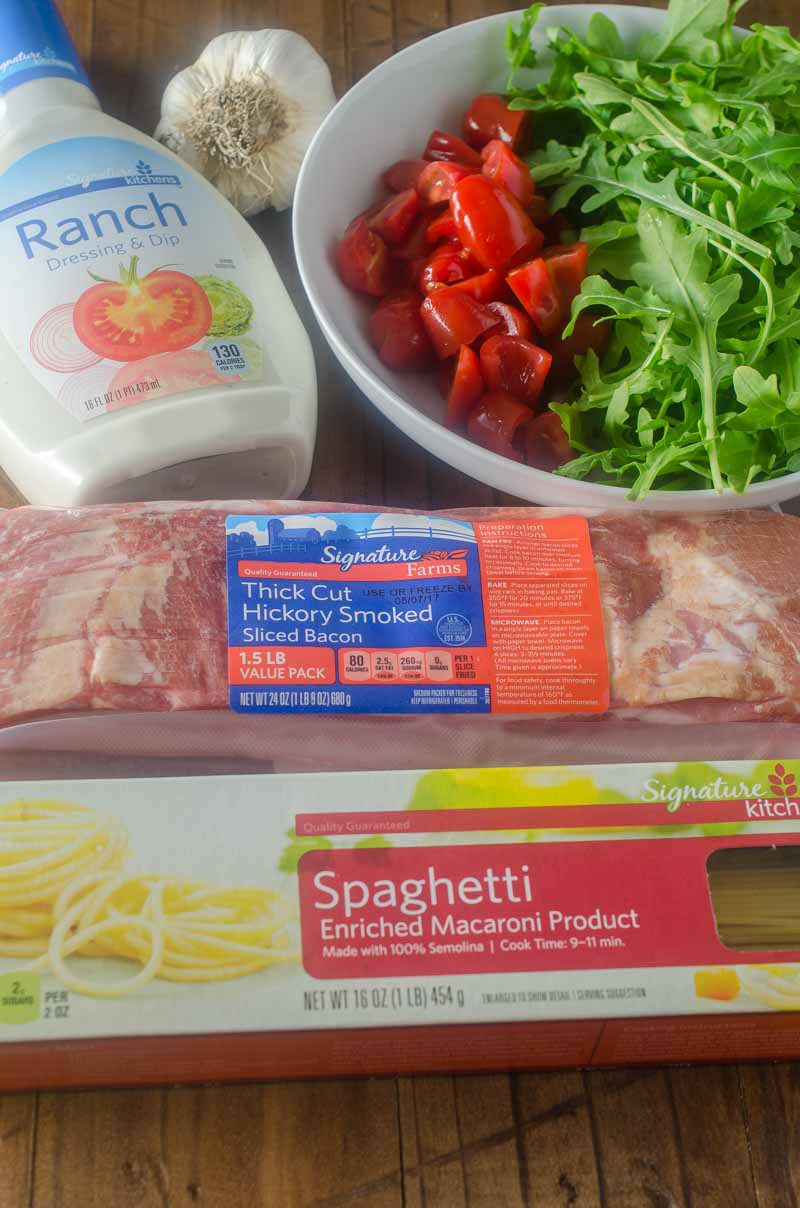 These Ranch BLTs are what inspired this Ranch BLT Spaghetti.
When the nice folks at Safeway and Albertsons grocery stores asked if I could create a post highlighting the Signature Farms® Bacon, it took me .000000001 seconds to say yes. You see, I love Signature Farms bacon. Especially the thick cut. It's the perfect thickness and just the right amount of salty smoke flavor.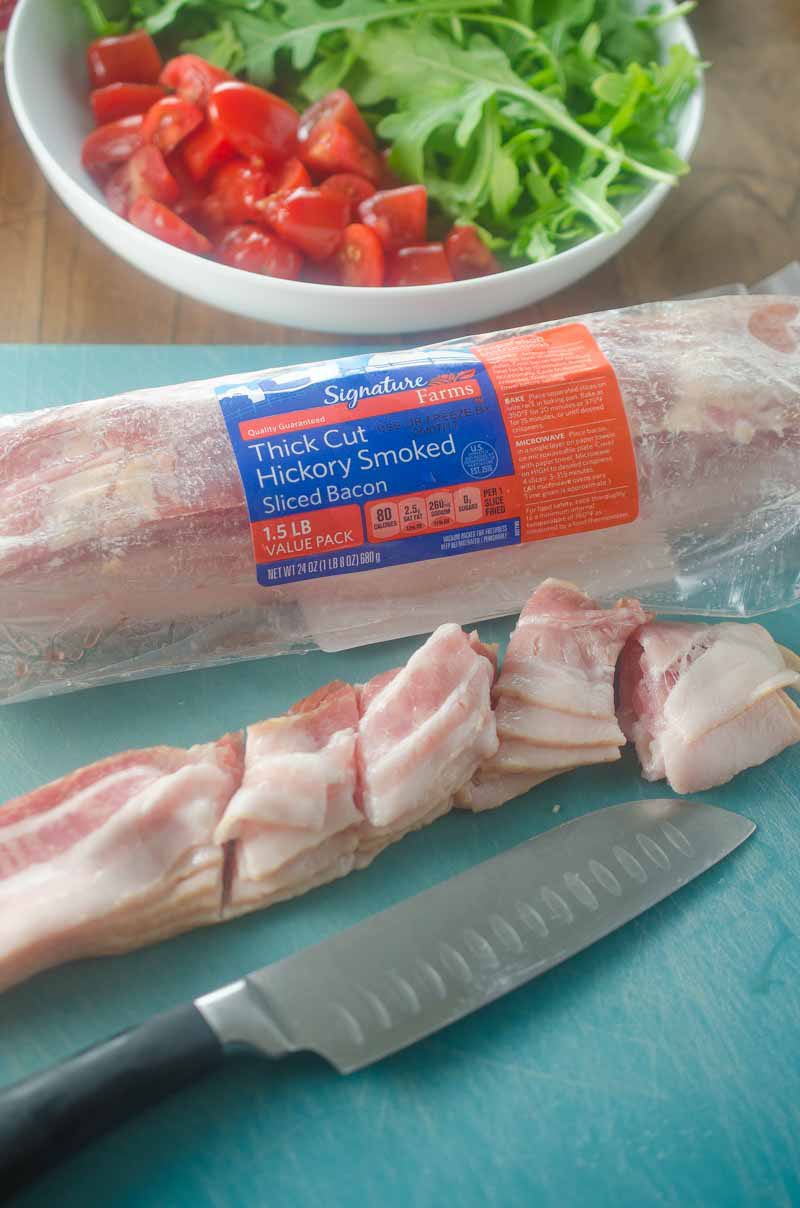 In addition to the bacon, I am a huge fan of the Signature brand products, which, in the Seattle area, are available exclusively at Safeway and Albertsons.  I always  reach for Signature items first. With more than 4,000 products in the line, it's hard not to! It includes everything from fresh produce to prepared food… To condiments and bacon. I know that Signature products have quality I can count on and they are affordable. It's a total win in my book.
For this Ranch BLT Spaghetti, I used Signature Farms Bacon, Signature Kitchens Ranch Dressing and Signature Kitchens® Spaghetti.
I know, I know, it might sound a little silly to use ranch dressing in a pasta but it totally works. When making this Ranch BLT Spaghetti, I add the ranch dressing after removing the pasta from the heat. The dressing adds a subtle creamy ranch flavor.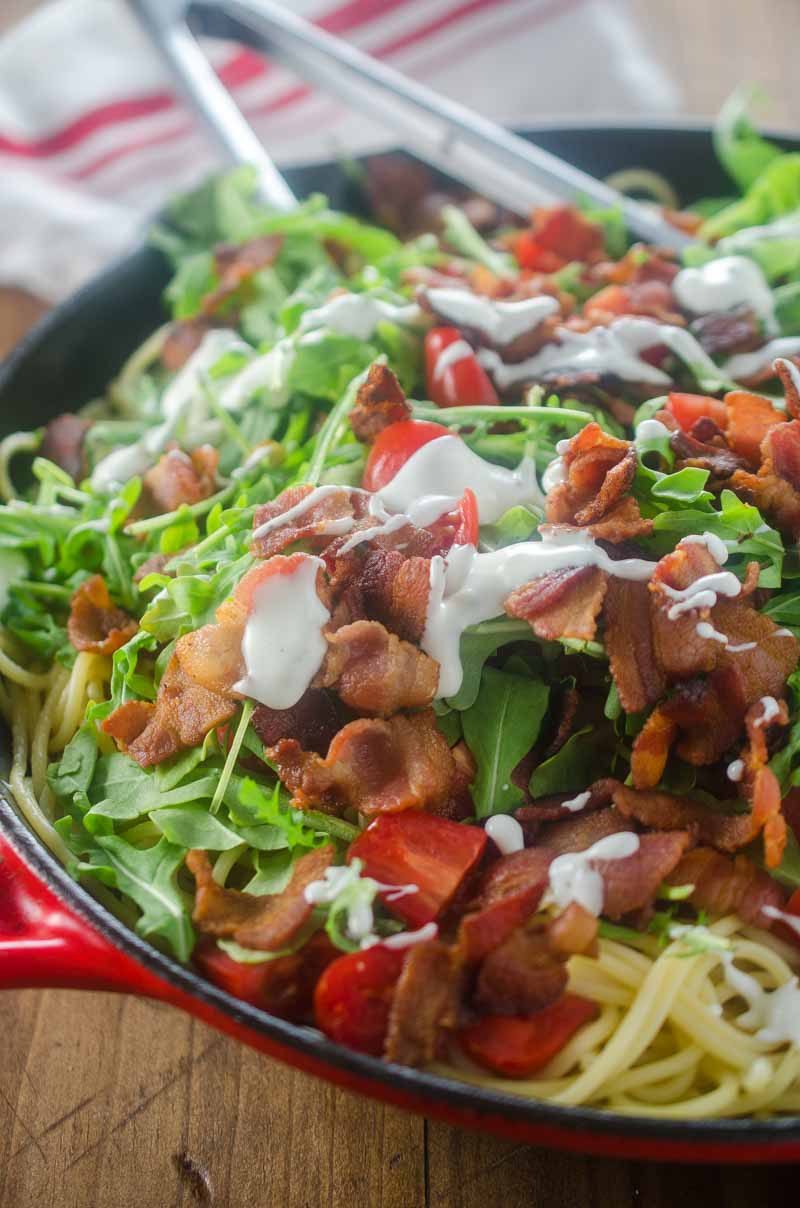 My boys gobbled it up. Although, how can you blame them, this Ranch BLT Spaghetti is loaded with so many good things – bacon, tomatoes, arugula and ranch. I'm not sure pasta night gets much better!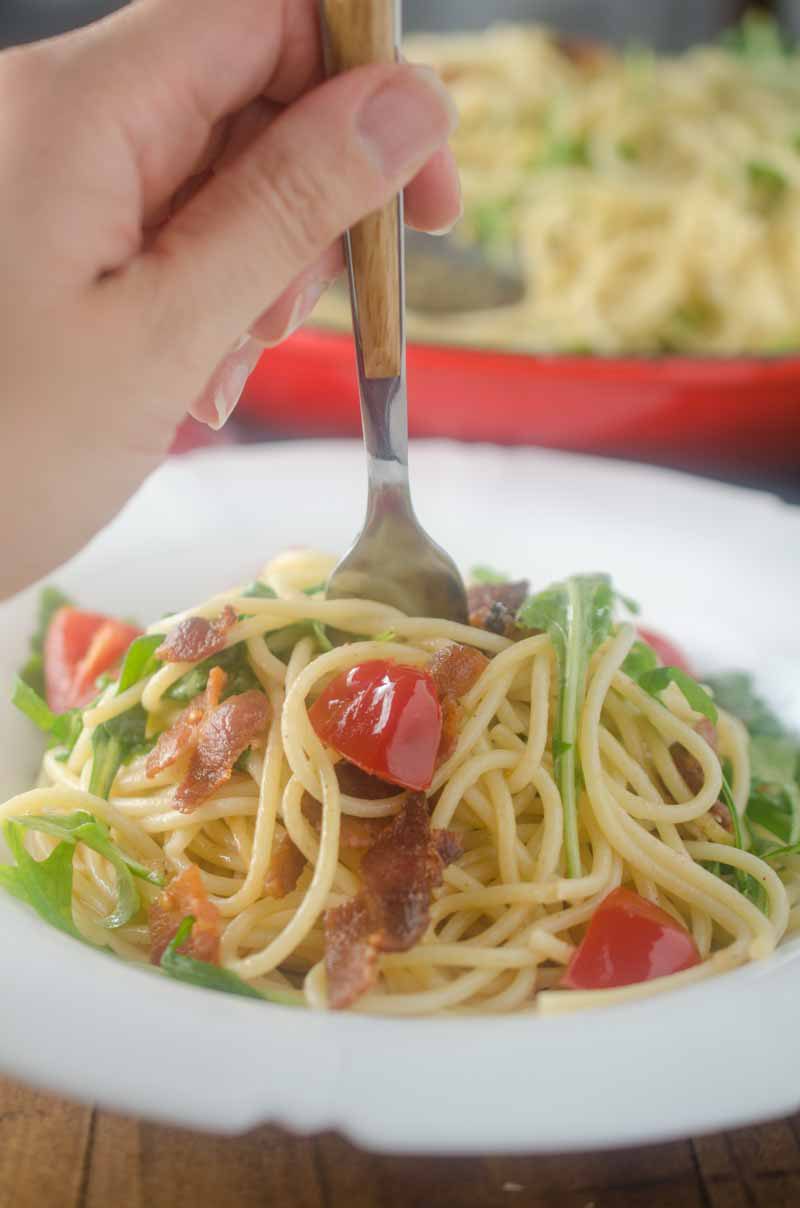 The Signature line of products is available at all of the Albertsons Companies  family of stores including: Albertsons, Safeway, ACME Markets, Jewel-Osco, Vons, Pavilions, Randalls, Tom Thumb, Shows, Star Market, United Express, United and Carrs/Safeway. To find the store closest to you visit www.albertsons.com.

Ranch BLT Spaghetti Recipe
Ingredients:
8 slices Signature Farms Thick Cut Hickory Smoked Bacon, cut into 1 inch pieces
4 cloves garlic
1 cup diced tomatoes
2 cups baby arugula
¼ cup Signature Kitchens Ranch Dressing
Salt and pepper
Parmesan
Instructions
1
Cook pasta according to package directions, drain and set aside.

2
While pasta is cooking, cook bacon in a large skillet over medium high heat. Cook until browned. Use a slotted spoon to transfer bacon to a paper towel lined plate.

3
Drain pan drippings but reserve 2 tablespoons.

4
Return pan drippings to the same skillet used for bacon.

5
Add garlic and cook just 30 seconds or until garlic is fragrant.

6
Add in pasta. Toss to coat. Add in tomatoes and arugula. Cook 1 - 2 minutes or until the arugula wilts slightly.

7
Drizzle ranch dressing over the top and toss to coat. Season to taste with salt and pepper.

8
Scoop pasta into serving bowls and top with parmesan cheese.