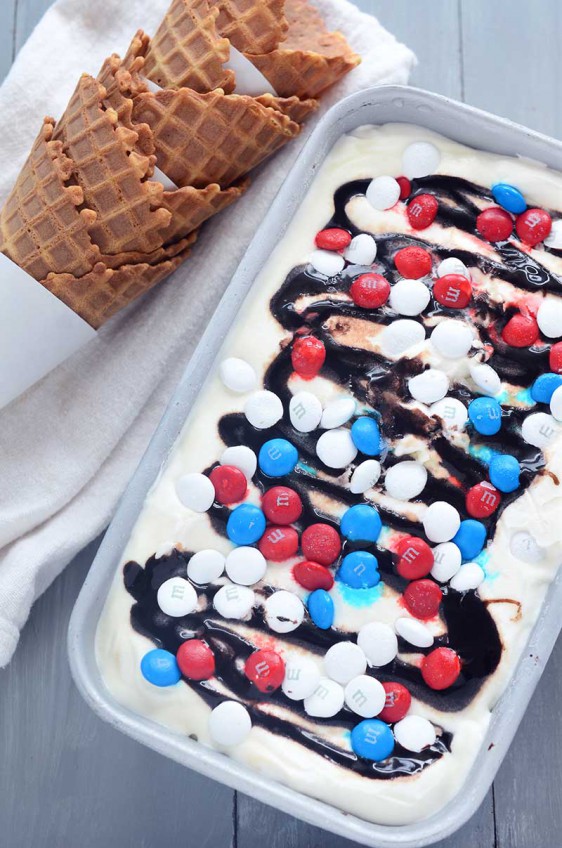 Red, White and Blue M&M Ice Cream
Yahoo! The fourth of July is this weekend! Let's celebrate with this crazy easy Red, White and Blue M&M Ice Cream. It's no churn, so you don't even need an ice cream maker. It has M&M's which are always a win. And also, because I felt like it, this Red, White and Blue M&M Ice Cream also has a layer of fudge AND a layer of caramel. How's that for summer ice cream amazingness?!
Growing up the in the Pacific Northwest, the 4th of July was always the start of summer for us. That is because, usually, without fail, the weather up until that point was pretty craptastic. We'd have to wait until then to have a BBQ, play outside and chase after the ice cream man. No need to chase after the ice cream man now that I know homemade ice cream is so easy to make.
Side note: are there actually ice cream men now a days? Like legit ice cream men in the cool little trucks? My kiddos would love it but we never see them!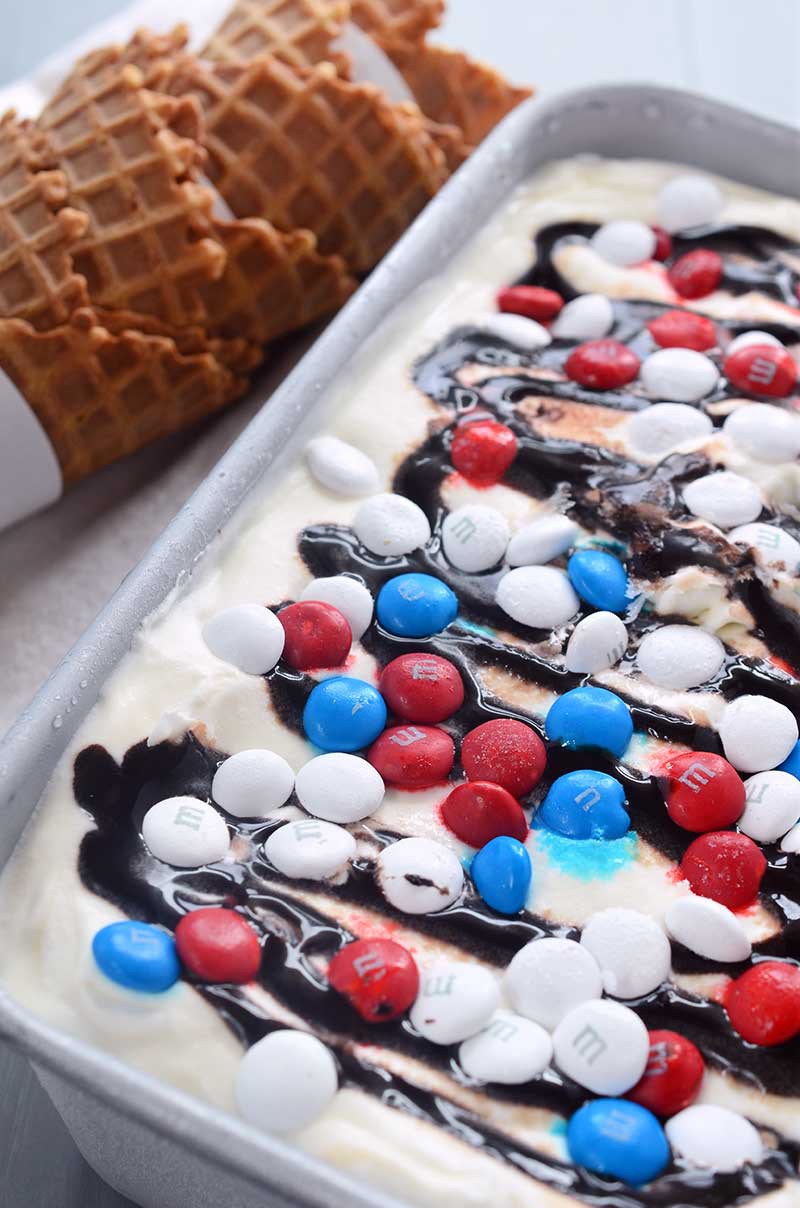 Anywho, childhood nostalgia aside, it's not that using an ice cream maker is all that difficult but no churn ice cream is SO SO easy. I have made a few batches of ice cream already this spring and I haven't even taken my ice cream maker out. I just can't justify it when no churn ice cream is so easy!
Take this Red, White and Blue M&M Ice Cream for instance you only need 7 ingredients. I could've cut the ingredients down to 5 or even 4 and just made a good ol' fashioned M&M Ice Cream but I really, really, really wanted to make this the perfect decadent dessert to celebrate with. This means I had to add a layer of caramel sauce AND a layer of hot fudge.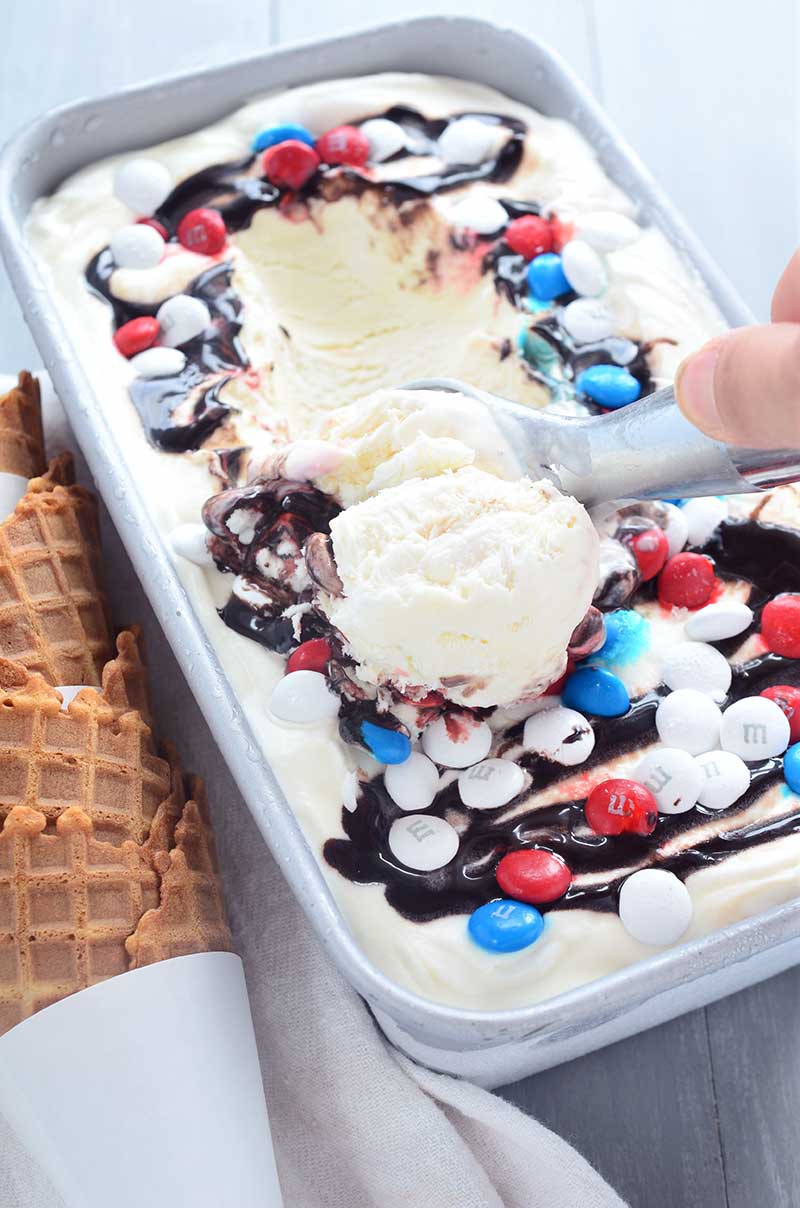 Obviously.
Red, White and Blue M&M Ice Cream Recipe
Ingredients:
1 (14 ounce) can sweetened condensed milk
1 teaspoon vanilla
2 cups heavy cream
1/4 cup caramel sauce, softened
1/4 cup hot fudge sauce, softened
1 cup Red, White & Blue M&Ms
Chocolate syrup
Instructions
1
In a large bowl whisk together sweetened condensed milk and vanilla extract. Set aside.

2
In the bowl of a stand mixer, with the whisk attached, whip cream until stiff peaks form. About 3 minutes.

3
Gently fold one scoop of the whipped cream into the sweetened condensed milk. Once mixed, gently fold in the remaining whipped cream. Mix just until combined, don't over mix.

4
Spoon 1/3 of ice cream into a 9in x 5 in loaf pan. Drizzle softened caramel over the top. Sprinkle 1/3 of M&Ms on top.

5
Spoon 1/3 of ice cream on top. Drizzle softened hot fudge over the top and 1/3 of the M&Ms.

6
Spoon the final 1/3 of ice cream on top. Drizzle with chocolate sauce and sprinkle with remaining M&Ms. Cover and freeze until frozen. About 4 hours. If you would like a firmer ice cream, freeze overnight before serving.