Restaurant Style Habanero Salsa
We are just a few days away from Cinco de Mayo so I thought what better time than now to share this Restaurant Style Habanero Salsa. It's quick, easy to make, makes enough to feed a crowd. And is the perfect salsa for spicy food lovers.
If you've spent some time on the blog or following me on Instagram then it's quite obvious that I am a chile head. There is actually a family story of how I started eating hot chile peppers at 2 and just never stopped. If there is anything where the spicy level can be kicked up a notch, or 12, I am ALL over it. I like my chicken wings smothered in spicy sauce. I like my pizza sprinkled with crushed red peppers. My stir fry drizzled with sriracha. And my salsa? My salsa HAS to be spicy. Not mild, not medium, not medium hot. We're talking hot. Not quite ghost pepper hot. But habanero pepper hot. I still like the salsa to have a flavor in addition to the heat.
This Restaurant Style Habanero Salsa is just that. It's spicy thanks to a habanero and jalapeño. But it has a great flavor thanks to the fresh garlic, onion, cilantro and wait for it…canned tomatoes.
I know I know, say what? I never would've thought to use canned tomatoes in a salsa but when I started seeing Restaurant Style Salsa popping up all over the place it seemed that canned tomatoes were the way to go so I gave it a try. I must say I was pleasantly surprised. And using canned tomatoes is perfect for when tomatoes aren't at their peak.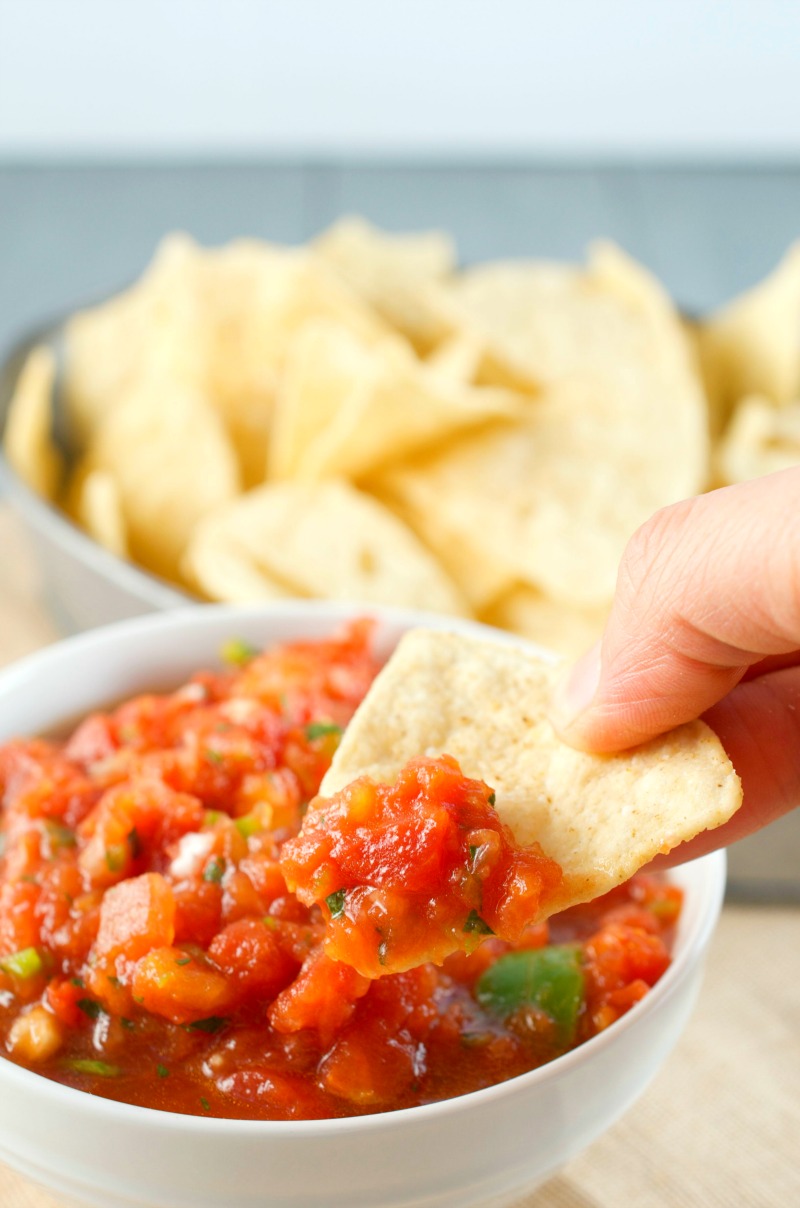 For this recipe, I used 2 cans of diced canned tomatoes. I drained both of them so that the salsa wouldn't be to watery. And since I like my salsa a bit on the chunky side, I placed one can of tomatoes in the processor with the other ingredients and added the other can after everything else had been chopped. This helped give the salsa the chunky consistency I was looking for. However,  if you like your salsa a little more smooth go a head and add both cans to the food processor.
One last note on the heat thing in this Restaurant Style Habanero Salsa. You can certainly mess with the heat level. I left the seeds in the habanero but took the seeds out of the jalapeño. If you want it hotter, leave the seeds in both. If you want it a little on the milder side take the seeds out of both. It's really easy to adjust to your tastes!
Oh and if you'd like to try a version of habanero salsa using fresh tomatoes, check out my recipe from a few years back :)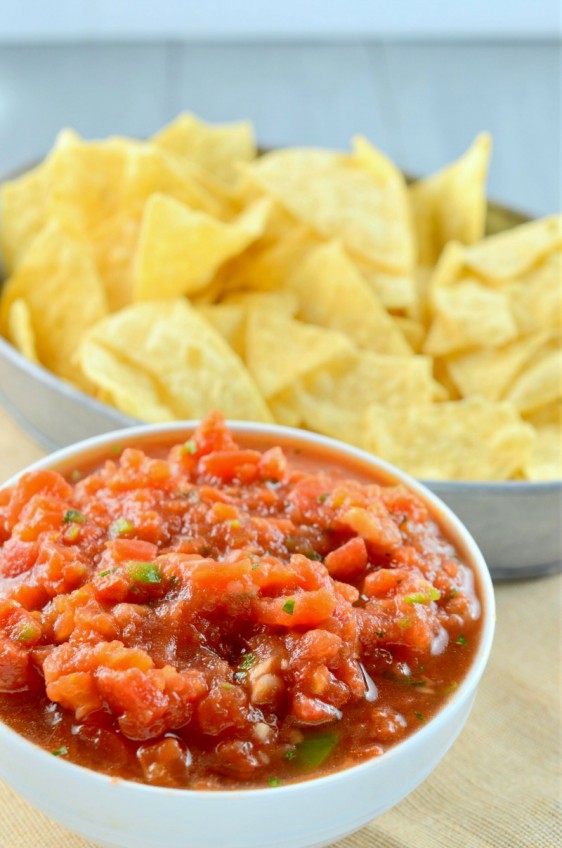 Restaurant Style Habanero Salsa
A quick, easy and spicy restaurant style habanero salsa.
Combine 1 can of diced tomatoes, onion, garlic, jalapeño, habanero, cilantro and avocado oil in a food processor. Pulse until desired consistency.

Transfer salsa to a serving bowl, mix in remaining can of diced tomatoes. Season to taste with salt.

It is great at this point, but even better if you let it chill for 30 minutes.
Keywords:
habanero, salsa, spicy, vegan