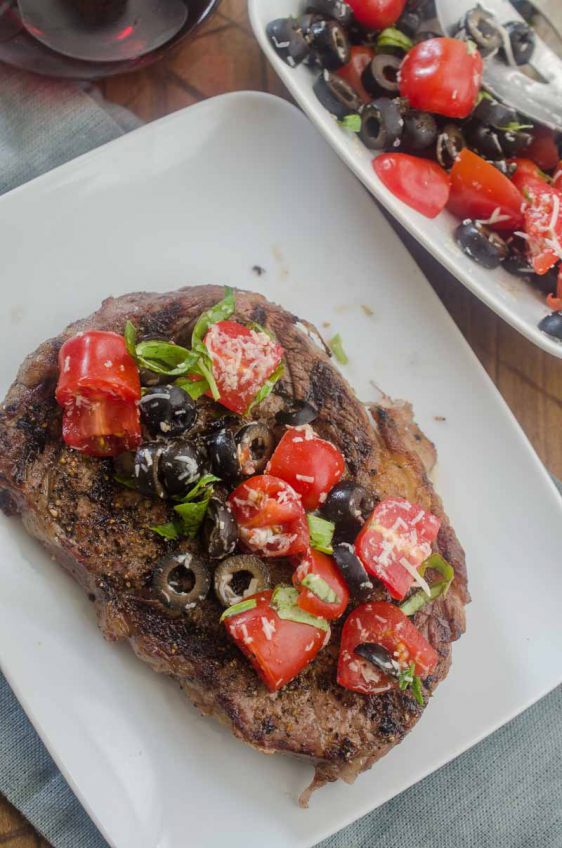 Ribeye Steaks with Fresh Tomato Tapenade
Ribeye steaks with fresh tomato tapenade are is the grilling recipe that you need this summer! Beefy goodness, topped with sweet summer tomatoes, it doesn't get much better. 
This post is sponsored by the Washington Beef Commission. We are grateful for our sponsors as they allow us to bring you delicious, free content every week.
During the last few months, I have partnered with the Washington Beef Commission to learn a bit more about beef. Sure, I eat hamburgers and steaks every so often, but I wanted to learn about other cuts. I wanted to learn about the nutritional value. I wanted to learn about about the animals and the process of raising them. And during the last few months, learn I did.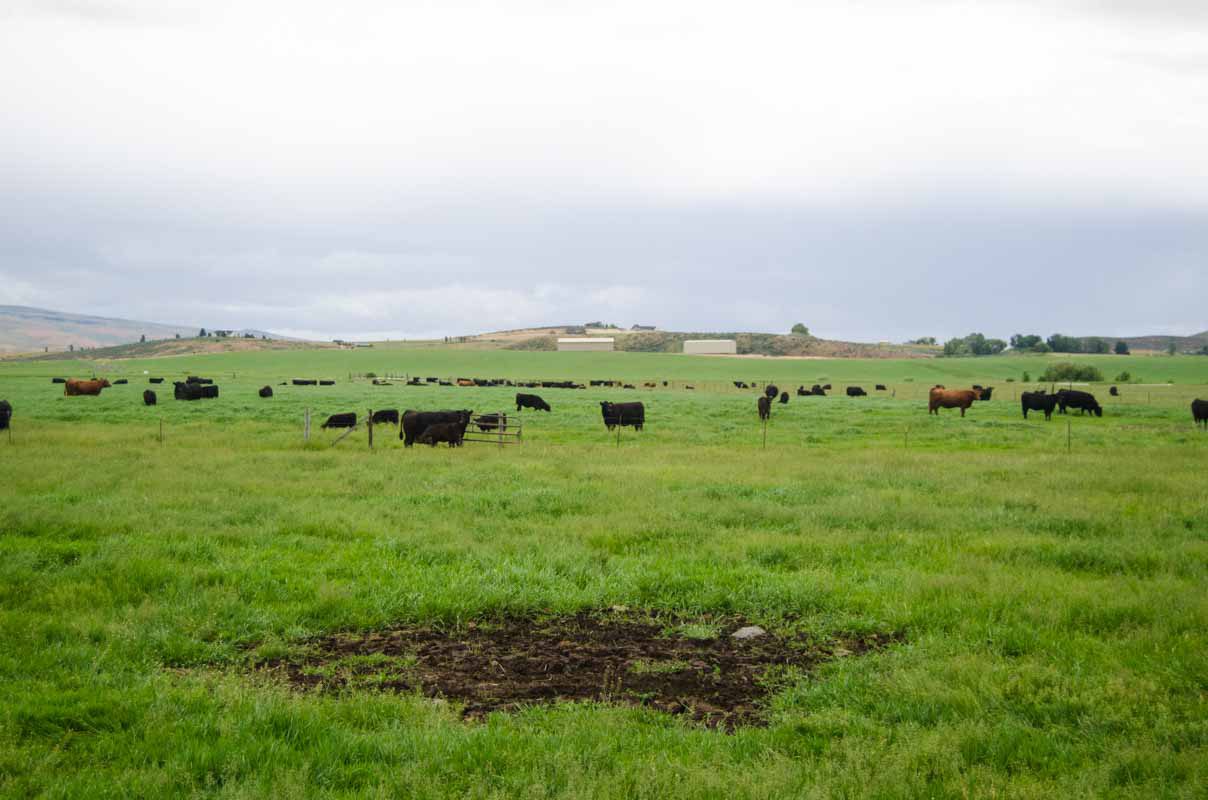 A couple of weeks ago, I had the opportunity to attend the Washington Beef Experience. The experience is a complete farm to fork experience. The experience included visiting a cattle ranch, a cattle feed yard and a processing plant.
Yes, I visited a beef processing plant. I was nervous at first. I even joked before I left that I would come back a vegetarian. I'm happy to say that I am not a vegetarian. I am also happy to say that the whole experience opened my eyes, in a really good way.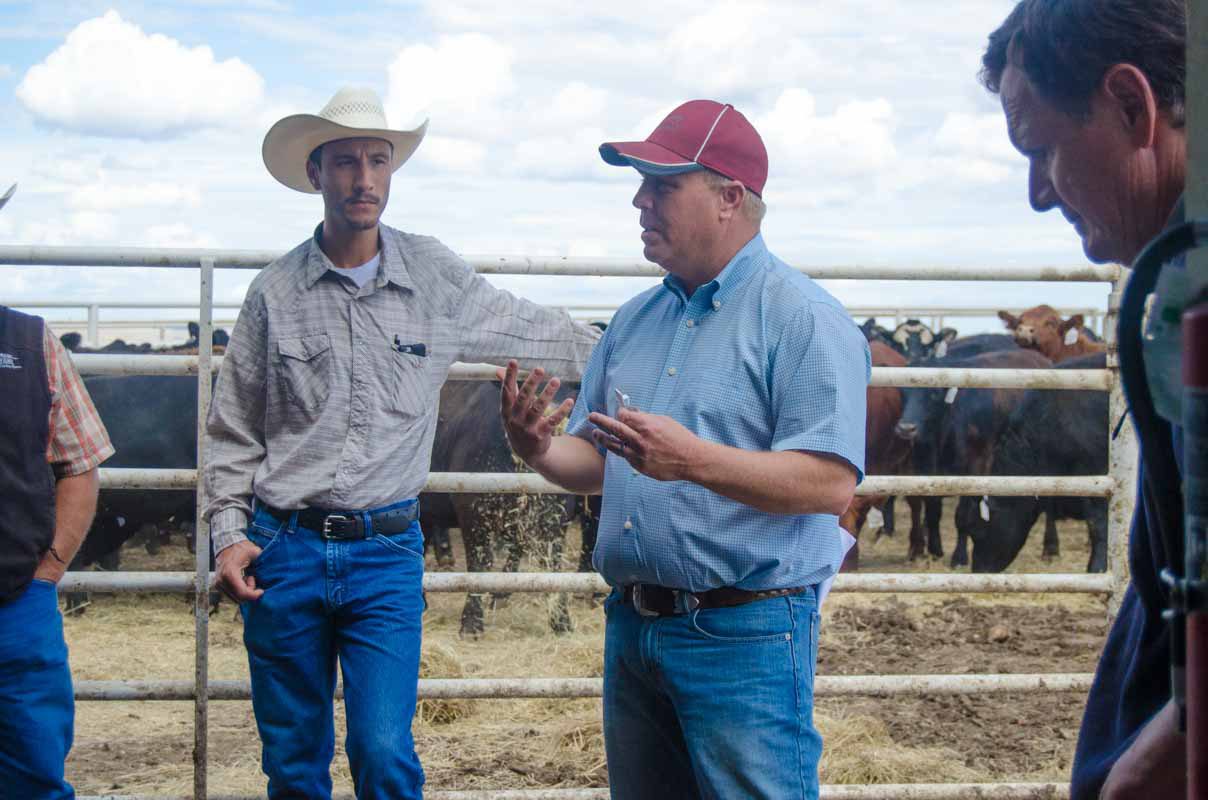 Prior to attending the Washington Beef Experience, I really did not know much about beef processing at all. Sure, I knew what I was eating was beef and that beef is cow. But beyond that, I don't really think I knew. I had some preconceived notions about certain things. You hear that antibiotics in beef is bad. But did you know that before the cattle can go to the processing plant, any antibiotics they are treated with must be out of their system? As a result, there are no antibiotics in the beef in stores.
We also learned about the controversial topic of growth hormones. I had mixed feelings before I headed to the beef experience. Once there, I learned that the amount of hormones in ONE birth control pill is the equivalent to the 5,500LBs of beef. That was eye opening and something I think a lot of people don't realize. What we eat might effect hormones, but it's not likely the hormones in beef.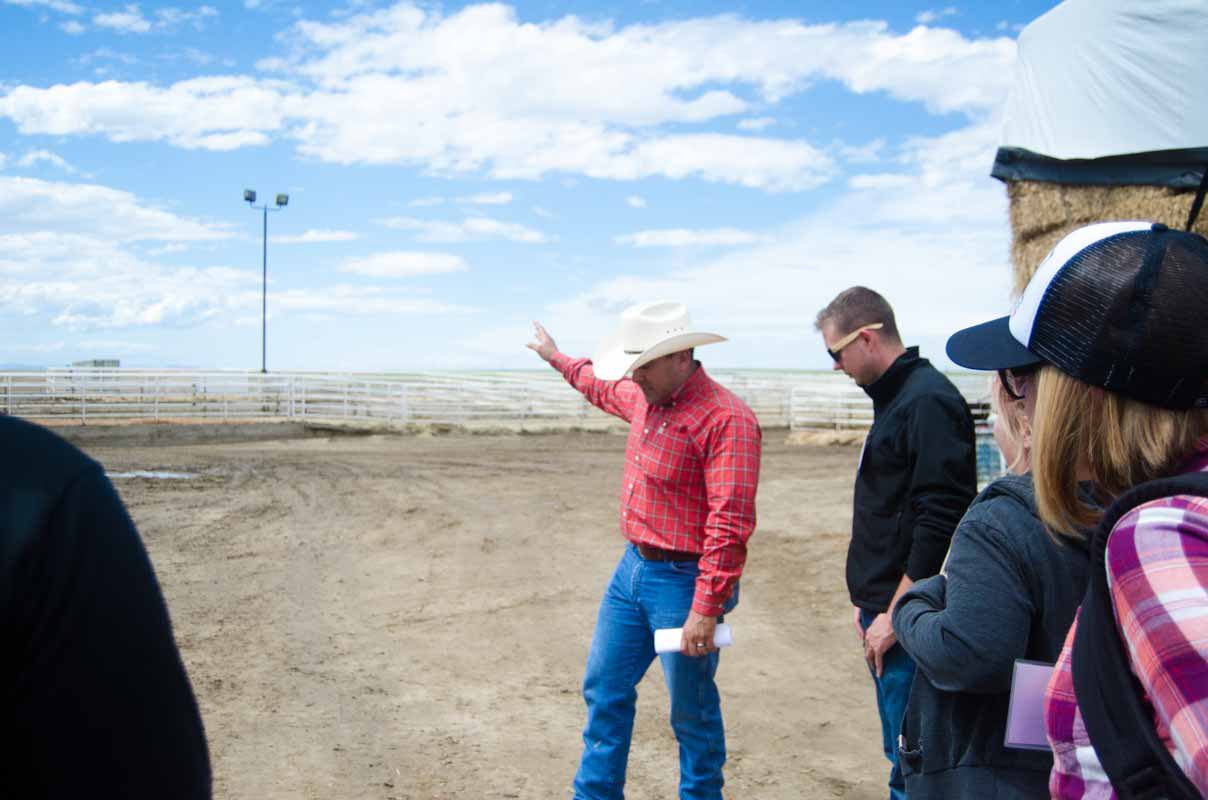 What I am going to take away most from the whole experience, however, is the care that the animals receive. I don't know about you but I've heard stories and seen memes online about animals being treated badly. That they are packed like sardines in feed yards. How the people who are involved in raising and processing cattle cut every corner so they can to save money. The truth of the matter is, based on my experience, it's simply not true. Check out this website for all kinds of interesting info on some of the myths surrounding beef.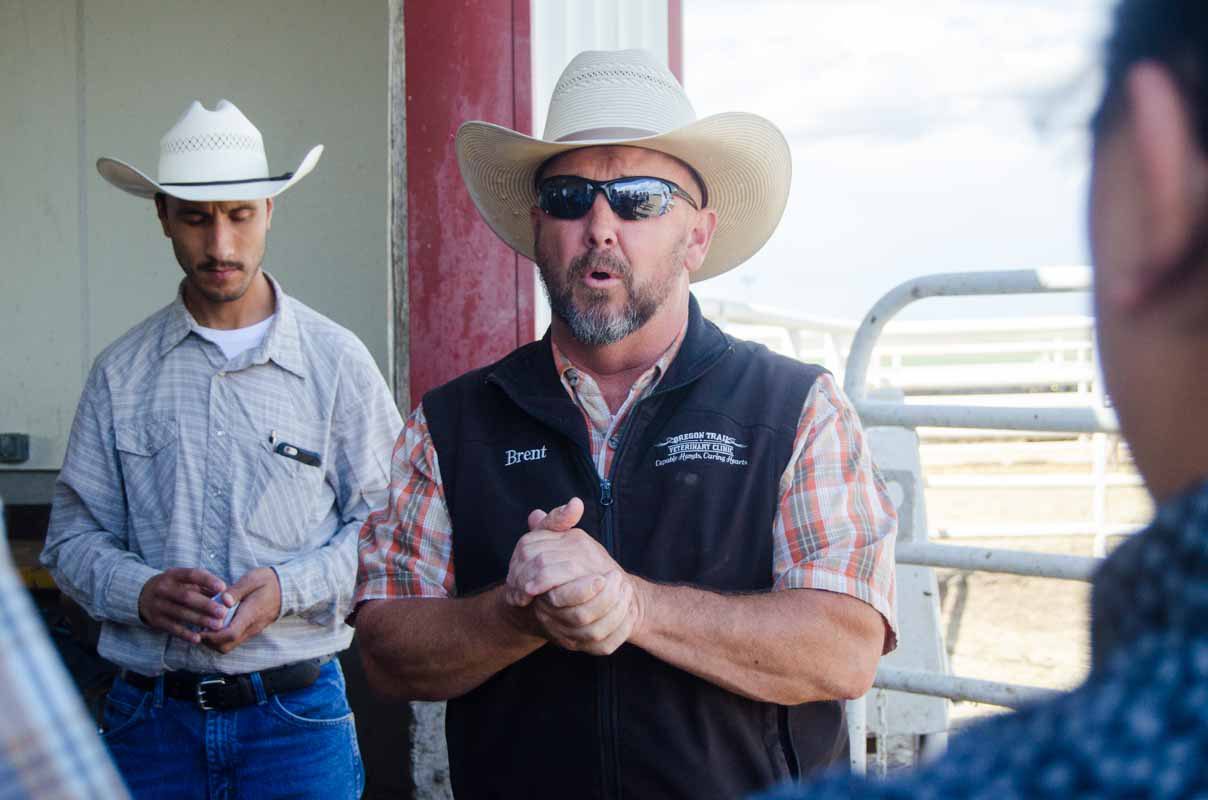 The end result of raising cattle for processing is not a super happy moment, sure. But if you eat meat, it's a necessity. Beef doesn't come from cellophane after all. With that in mind, the people that I met on the Washington Beef Experience seek to make the lives of the cattle as stressless as possible. They made that point a lot, "Treating the animals well is better for the final product and it is the right thing to do."
The people who work with the cattle are always learning and trying to make things better for the cattle. For example, when at the feed yard, we watched the veterinarian explain that the way the walkway is textured at the cattle yard needs to be just right so that the cattle don't slip on it when they walk because that will cause stress. Who thinks about that?! People who care about the animals.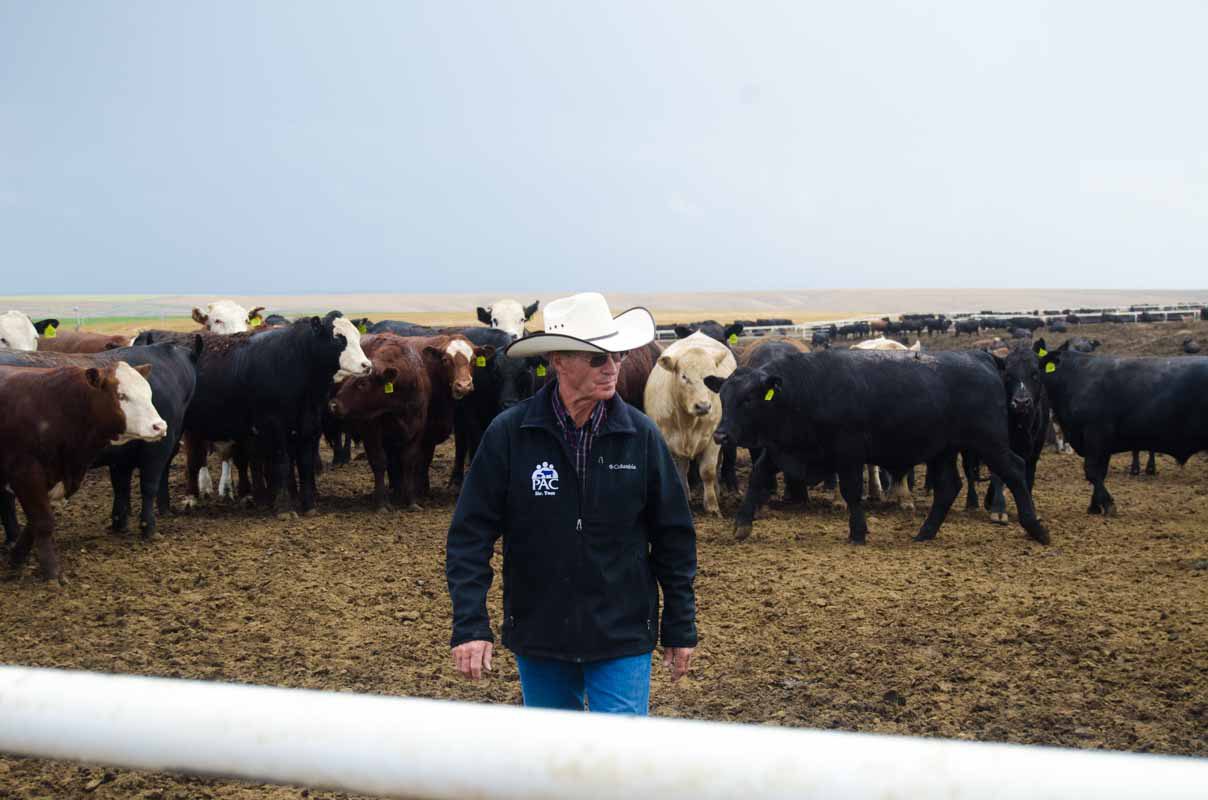 I learned that the people involved in each aspect of the beef raising and processing in Washington care about their jobs, care about their cattle and care about the people that are buying the beef. That was my biggest take away, and one I won't soon forget.
And now, since I am still a meat eater, let's talk about these Ribeye Steaks with Fresh Tomato Tapenade.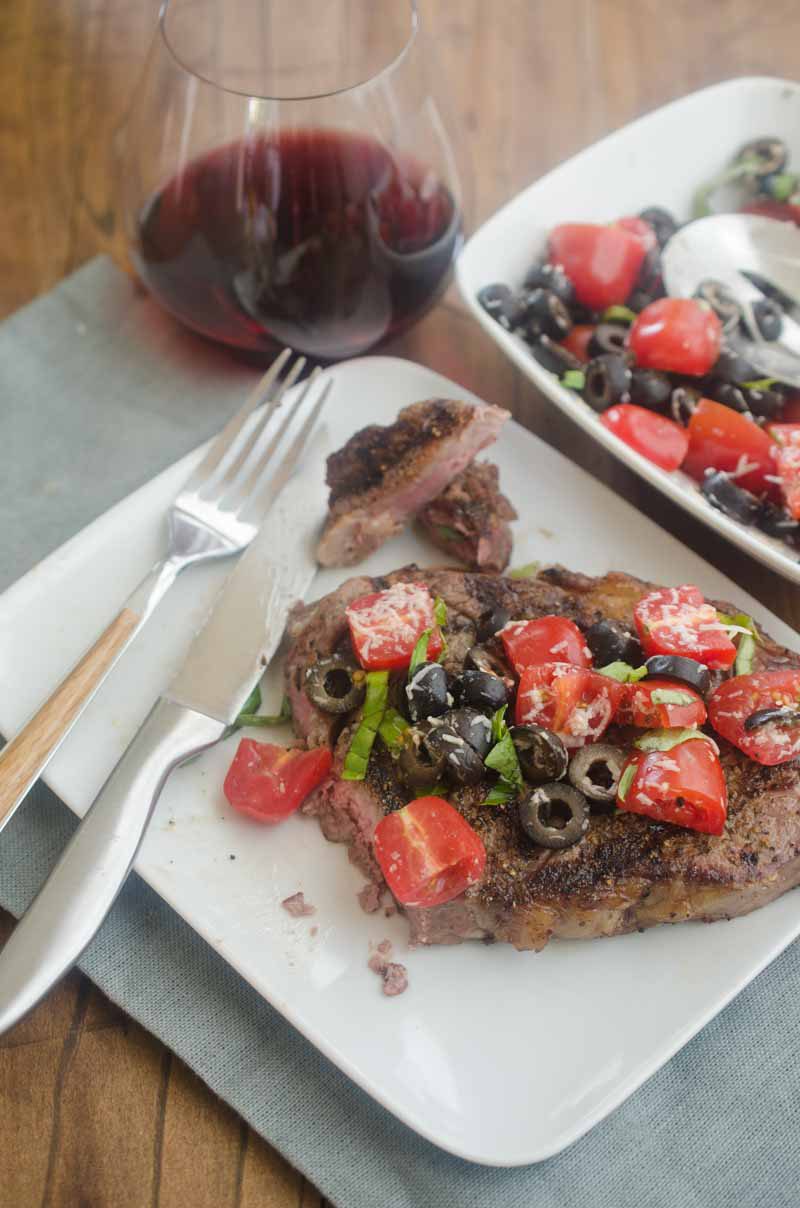 These Ribeye Steaks with Fresh Tomato Tapenade are the perfect steak to make this summer. The dish is so simple that each ingredient get a chance to shine. The beef doesn't need much seasoning, just a little salt and pepper. The fresh tomato tapenade is the perfect way to enjoy summer tomatoes. And the whole thing can be ready in about 20 minutes. It doesn't get much better!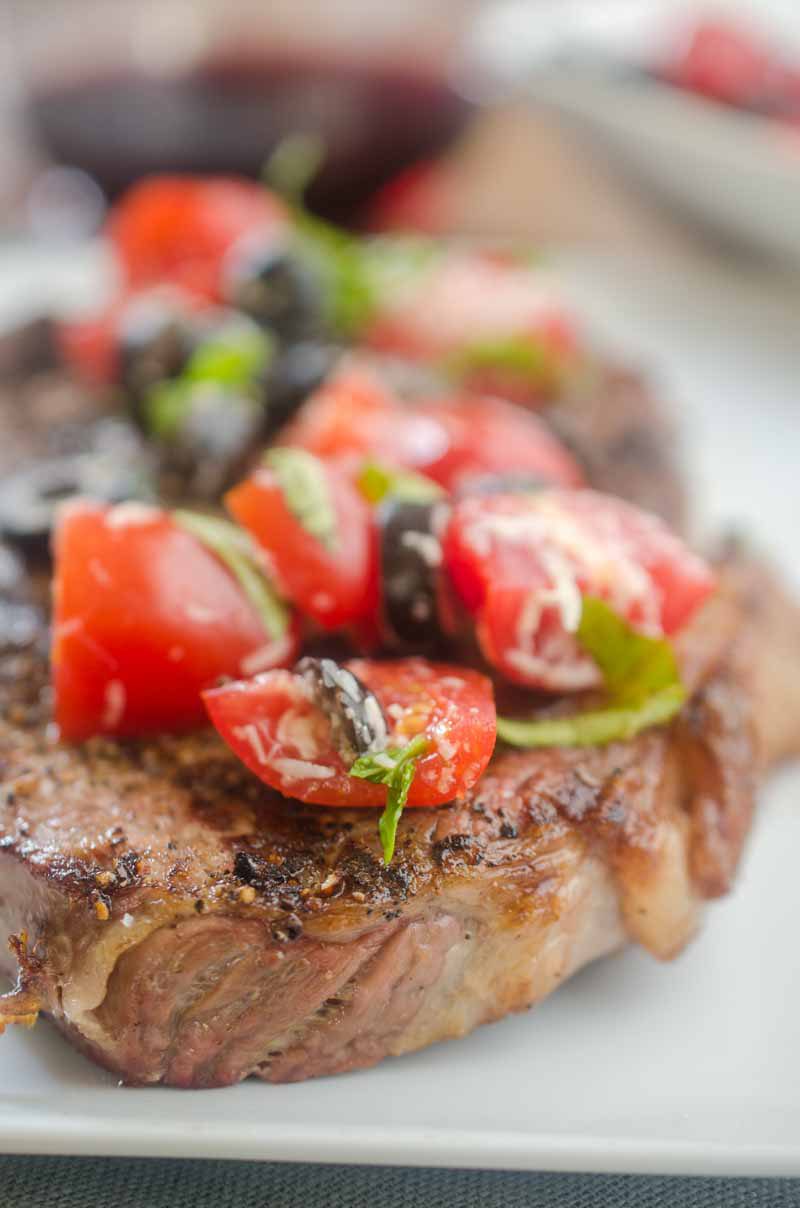 I want to end with a thank you. Thank you to the people at the Washington Beef Commission, Trinity Farms,  Easterday Farms and Agri Beef  for teaching me so much about the food that I feed my family. Thanks to you, when I eat beef like these Ribeye Steaks with Fresh Tomato Tapenade, I have whole knew respect and appreciation for the people and the work they do to help bring it to my table.
Ribeye Steaks with Fresh Tomato Tapenade Recipe
Ingredients:
2 beef Ribeye Steaks Boneless, cut 1-inch thick (about 12 ounces each)
2 teaspoons course ground black pepper
1 teaspoon salt
Fresh Tomato Tapenade
1 cup cherry or grape tomatoes, cut in half

1 can (2-1/4 ounces) sliced ripe olives, drained

1/4 cup chopped fresh basil

3 tablespoons shredded Parmesan cheese
Instructions
1
Press pepper evenly onto beef steaks.

2
Place steaks on grid over medium, ash-covered coals. Grill, covered, 10 to 14 minutes (over medium heat on preheated gas grill, 9 to 14 minutes) for medium rare (145°F) to medium (160°F) doneness, turning occasionally.

3
Meanwhile combine Fresh Tomato Tapenade ingredients in small bowl.

4
Season steaks with salt, as desired. Top each steak evenly with Fresh Tomato Tapenade.

Notes
Recipe Courtesy of the Washington Beef Commission.