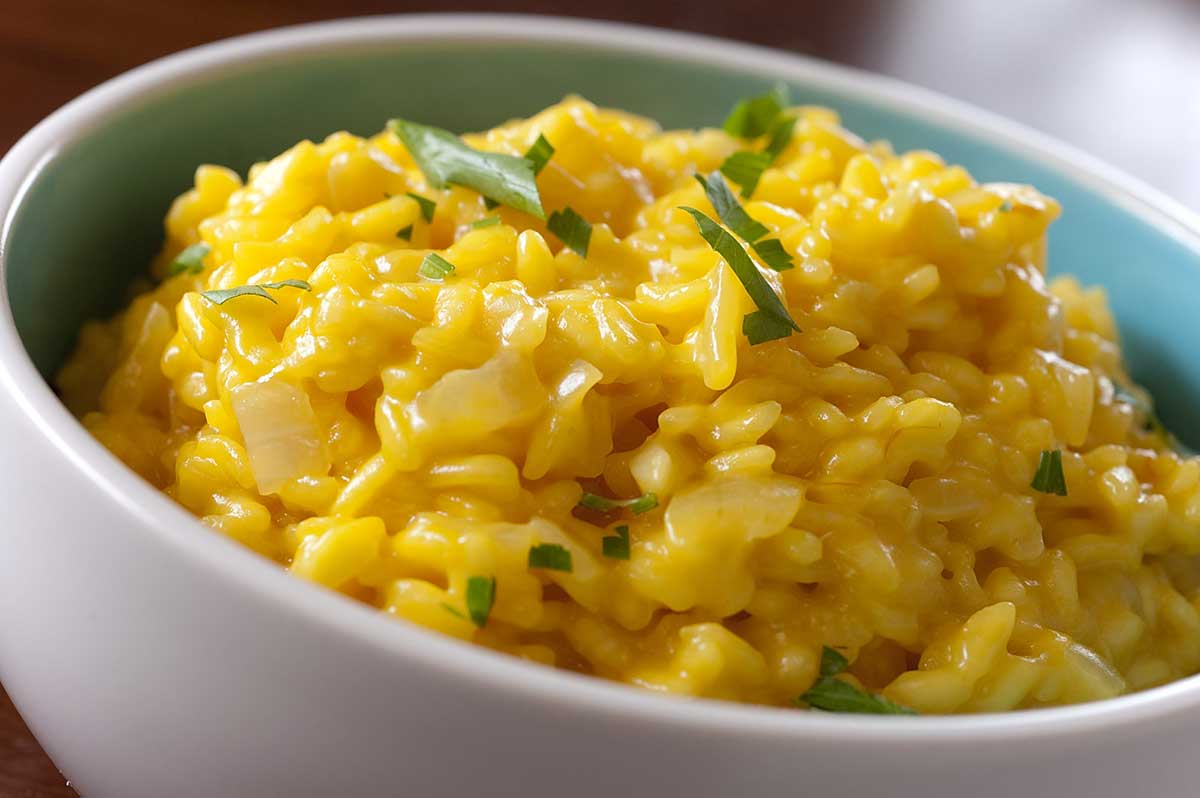 Risotto Milanese
You may have to excuse me for the teenybopper that is about to pop out during this post. You see, about 2 weeks ago, I had the wonderful opportunity to meet one of my favorite bands. A band whose music makes me smile, makes me dance and brings back memories. A band who is as inspirational and caring as people as they are talented musicians.  A band I have been a fan of for, oh, the past 13 years or so. And what does a 26 year old food blogger do when she meets her favorite band and tries her best not to squeal like a girl half her age? Why she talks to them about food of course. And who would've thought that they would actually be interested.
If you've known me for a while or have been following my tweets on twitter then you already know that I'm talking about Hanson. I have been a fan since I was 13 years old and first heard Mmmbop.  This is why it should not come as a shock when I say that when I found out Hanson was coming to Seattle to promote their new album Shout it Out (awesome by the way, I challenge you not to like it) I jumped at the chance to buy tickets. Also, being a fan club member I was able to request a meet and greet with the band and actually got one.
I would be lying if I didn't say that I was freaking out just a little bit when I got the e-mail telling me that I had won a meet  and greet. I mean after all, I have been a fan for 13 years. My initial thought of "Oh my word, what am I going to wear?"  Quickly turned into "what am I going to say?!" followed shortly by prayers of "pleasedontsoundlikeanidiot, pleasedontsoundlikeanidiot."
But as it turns out I didn't really need to be worried.
Isaac and Taylor Hanson
Zac Hanson
These pictures were taken during The Walk by my new friend Mandy McGee.
The meet and greet took place right before the concert. The butterflies were fluttering but I don't think I looked like an idiot . I wasn't able to  get up the courage to say anything for the first few minutes but when Taylor was signing my CD sleeve I figured, now is your chance just say something.  The first thing that came out was "What is your favorite dish?" This got him talking, and I suddenly felt very comfortable. Apparently Taylor Hanson is a foodie. Who knew? In addition to tiramisu, buratta (apparently I'm not the only one with a mozzarella obsession) Taylor said risotto. A perfectly cooked risotto with very simple ingredients to be more precise. I told him I had a food blog and would take a crack at it. My result? This Risotto Milanese with wine, chicken broth, onions, garlic and saffron. It's simple, creamy oh so scrumptious.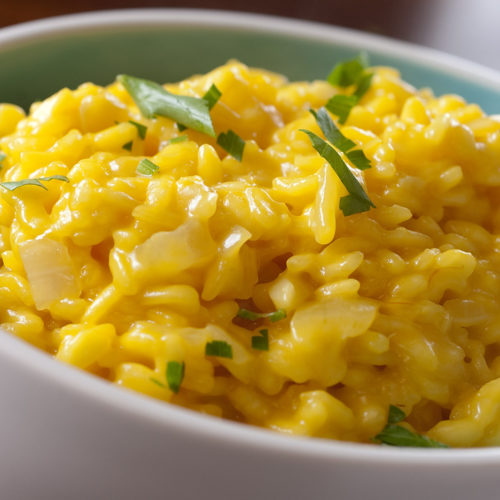 Risotto Milanese
What's a food blogger do when she meets her favorite band? Ask them their favorite dish and then make it of course.
Ingredients:
3

cups

chicken broth

1/2

teaspoon

crushed saffron threads

3

tablespoons

butter

1/2

medium yellow onion

diced

2

cloves

garlic

minced

1

cup

Arborio rice

1/4

cup

dry white wine

1/4

cup

shredded Romano cheese

1/4

cup

shredded Parmesan cheese
Heat chicken broth and saffron in a pan over medium heat. Once hot, but not boiling, reduce heat to low and allow to simmer.

In another large pot melt 2 tablespoons of butter over medium heat. Add onion and garlic. Cook until onions are soft, about 5 minutes.

Stir in rice just until it is coated in the butter. Do not brown. Pour in wine and cook until wine absorbs. Pour in one ladle of hot saffron chicken broth. Stir consistently until liquid is absorbed. Repeat process, one ladle at a time, until all broth has been absorbed by the rice.

Remove from heat and stir in remaining tablespoon of butter, Romano and Parmesan cheese until melted. Serve immediately.
Enjoy! Oh and by the way. The guys totally ROCKED the concert. And in case you were wondering no I did not faint, I did not cry, I did not throw my bra on stage. I did however sing along with every word to every song and danced my butt off. Seriously, I triple dog dare you to listen to this song and try not to dance.
Keywords:
Food, hanson, isaac hanson, italian, Recipe, rice, risotto, risotto milanese, saffron, taylor hanson, zac hanson