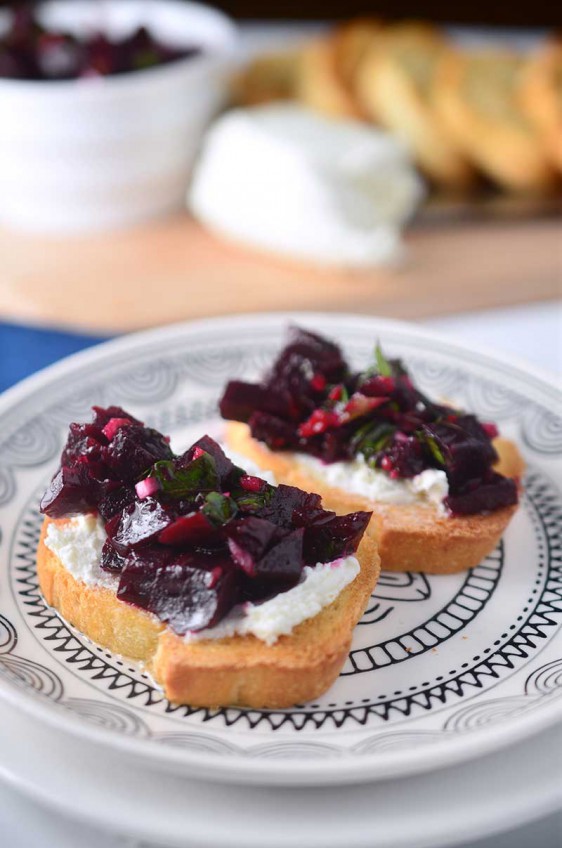 Roasted Beet and Goat Cheese Crostini
I think I heard some of you groan after reading the title of this recipe, but bear with me please. This Roasted Beet and Goat Cheese Crostini is kind of everything. If you love beets you'll love it, if you think you don't like beets then this is the recipe to try to give them another go. And besides, that color? Totally gorgeous. 

I used to be in the "Beets taste like dirt" group. Seriously, like until a month ago every time I would see something with beets in it I would dismiss it thinking that there is no way in the world that I would like it. Then I went to the Tillamook Co-op event a few weeks back and was served a beet salad. And guys, it was kind of amazing. It changed my whole outlook on beets. So much so that the next time I went to the grocery store I picked up a bundle and started researching the best way to prepare them.
I asked a few friends. Some boiled them. Some liked them pickled. Some roasted them. And some even preferred them raw. The main thing that I was told was scrub, scrub, scrub and peel. It helps with that "Dirt" flavor that I always associated with beets. I also came across this tutorial on the Kitchn titled "How to Roast Beets in the Oven" and decided that roasted beet sounded easy and delicious to me. I followed the tutorial and ended up with some down right delicious roasted beets. All week long I was snacking on them, adding them to salads and then decided to make this Roasted Beet and Goat Cheese Crostini.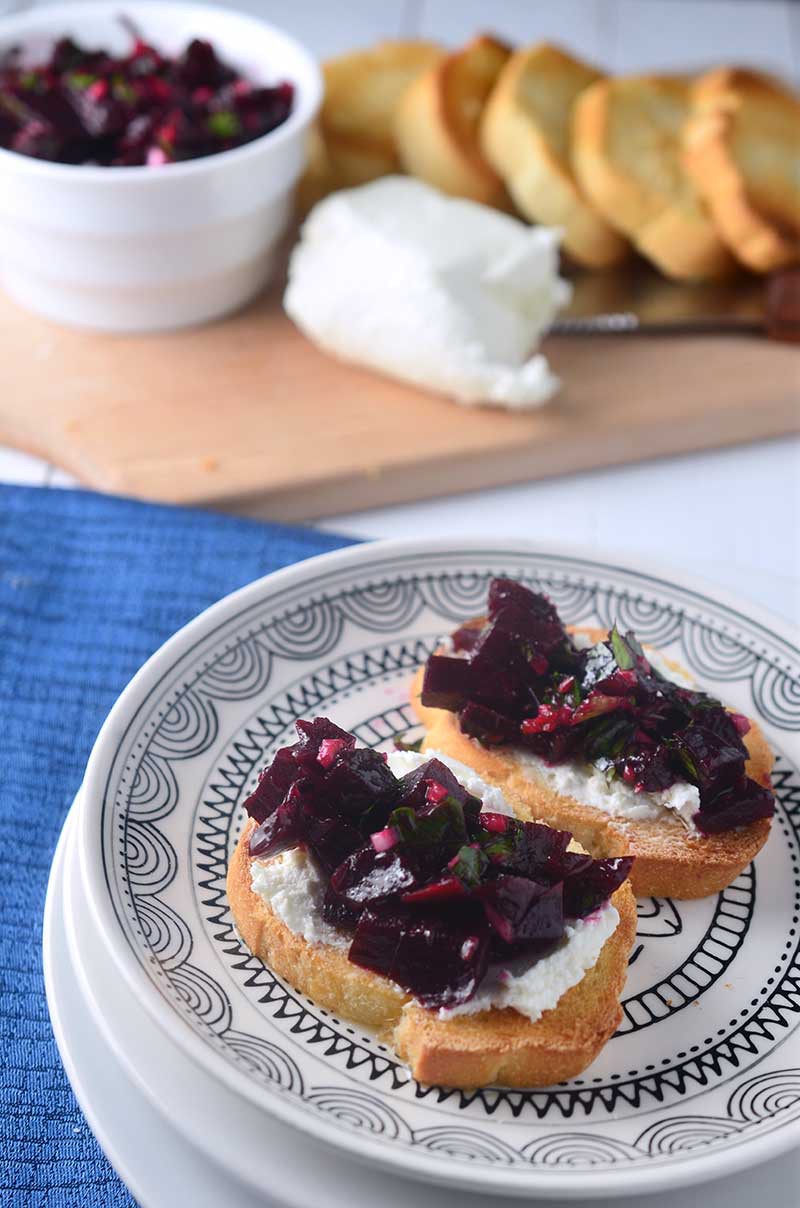 And it's kind of life changing. Meaning, if you thought you didn't like beets before you are totally going to love them now.
It's really easy to roast the beets yourself, scrub them, wrap them in aluminum foil and roast at 400 degrees for about an hour or until fork tender. Then once cool enough to handle gently rub the peel off. Easy, peasy roasted beet.
The Kitchn article says they keep in the refrigerator for up to a week so I roasted a few at a time then kept them there to add into salads and such. If you want to skip the whole roasting them yourself bit, I've seen them roasted in the prepared section of the produce section at the store. You'll need about a cup of diced roasted beets for this recipe.
However you do it, make this Roasted Beet Crostini soon. I even bet if you reserve a spot for it on your holiday table, your family and friends will thank you :)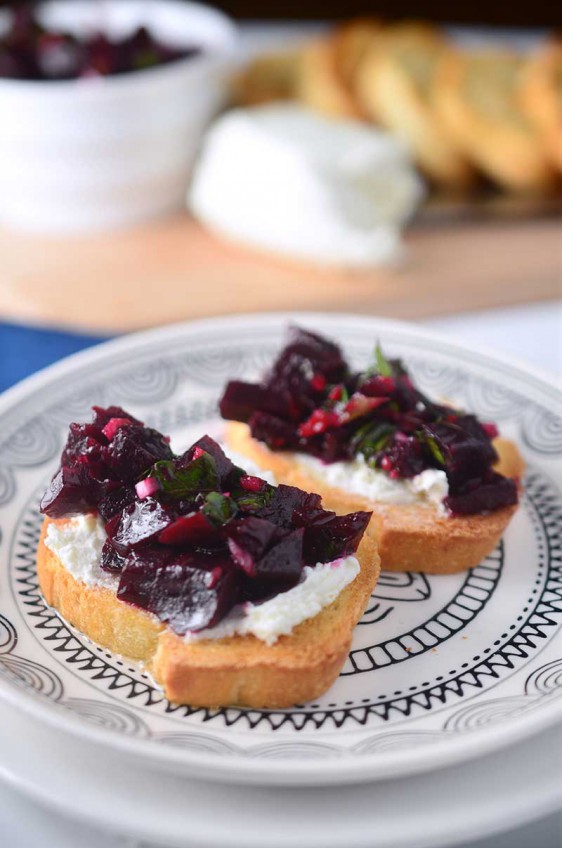 Roasted Beet and Goat Cheese Crostini
This roasted beet and goat cheese crostini will turn beet haters into beet lovers.
Ingredients:
1

large beet

scrubbed

1

small glove garlic

minced fine

2

tablespoons

chopped parsley

2

tablespoons

extra virgin olive oil

1

tablespoon

red wine vinegar

1/2

teaspoon

salt

4

ounces

goat cheese

softened

10 - 12

baguette slices

toasted
Preheat oven to 400 degrees.

Wrap beet in aluminum foil. Bake in preheated oven for 55 - 65 minutes or until a fork slides easily into the center. Remove from oven and allow to cool for several minutes.

When cool enough to touch, use a paper towel to gently rub off the peel. Cool completely, about 10 minutes.

Once beet is cool, dice into small pieces. You should have about 1 cup.

Combine garlic, parsley, olive oil, vinegar, salt and roasted beets together in a bowl. Mix well. Allow to set at room temperature for 30 minutes.

To make a crostini, spread goat cheese on toasted baguette slice and spoon beet mixture on top. Repeat until all ingredients are used. Serve.
Keywords:
beets, Christmas, crostini, holiday, thanksgiving