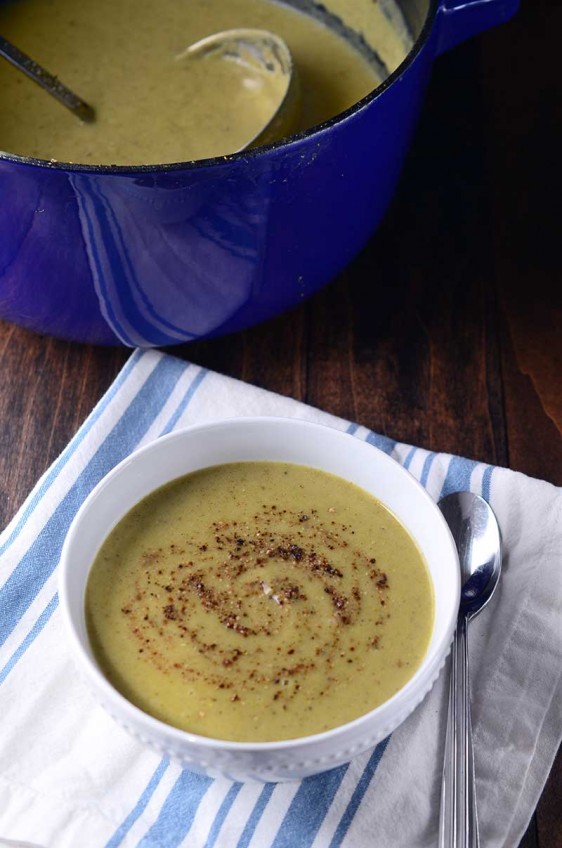 Roasted Broccoli Soup
Happy New Year! I'm back after taking a couple of weeks off to enjoy some time with my boys over the holidays. It was a well needed and loved break, but now I'm back, refreshed and ready to get back in the kitchen. And with the cold weather firmly taking hold, I thought what better way to come back then with this luscious, velvety Roasted Broccoli Soup.
For the longest time, our blender was simply "the smoothie machine". That was really all that we used it for. Then one day I decided to make a pureed soup in it.
I had heard of using the blender to make soup before and I always meant to try it. Pureed soups are, afterall, one of my favorites to order when I go out to restaurants. But to be honest, it always seemed like more work then it was worth. Ladling the hot soup into the blender, in batches. I just imagined hot soup all over the kitchen, the floor and myself.
But guys, it's not really that much work, not messy at all if you're careful and seriously, totally worth it. By using the blender, you can get a super creamy, rich soup, without an ounce of cream. This Roasted Broccoli soup, for instance,  has no cream, instead it's thickness comes from potatoes and a little time spent in the blender. The result is a rich, delectable broccoli soup that warms your tummy and will help you start out the new year eating right.
So why all this blender talk you ask? Well, not only have I come back with a scrumptious tummy warming soup to share with you in the New Year, I've also teamed up with some other fabulous food bloggers to give you the chance to win a KitchenAid Diamond Blender.
How's that for a perfect way to kick off 2015?
I thought so too. All you have to do is follow the directions below to enter. And don't forget to check out the other scrumptious blender recipes from these awesome bloggers while you're at it. So. Much. Deliciousness.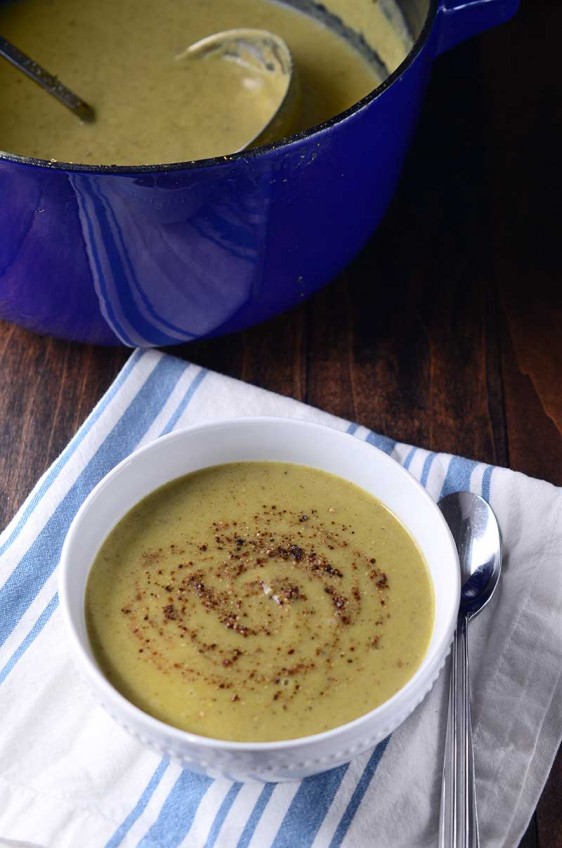 Roasted Broccoli Soup
A luscious velvety soup made with broth, potatoes and roasted broccoli.
Ingredients:
2

tablespoon

plus 1/2 teaspoon olive oil

2

medium sized broccoli crowns

chopped into florets, stems chopped

1/2

teaspoon

salt

1/4

teaspoon

black pepper

1

tablespoon

unsalted butter

3

garlic cloves

chopped

1/2

yellow onion

minced

2

medium russet potatoes

scrubbed and diced

1

teaspoon

dried thyme

7

cups

low sodium vegetable or chicken broth
Preheat oven to 475 degrees.

Heat 2 tablespoons olive oil in a cast iron skillet (or other oven-proof skillet) over medium heat. Add in broccoli, salt and pepper and toss to coat. Place in preheated oven. Cook for 10 minutes. Stir and cook for another 10 minutes or until tender. Remove from oven.

In a large pot over medium heat, cook butter and remaining olive oil until butter melts. Add in garlic, onion and thyme. Cook just until onions have softened. Add in potatoes, toss to coat.

Pour in chicken broth. Bring to a boil. Reduce heat to simmer and cook until potatoes are fork tender. Add broccoli to soup. Mix well. Remove from heat.

Carefully ladle half the soup into a blender. Blend on the liquify setting until smooth. Transfer to a pot. Repeat with remaining half of soup.

Return soup to medium heat. Season to taste with salt and pepper. Ladle into soup bowls and serve hot.
Keywords:
entree broccoli, giveaway, soup, Vegetarian