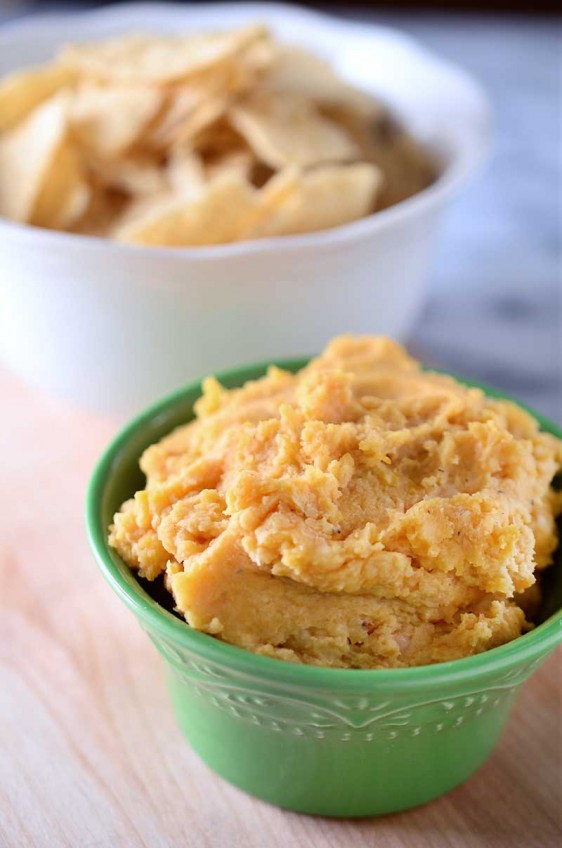 Roasted Butternut Squash Hummus
While the big meal is certainly what we all look forward to on Thanksgiving, the appetizers are one of my favorite parts too. We've always had trays of salami and cheese, pickles and olives, deviled eggs and, my favorite, the dips. This year, I thought I'd throw a new one in the mix with this Roasted Butternut Squash Hummus. It's savory and slightly sweet, full of flavor and the luscious orange color just screams Thanksgiving.
I have a new obsession: roasted butternut squash.
Seriously, I can't get enough of the stuff. It all started when I made this Roasted Butternut Squash, Kale and Couscous Salad  a few weeks back. I now think roasted butternut squash is one of the most perfect snacks, I seriously have to stop myself from eating it all by it self when I make it. I just love the sweet, salty nuttiness. I love it so much that I've been trying to find a way to sneak it into just about everything. So far I have found that it is perfect in salads, pureed as a pasta sauce, as a veggie side dish and as it turns out, an addition to hummus.
Hummus is such a great snack. It's full of flavor, packed with protein and now, with the addition of butternut squash, even some veggies too. This particular hummus also has garlic, ginger, lemon and tahini. Basically, it's a win all around.
One tip, while I enjoyed it after it had chilled for about 30 minutes, it was even better the next day.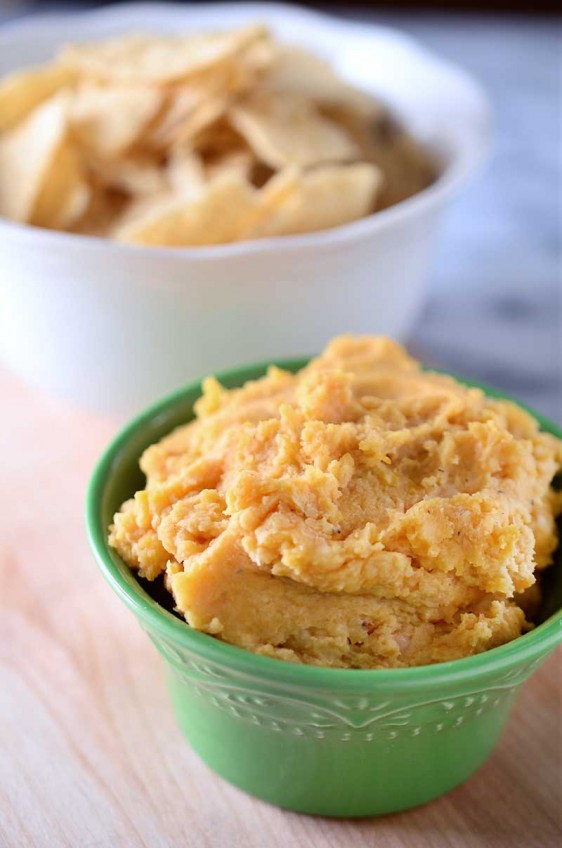 Roasted Butternut Squash Hummus
Ingredients:
2

cups

peeled and diced butternut squash

1

tablespoon

olive oil

salt and pepper

1

15 ounce can garbanzo beans 3 tablespoons liquid reserved, drained and rinsed

2

tablespoons

fresh lemon juice

2

gloves garlic

1

heaping teaspoon tahini

1/4

teaspoon

ground ginger
Preheat oven to 400 degrees.

Place butternut squash on a baking sheet and drizzle with olive oil. Sprinkle lightly with salt and pepper. Toss to coat. Roast in preheated oven for 15 - 20 minutes or until softened. Remove from oven and allow to cool.

Once squash has cooled combine squash, garbanzo beans, reserved liquid, lemon juice, garlic and tahini together in a food processor and process until smooth. Chill for 30 minutes. Serve with tortilla chips.
Keywords:
Dip, hummus, squash, Vegetarian