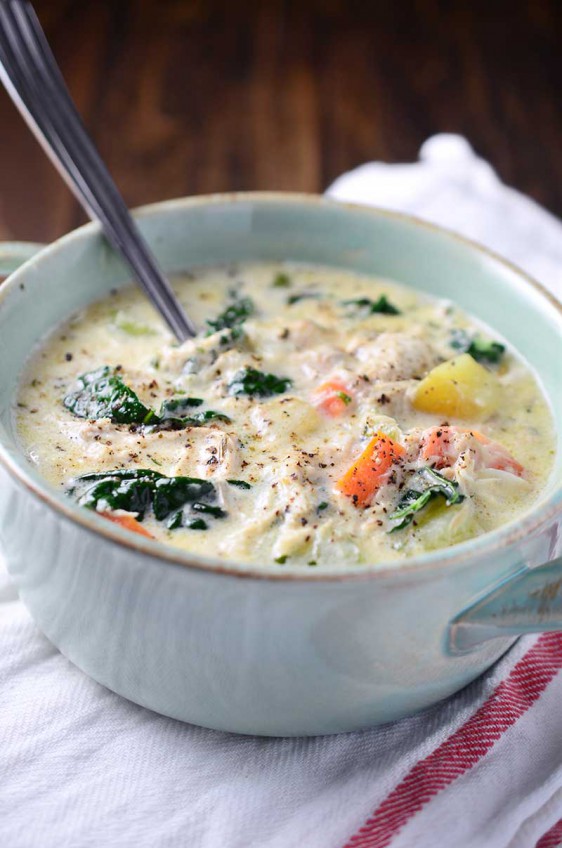 Roasted Garlic and Chicken Chowder
Well ouch. That was a tough game yesterday. Our Hawks didn't win and I'm still a little sad so I'm going to go ahead and bury my head in this bowl of creamy, comforting Roasted Garlic and Chicken Chowder.
If I am being completely honest though, even if they won, I'd probably still want to dig right into this stuff. It's creamy. Loaded with veggies, chicken and just a hint of roasted garlic. It's perfect for these cold January days.
Although I can't really complain, the weather in Seattle has been pretty great the last week or so. Like we actually saw the sun. Which is something that doesn't usually happen until at least May.
Seriously the other day I went out WITHOUT a coat. In SEATTLE. In JANUARY.
Glorious friends, glorious.
But back to this soup. It's also glorious and super easy to make. I used pre-cooked shredded chicken to make things a little simpler. I have learned that the best time to add the chicken to soup is right at the end. For this soup, I recommend adding it in at the same time that you add in the kale and only cooking it for 2 minutes or so, so that it stays tender. Because there is nothing worse then a creamy bowl of soup with dry pieces of chicken. Right?
Except of course your team being 1 yard away from a Super Bowl win and then loosing…but…moving on… When do catchers and pitchers report?! :)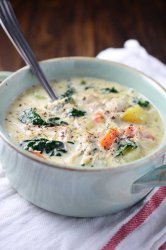 Roasted Garlic and Chicken Chowder
A hearty comforting bowl of creamy chicken chowder, perfect for cold January days.
Ingredients:
4

tablespoons

unsalted butter

1/4

cup

all purpose flour

4

cups

chicken broth

1 1/2

cups

diced carrots

1 1/2

cups

diced celery

1

cup

diced onion

2

medium russet potatoes

diced

1

teaspoon

dried parsley

1

teaspoon

dried summer savory

1

cup

heavy cream

1

ounce

cream cheese

softened

3

cups

cooked

shredded chicken

3

cups

lacinato kale

salt and pepper
Roasted Garlic
1

head garlic

1

teaspoon

olive oil

salt
Preheat oven to 400 degrees to roast garlic first.

Cut the top 1/4 inch off the garlic, place garlic on a piece of aluminum foil. Drizzle with olive oil, sprinkle lightly with salt, wrap in aluminum foil and cook for 40 - 45 minutes or until cloves are browned and soft. Remove from oven and allow to cool slightly before using a fork to remove each clove.

Melt butter in a large pot over medium heat. Whisk in flour. Allow to cook for one minute. Whisk in broth.

Stir in carrots, celery, onion, potatoes, parsley and summer savory. Simmer until potatoes are fork tender.

Whisk one tablespoon of hot broth into cream to temper it. Slowly whisk tempered cream into soup. Stir in cream cheese. Once melted, stir in garlic, cooked chicken and kale. Cook just until kale wilts, about 2 minutes. Season to taste with salt and pepper

Ladle into soup bowls and serve.
Keywords:
chicken, chowder, roasted garlic, soup