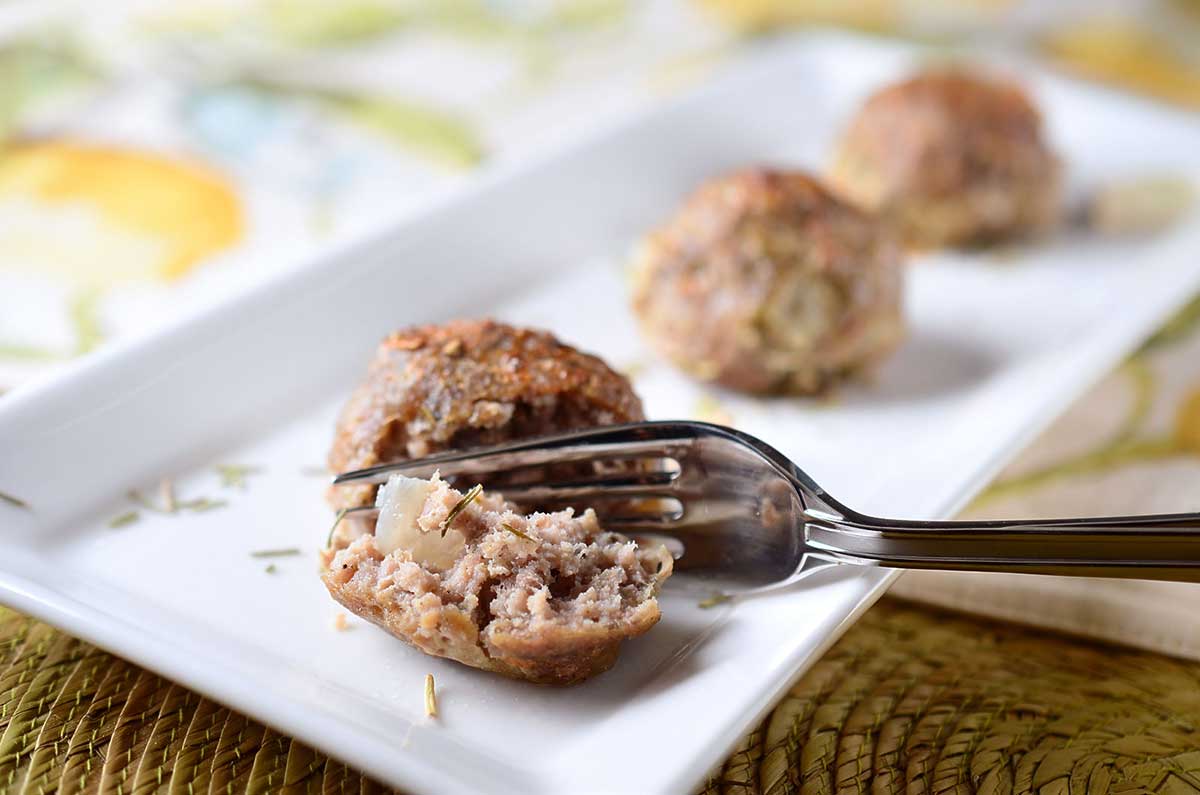 Roasted Garlic and Herb Meatballs
We had our first snowfall of the year on Sunday. I had been waiting for snow for quite some time. I love snow days. I love how cozy they are. I love how the world gets silent when the snow falls. I love sipping hot chocolate and making snow angels. However, I must say there is one thing I do not like about snow days. I do not like when snow days happen to fall on the day that I scheduled a massage. So instead of relaxing and spending the day in the spa, I spent the afternoon in the kitchen making these comforting meatballs. After eating them I almost forgot about the massage. Almost.
Anything with roasted garlic is bound to be a favorite in our home. And these meatballs are no exception. The garlic is sweet and fragrant. The herbs add a lovely earthy flavor. And the turkey that the recipe calls for makes a meatball that is much lighter than the traditional beef meatball. While I served these meatballs for dinner with mashed potatoes, gravy and green beans, I think that with some toothpicks stuck in them these would make the perfect addition to any cocktail party or say… the perfect snack after a rescheduled massage.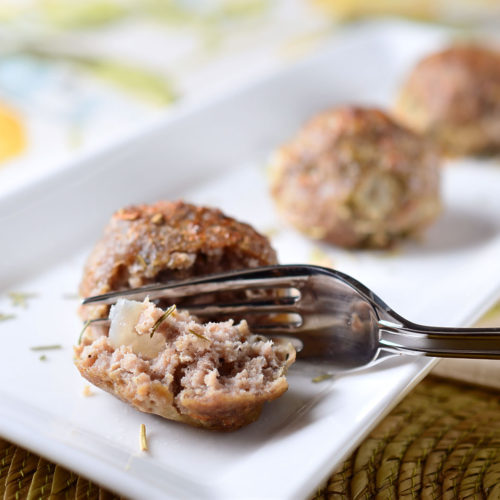 Roasted Garlic and Herb Meatballs
Savory turkey meatballs with roasted garlic and herbs.
Ingredients:
1

bulb

or head of garlic

1

tablespoon

butter

1

teaspoon

lemon juice

sprinkle kosher salt

1

pound

ground turkey

1/2

cup

chopped shallots

1

egg

1

teaspoon

dried rosemary

1

teaspoon

dried sage

1

teaspoon

dried thyme

1/2

teaspoon

kosher salt

1/2

teaspoon

white pepper

1/4

cup

olive oil
Preheat oven to 400 degrees.

Cut 1/4 inch off the top of the bulb of garlic to expose the cloves beneath, but do not peel the garlic, you want to roast it in the skin. Place bulb on a piece of aluminum foil, place butter on top, pour lemon juice over the garlic and sprinkle with kosher salt. Bring up all sides of aluminum foil and twist together to close. Cook for 60 minutes or until garlic cloves are soft and golden in color. Allow to cool.

Reduce oven temperature to 350 degrees.

Combine turkey, shallots, egg, rosemary, sage, thyme, kosher salt and pepper in a bowl. Use a fork to remove garlic cloves from the skin and add to the mixture. Mix well. Roll into approximately 15 meatballs.

Place meatballs in a baking dish. Drizzle olive oil over the top. Bake in 350 degree oven for 30 minutes. Turn on the broiler for 5 minutes to brown. Serve.
Keywords:
comfort food, entree, Food, meatballs, Recipe, roasted garlic, roasted garlic meatballs, turkey meatballs