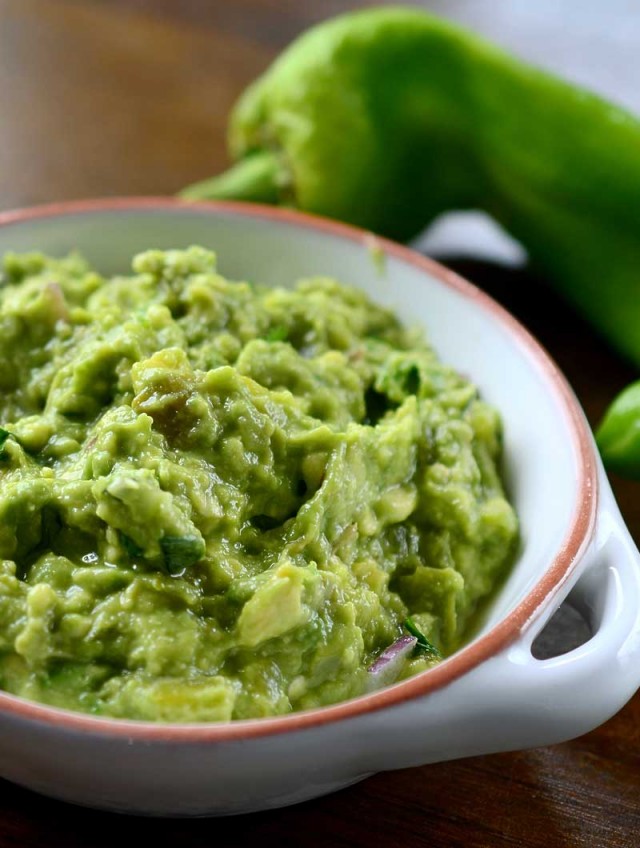 Roasted Hatch Chile Guacamole
For me August has only ever had three redeeming qualities: My grandpa's birthday, my grandparents' anniversary and my mom's birthday. Other than that August and I just don't get along.
Weird huh? Not getting along with a month.
It's just that by August, I'm ready for fall. Leaves changing. Pumpkins. All that good stuff.
And August is hot.
And I don't do hot.
I grew up in the Pacific Northwest after all.
But in the last few years I have discovered one more redeeming thing about August that makes it inch up there towards one of the months that I kind of like again. And that my friends, is hatch chiles.
Oh my how I love me some hatch chiles. The season is short so we only get them, at least here in Seattle, for just a few weeks in August. But when I see those "Hatch Fever" signs go up at Whole Foods, I get all kinds of giddy inside.
Then I grab a bag and start stuffing a few…dozen…peppers inside.
Each August I try to find new ways to use these peppers. I've tried a Creamy Hatch Chile and Chicken Pasta,  Roasted Hatch Chile Quesdaillas and a Hatch Chile and Cream Cheese Spread. Whole Foods has really been one of my biggest inspirations for what to do with hatch chiles. Each year I walk in and see what they've done. One of my favorites is something they call "Hatchamole". That's right. Guacamole with hatch chiles mixed in. Why did I not think of that before?!? After seeing it, I just knew I had to make it.
So this week I did.
And now I'm sharing my version with you. And if you are a guacamole addict like me, brace yourself because you're in for a whole new level of addiction.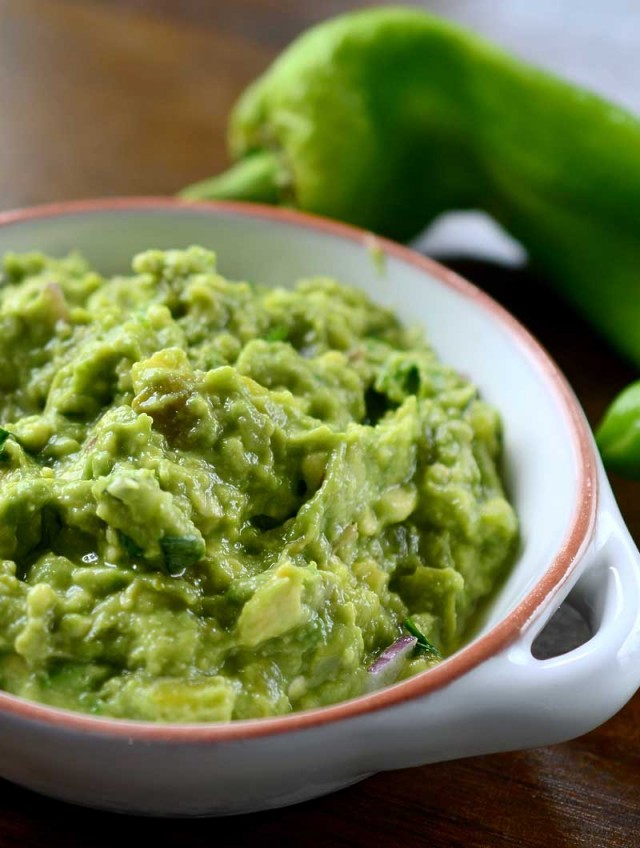 Roasted Hatch Chile Guacamole
Hatch chile season is short be sure you celebrate it with this twist on guacamole with roasted hatch chiles while you can!
Turn on your oven broiler. Place the rack 6 inches from the top.

Line a baking sheet with aluminum foil. Place chilies on baking sheet. Broil until skin is blackened and blistered, about 5 - 6 minutes per side.

Transfer roasted peppers to a paper bag and close for 15 minutes. This will allow the peppers to sweat making removing the skin easier.

Carefully remove the skins and stems from the peppers. You can also remove the seeds at this time if you want a less spicy guacamole. I did half and half because I like a little heat. Chop the peppers.

Mash the avocados together in a bowl. Add in remaining ingredients and chopped peppers. Mix well. Cover and refrigerate for at least 30 minutes to let the flavors meld. Serve.
Enjoy!
Disclaimer: I was not compensated at all to talk about the Whole Foods Hatch Fever, I seriously just really love it. :)
Keywords:
appetizer, Food, guacamole, hatch chilies, mexican food, new mexican food, Recipe, snack, Vegetarian