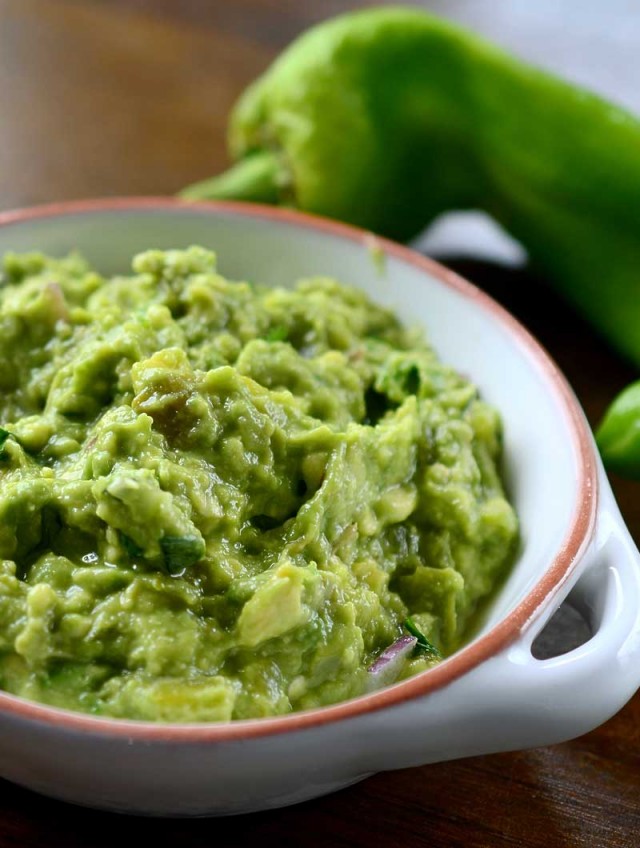 Roasted Hatch Chile Guacamole
For me August has only ever had three redeeming qualities: My grandpa's birthday, my grandparents' anniversary and my mom's birthday. Other than that August and I just don't get along.
Weird huh? Not getting along with a month.
It's just that by August, I'm ready for fall. Leaves changing. Pumpkins. All that good stuff.
And August is hot.
And I don't do hot.
I grew up in the Pacific Northwest after all.
But in the last few years I have discovered one more redeeming thing about August that makes it inch up there towards one of the months that I kind of like again. And that my friends, is hatch chiles.
Oh my how I love me some hatch chiles. The season is short so we only get them, at least here in Seattle, for just a few weeks in August. But when I see those "Hatch Fever" signs go up at Whole Foods, I get all kinds of giddy inside.
Then I grab a bag and start stuffing a few…dozen…peppers inside.
Each August I try to find new ways to use these peppers. I've tried a Creamy Hatch Chile and Chicken Pasta,  Roasted Hatch Chile Quesdaillas and a Hatch Chile and Cream Cheese Spread. Whole Foods has really been one of my biggest inspirations for what to do with hatch chiles. Each year I walk in and see what they've done. One of my favorites is something they call "Hatchamole". That's right. Guacamole with hatch chiles mixed in. Why did I not think of that before?!? After seeing it, I just knew I had to make it.
So this week I did.
And now I'm sharing my version with you. And if you are a guacamole addict like me, brace yourself because you're in for a whole new level of addiction.
Roasted Hatch Chile Guacamole Recipe
Ingredients:
4 hatch chiles
3 large avocados, pitted and removed from skin
1 tablespoon lime juice
1/4 teaspoon ground cumin
1/2 teaspoon salt
2 tablespoons chopped red onion
2 tablespoons chopped fresh cilantro
Instructions
1
Turn on your oven broiler. Place the rack 6 inches from the top.

2
Line a baking sheet with aluminum foil. Place chilies on baking sheet. Broil until skin is blackened and blistered, about 5 - 6 minutes per side.

3
Transfer roasted peppers to a paper bag and close for 15 minutes. This will allow the peppers to sweat making removing the skin easier.

4
Carefully remove the skins and stems from the peppers. You can also remove the seeds at this time if you want a less spicy guacamole. I did half and half because I like a little heat. Chop the peppers.

5
Mash the avocados together in a bowl. Add in remaining ingredients and chopped peppers. Mix well. Cover and refrigerate for at least 30 minutes to let the flavors meld. Serve.

Notes
Enjoy!

Disclaimer: I was not compensated at all to talk about the Whole Foods Hatch Fever, I seriously just really love it. :)