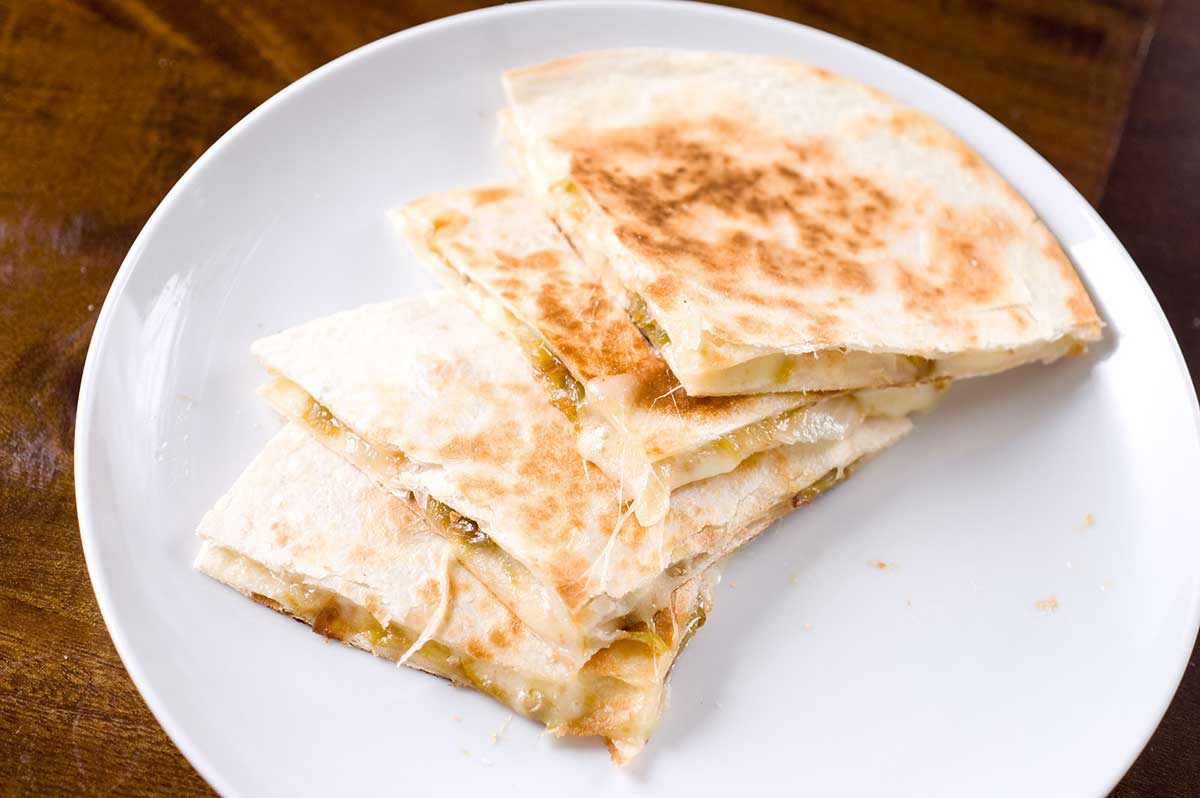 Roasted Hatch Chile Quesadillas
When I was at the grocery store I saw a big sign that read "Hatch Chiles are here! Get them while you can!" With a sign like that, how could I refuse? Even though I wasn't quite sure what a hatch chile was, I bought a few to bring home and immediately began doing some research about them. Come to find out these green gems are somewhat coveted in the food world. And after putting them in this quesadilla, I know why.
Hatch chile season is pretty short, running from late August through mid October. The peppers are a little milder than a jalapeno and are most often roasted before using. After roasting, many people will freeze them to keep them all year long to spice up all kinds of dishes like green chili, eggs and enchiladas. In my case, I couldn't resist using them immediately and decided that quesadillas would be the best way to go. The peppers add a nice roasted pepper flavor without being overly spicy, but just to be sure, make sure you remove the seeds.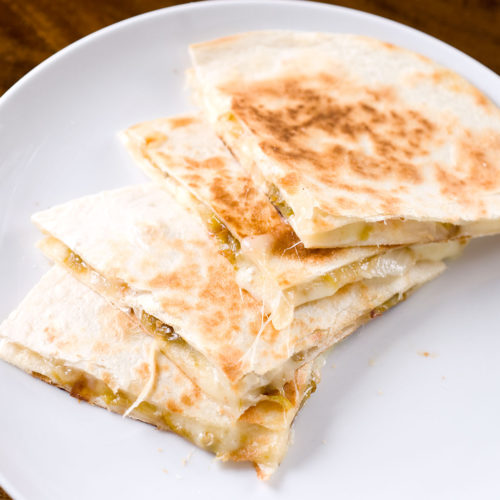 Roasted Hatch Chile Quesadillas
Roasted hatch chilies, caramelized onions and pepper jack cheese make this one heck of a quesadilla.
Turn on your oven broiler. Place the rack 6 inches from the top.

Line a baking sheet with aluminum foil. Place chilies on baking sheet. Broil until skin is blackened and blistered, about 5 - 6 minutes per side. Note you can also do this part on your grill. The cooking time would be more like 3 minutes on each side.

Transfer roasted peppers to a paper bag and close for 15 minutes. This will allow the peppers to sweat making removing the skin easier.

Using gloves, carefully remove the skin, seeds and stems of the roasted peppers. Chop and set aside.

Heat butter and olive oil in a skillet over medium heat. Once butter has melted begin sauteing the onions. Cook until they start to brown, about 15 minutes. Stir in the roasted peppers, garlic and salt. Remove from heat.

To assemble a quesadilla, place one tortilla on a flat surface, sprinkle half the cheese and half of the pepper mixture onto the tortilla. Place the other tortilla on top. Repeat with remaining ingredients. Cook the quesadillas in a non-stick skillet over medium-high heat until the cheese is melted and the tortilla begins to brown. Slice and serve immediately.
Keywords:
chilies, Food, hatch chilies, mexican, new mexican, quesadilla, Recipe, Vegetarian