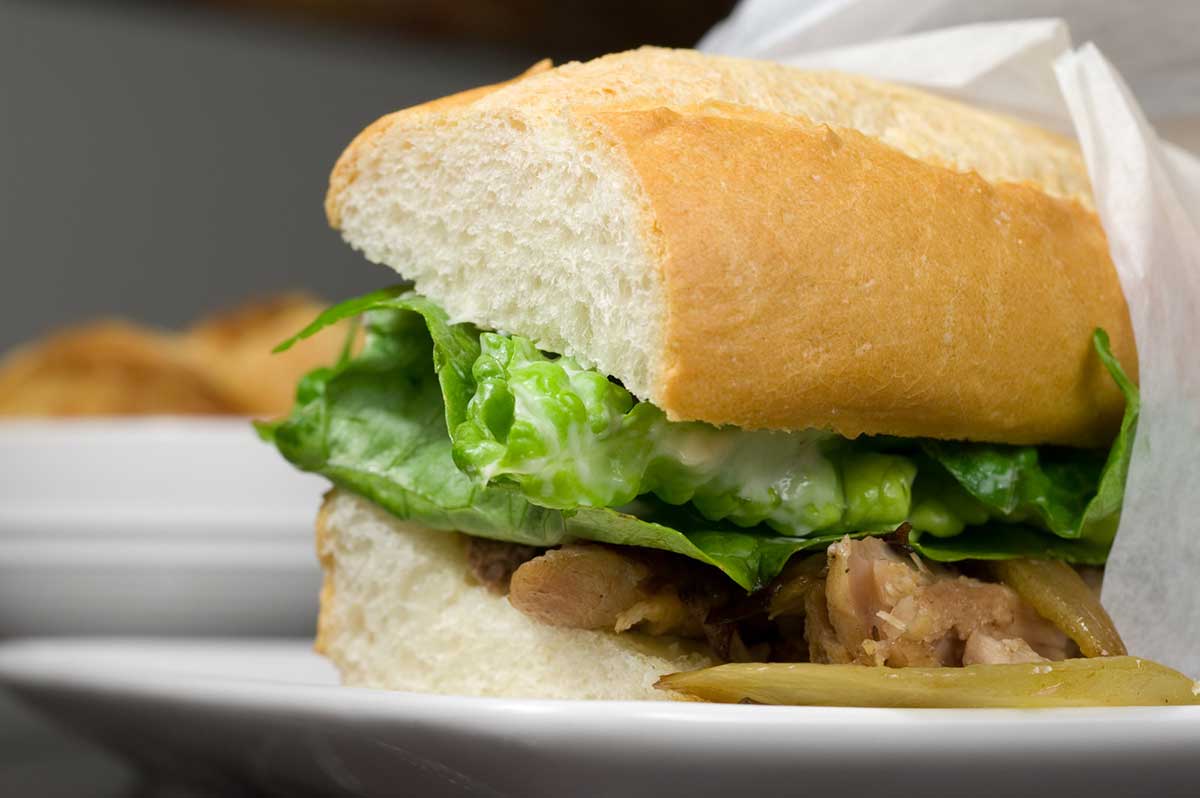 Roasted Pork Sandwiches
For those of you that live in Seattle you have probably heard of Paseo in Fremont. If you haven't it is a Cuban sandwich shop that may have the best sandwiches ever. We actually go quite often and recently I thought, why not give it a try at home. It is a bit of a process because you have to roast the pork as well as garlic, but it is totally worth it. Just think about it, slow roasted pork, roasted garlic mayonnaise, perfectly caramelized onions and jalapenos, lettuce and cilantro sandwiched between two pieces of crusty french bread. Sound good? Thought so. :)
Now I know people have some pretty strong feelings when it comes to Paseo, so let me say this, for those of you that have had the opportunity to go there, this recipe is not an exact duplicate, I am pretty sure they guard that one pretty heavily, but this recipe is pretty darn good. For those of you that have yet to get your hands on a Paseo sandwich, you'll enjoy this too :)
This recipe uses this pulled pork recipe.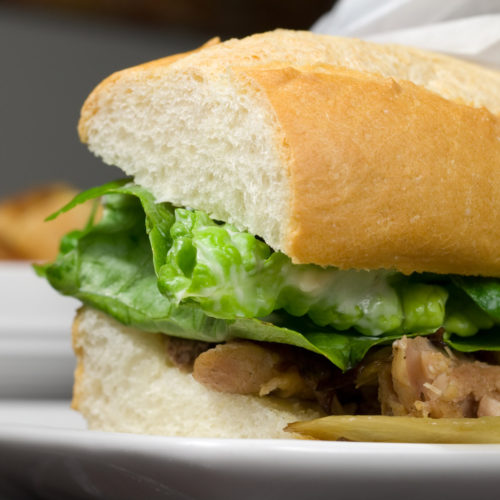 Roasted Pork Sandwiches
Those in Seattle have probably heard of Paseo, a Cuban sandwich shop that has the best sandwiches ever. I thought I would try my own Paseo sandwich recipe.
Ingredients:
1

bulb garlic

1

tablespoon

butter

1

teaspoon

lemon juice

kosher salt

1/2

cup

mayonnaise

1

tablespoon

olive oil

1

tablespoon

butter

2

onions

sliced

3

jalapenos

sliced

About 3-4 cups shredded pulled pork

2

french baguettes

cut into 5-6 (6 inch) pieces, halved lengthwise

5-6

sprigs cilantro

stems removed

5-6

romaine lettuce leaves
To make the roasted garlic mayonnaise, preheat oven to 400 degrees. Cut 1/4 inch off the top of the bulb of garlic to expose the cloves beneath, but do not peel the garlic, you want to roast it in the skin. Place clove on a piece of aluminum foil, place butter on top, pour lemon juice over the garlic and sprinkle with kosher salt. Bring up all sides of aluminum foil and twist together to close. Cook for 60 minutes or until garlic cloves are soft and golden in color.

Let the garlic cool slightly, about 10 minutes. Squeeze into mayonnaise and stir to combine . Chill until ready to use.

In a frying pan, heat olive oil and butter together. When butter has melted add onions and jalapenos. Cook over medium heat for 20-25 minutes, or until onions and jalapenos are soft and caramelized.

To assemble the sandwich, spread garlic mayonnaise on each half of the bread slices. Layer pork, caramelized jalapenos and onions, cilantro sprigs and romaine lettuce leaves on bottom bread slice and top with the remaining slice. Serve hot.
Keywords:
cilantro, cuban sandwich, Food, jalapenos, onions, paseo, paseos, pork shoulder, Recipe, roasted garlic mayonnaise, roasted pork, sandwich, seattle