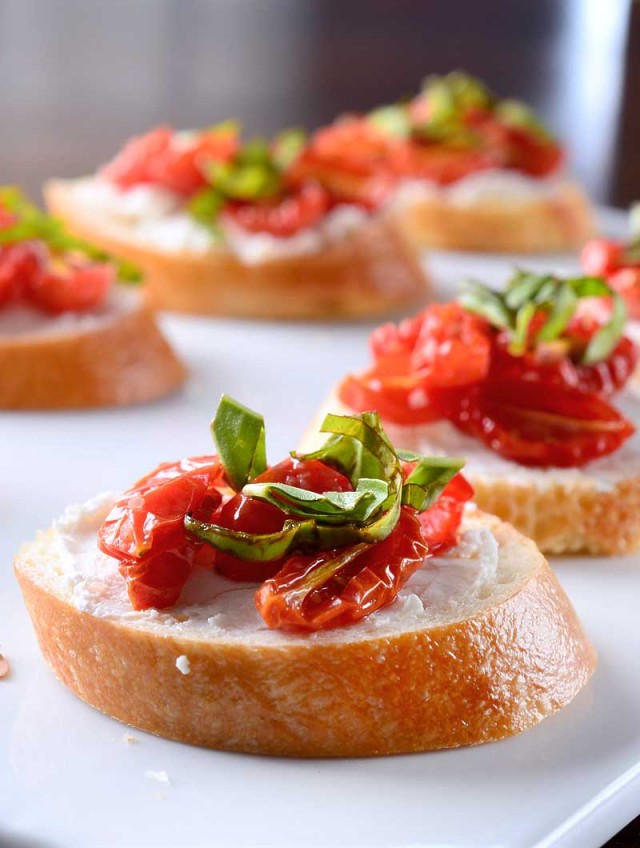 Roasted Tomato and Goat Cheese Crostini
Tomatoes. My favorite part of summer. I'm growing 4 plants this year. They are doing OK but I have yet to get a substantial amount of red ones from them yet. I'm not worried though because I've found August is the best month for tomatoes here in Seattle so there is still hope! In the mean time I'm turning to the grocery store so I can make this Roasted Tomato and Goat Cheese Crostini.
Just because my tomato plants won't be ready until later this month, does not mean that I am waiting to enjoy tomatoes. In fact, it's down right impossible for me to walk by perfectly sun-ripened tomatoes and not buy them.
They are like a tractor beam that pulls me in.
It's like a moth to flame.
OK you get the drift. I like tomatoes.
A lot.
Thank goodness my local grocery store has had organic grape tomato pints on sale for 2 for $4 for the last three weeks. I don't know what it's like where you live but that is a steal here my friends.  And I've been taking advantage and buying 2 pints every week for the last 3 weeks.  It sounds like a lot but we eat them all. Mostly it's just popping some in my mouth for a snack. But they are also great on salads. And in pastas. Perhaps my most favorite way to enjoy them, though, is roasted.
Ohhhmygahhh friends they are so good roasted. Like, for real.
The tomato flavor is concentrated. It's sweet. And when you eat them it's like little bursts of summer. I cannot get enough of them.
Speaking of summer, it's almost over. I saw Pumpkin Ale today at the grocery store. And I got giddy. Yes, I am one of those people that prefer fall over summer but that doesn't mean that I don't enjoy it while it's here. And by enjoy, I mean eating this Roasted Tomato and Goat Cheese Crostini. It's so simple. So fresh and the perfect way to soak up these last few weeks of summer.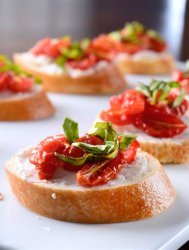 Roasted Tomato and Goat Cheese Crostini
A flavorful, simple crostini with tangy goat cheese, sweet roasted tomatoes and basil. The perfect way to soak up the last few weeks of summer.
Ingredients:
1

cup

grape tomatoes

halved

1

tablespoon

olive oil

1/2

teaspoon

kosher salt

10

baguette slices

1

clove

garlic

3

ounces

goat cheese

chopped fresh basil
Preheat oven to 200 degrees.

Toss tomatoes with olive oil and salt. Place on a baking sheet. Bake in the preheated oven for 45 - 60 minutes or until the tomatoes start to release their juices and soften. Remove from the oven and set aside until ready to use.

Turn on the oven broiler. Place baguette slices on a baking sheet and broil 30 seconds to 1 minute or just until slightly toasted. Rub the garlic clove on the toasted baguette slices.

Spread goat cheese onto the baguette slices. Top each crostini with a few roasted tomatoes. Sprinkle basil over the top. Serve.
Keywords:
appetizer, basil, Food, Goat Cheese, Recipe, roasted tomatoes, tomatoes, Vegetarian