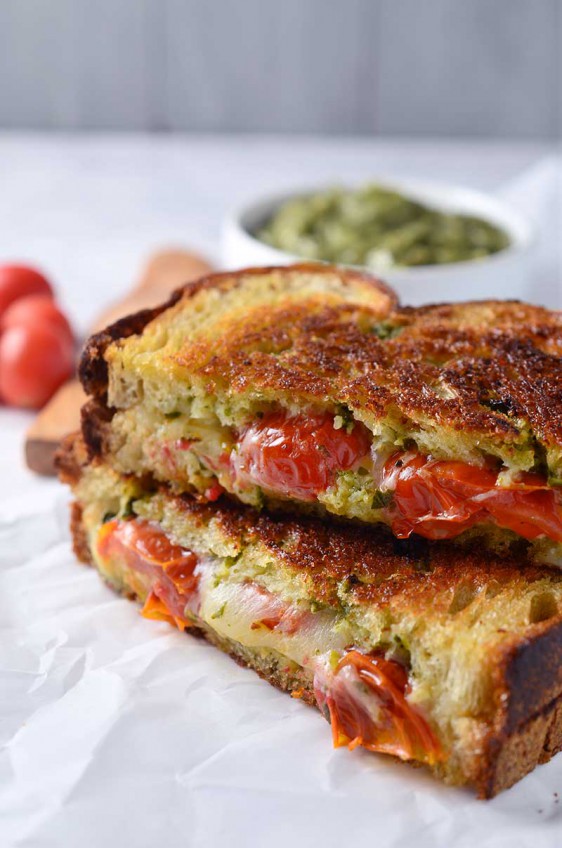 Roasted Tomato, Pesto & Smoked Provolone Grilled Cheese
Did you know that it's National Grilled Cheese month? That's right. An entire month dedicated to the crunchy, gooey, goodness that is the grilled cheese sandwich. I've got a couple to share with you this month and decided that this Roasted Tomato, Pesto and Smoked Provolone Grilled Cheese is the perfect place to start. It has, after all, been several months in the making.
I don't know if you remember but last August I got to spend some time at the Tillamook factory. I told you all about it here. But what I didn't tell you at the time, because I wasn't allowed to, was that they were in the process of developing a mouthwatering smoked provolone. I got to try it at the time and have been daydreaming about it ever since.
Some people day dream about spending time on white sandy beaches.
I day dream about cheese.
Especially this cheese. It is SO good guys. Not like other smoked provolones that have artificial smoke flavor. This one is naturally hickory smoked and you can totally tell. It's not over powering. It's a subtle smoky flavor that is there in the background of every delicious bite.
I have been waiting and waiting to get my hands on some and finally it is now available at my local grocery store. This grilled cheese was the first thing I decided to make with it. The sweet roasted tomatoes, smoky provolone and pesto sandwiched in between crunchy golden bread made one heck of a grilled cheese.
And as if the fine folks at Tillamook weren't busy enough creating delicious new cheeses like this, they have also just launched the new Tillamook Co-Op. It is an online co-op, of which I am now a member (and you can be too!). It's free to join and aims to bring transparency to the dairy industry. As a member we get to have access to member only events, vote and share suggestions on new products and even the chance to name a cow. I am actually really excited about this because I am, and have always been a huge Tillamook fan.
And really…I've also always wanted to name a cow :)
Disclosure: I have an ongoing partnership with Tillamook. I am not compensated monetarily but on occasion receive products to try. I truly love their products and personally purchased the products used in this recipe.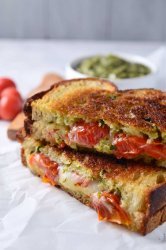 Roasted Tomato, Pesto & Smoked Provolone Grilled Cheese
A decadent grilled cheese sandwich made with smoked provolone, roasted tomatoes and sweet pesto.
Preheat oven to 250 degrees.

Toss tomatoes with olive oil. Season with salt and pepper. Roast for 1 hour.

Spread one side of each slice of bread with butter. Spread the pesto on the other side. Place one slice of provolone cheese on pesto, top with tomatoes, another slice of cheese and bread. Repeat with remaining ingredients until 4 sandwiches are made.

Cook sandwiches in a skillet or on a griddle over medium heat until bread is golden and toasted and cheese has melted, 2 - 3 minutes per side.

Slice and serve.
Keywords:
cheese, pesto, sandwich, Tillamook cheese