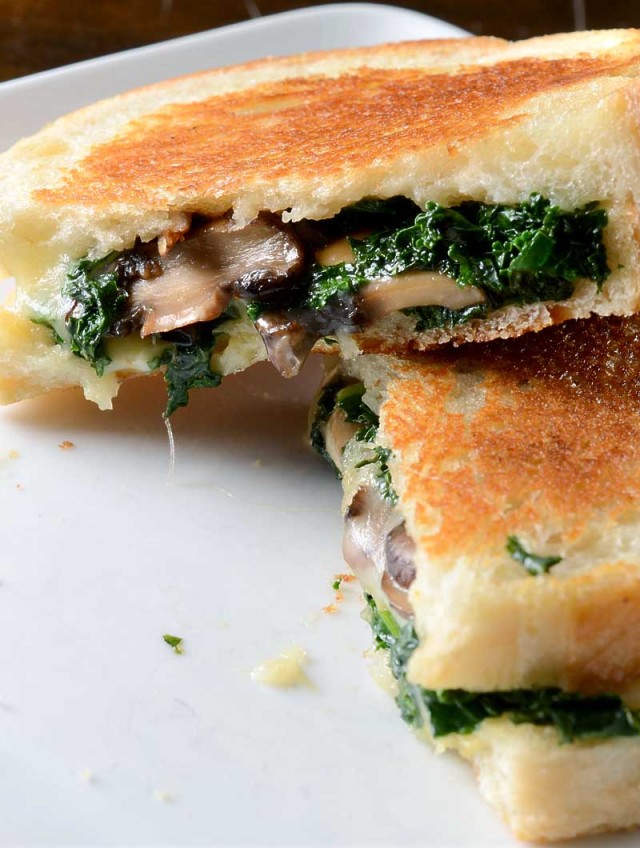 Robiola, Roasted Garlic and Kale Grilled Cheese
I am not sure if you know, but it is national grilled cheese month. That's right. An entire month where we celebrate the the cheesy, gooey, buttery toast goodness that is the grilled cheese sandwich. Personally I think there are a few too many national "Insert your favorite food" day/month. However, that is not going to stop me from celebrating the few I do enjoy. And since it's grilled cheese month, this sandwich is a perfect way to celebrate it.
I first saw robiola cheese when I was watching an episode of the Chew. Daphine Oz was making a pizza with robiola and truffle. I'd be lying if I didn't say that it looked absolutely sinful. The cheese looked so melty, and stretchy. And I knew I needed it in my life.
I did some research and learned a little bit about it.  For those of you who don't know, it is a soft rind Italian cheese and there are a few varieties. There is one made with cow's milk, one made of a blend of cow and sheep milk and one with a blend of cow, goat and sheep's milk.  It isn't a super popular cheese so it can be a little hard to get your hands on it. I found Robiola Bosina (blend of cow and sheep milk)  at one local grocery store who happens to have a Murray's cheese counter. If you cannot find robiola, you can -substitute brie cheese. You'll still get all the creamy, cheesy goodness.
Like brie, the rind on robiola is also edible so I left it on. It's totally up to you if you want to cut it off.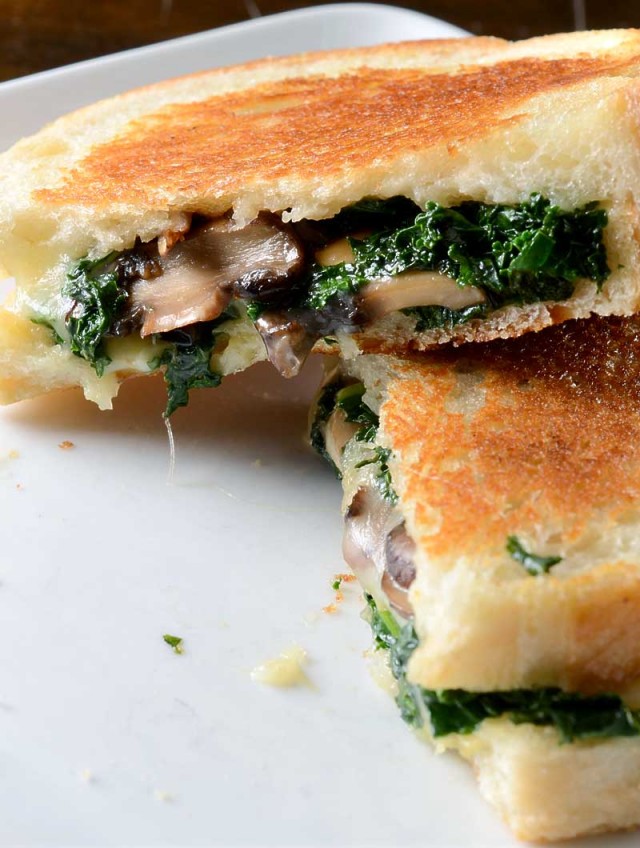 Robiola, Roasted Garlic and Kale Grilled Cheese
Celebrate grilled cheese month with this version with creamy robiola, sauteed mushrooms and kale and sweet roasted garlic.
Ingredients:
1

head garlic

3

tablespoons

butter

divided

1

teaspoon

lemon juice

1

tablespoon

olive oil

5

crimini mushrooms

sliced thin

5

cups

chopped kale

8

ounces

robiola bosina cheese

sliced

8

slices

french bread
Preheat oven to 400 degrees.

Cut the top 1/4 inch off of the garlic head. Top with 1 tablespoon butter and teaspoon of lemon juice. Wrap in foil and roasted for 45 - 50 minutes or until tender. Allow to cool. Use a fork to remove each clove and mash in a bowl. Set aside.

Heat olive oil in a skillet over medium heat. Once hot, cook mushrooms for 3 - 4 minutes or until browned. Add in kale and cook just until wilted, about 2 minutes.

Butter one side of each slice of bread. One the other side of the bread spread a thin layer of roasted garlic. Divide the cheese evenly among four slices of bread. Divide the sauteed kale and mushrooms and place on top of the cheese. Place the remaining four slices of bread on top butter side out. Grill 2 - 3 minutes on each side or until the bread is golden and the cheese is melted.

Serve hot.
Keywords:
brie, brie cheese, cheese, Food, grilled cheese, grilled cheese month, kale, Recipe, robiola, sandwich