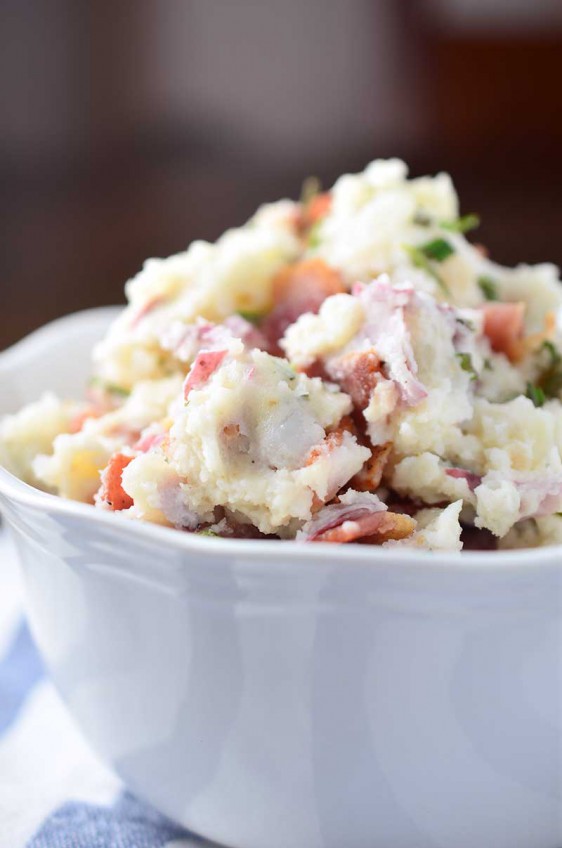 Rosemary Bacon Potato Salad
This coming weekend marks the unofficial kick off to summer. Which means it's the unofficial kick off to summer BBQs, potlucks and picnics. And just in time for all those BBQs, potlucks and picnics I am sharing with you a twist on everyone's favorite summer side: potato salad. This one is creamy and loaded with fresh rosemary and crispy bacon.
This week is shaping up to be rather busy. You see, this Saturday we are celebrating something. Our littlest dude is turning 1.
Gosh, just typing it I can't even believe it. I can't believe that it's been one whole year since he decided to make his dramatic entrance into this world a whopping 7 1/2 weeks early.
I can't believe that that little 4 pound 7 ounce baby is now over 20 pounds and cruising around the house. He is growing so fast, absolutely loves his big brother and is becoming quite the little mischief maker already. I'm in for it with these two for sure.
With two pretty much mobile little ones, who rarely nap, I've been having less and less time to spend in the kitchen testing recipes to share. However, once in a while I can get a quick one in and this Rosemary Bacon Potato Salad is just that. It comes together in about half an hour.
It's great warm or cold.
It makes a great side dish.
It's creamy thanks to a tip that I got from The Pioneer Woman's recipe for potato salad. She uses a food mill to get hers nice and fluffy. I use a masher, a step I've never done before with potato salad, but I'm pretty sure I will never skip that step again!
This salad also just screams summer with the fresh rosemary.
And well…bacon.
It's got a lot of things going for it, really. And should totally be on your table this summer. :)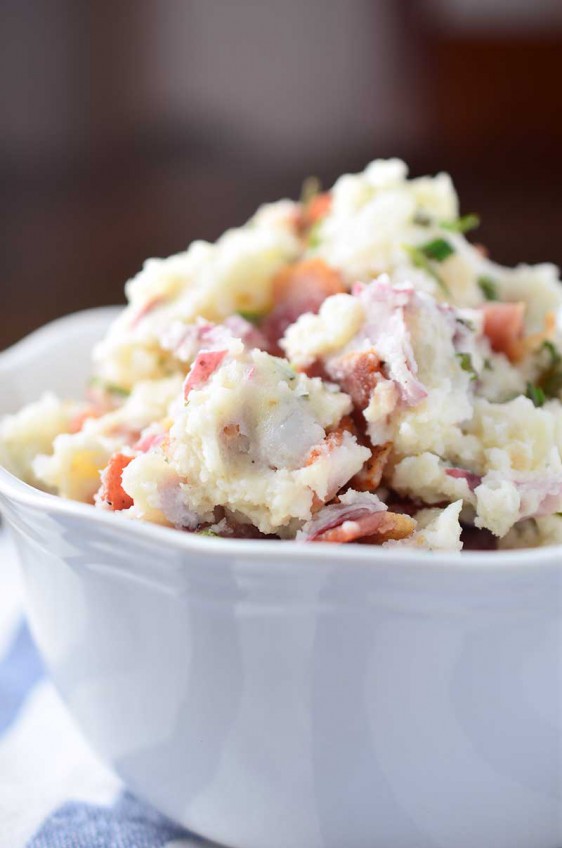 Rosemary Bacon Potato Salad
A twist on potato salad with fresh rosemary and crispy bacon.
Cook bacon until browned and cooked through. Transfer to a paper towel lined plate.

While bacon is cooking boil potatoes in a large pot of water until fork tender. Drain.

Place potatoes in a bowl and use a potato masher to mash leaving a few larger pieces.

In another bowl whisk together mayonnaise, vinegar, rosemary and garlic powder.

Pour dressing over the potatoes. Mix well. Mix in bacon. Season to taste with salt and pepper. Refrigerate until ready to eat.
Keywords:
bacon, memorial day, potato salad, rosemary, side dish