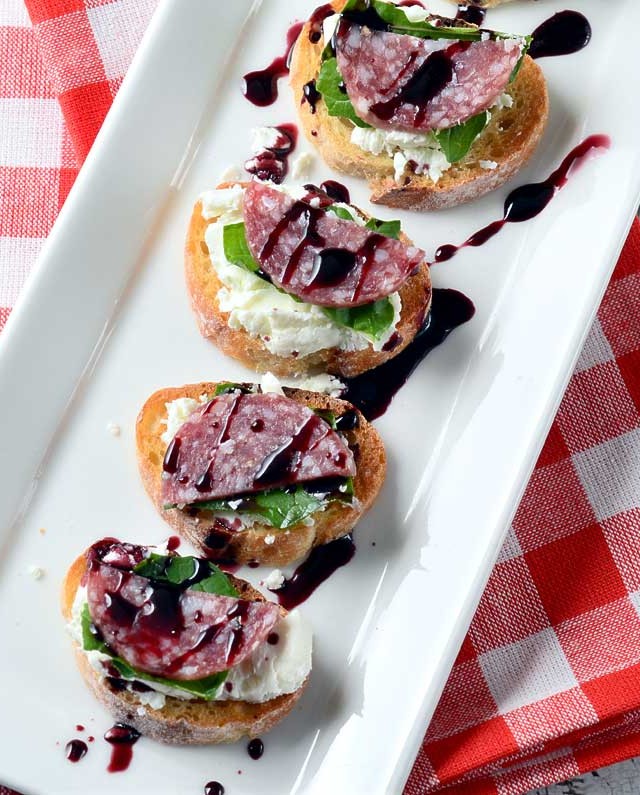 Salami and Goat Cheese Crostini with Pinot Noir Sauce
Call me a romantic but I am a sucker for a picnic. I just adore packing food into a basket, heading out to find a relaxing place outdoors to eat, laying down a blanket and enjoying a simple meal in the shade of a nice big tree. My ideal picnic meal is some meats, cheeses, bread and wine. Nothing that takes super long to prepare. Just simple little bites. Simple bites like these Salami and Goat Cheese Crostini with Pinot Noir Sauce.
When Black Box Wines challenged me to "Lose the bottle", I was ready to accept. They want to know, where would you take wine if you weren't constrained by a bottle. For me, hands down it would be far more convenient to take a box of wine on a picnic then a bottle. I mean really, no glass to worry about breaking and my favorite part, no need for a bottle opener. In my years as a server I broke one too many corks.
No fun.
And before you say "Des, aren't box wines supposed to be well…not good" Let me say this, that is simply not the case anymore. Box wines have come a long way. Black Box Wines are award winning with 40 gold medals and 27 "best buys" from Wine Enthusiast Magazine. I was given three wines to try: Chardonnay, Cabernet Sauvignon and their new Pinot Noir. Each one was delightful. Each one I would gladly drink out of a glass or cook with. And that is saying something because, when you cook with a wine you only concentrate the flavor so you better like it. Especially when you make a reduction with it like I did for these crostini.
Judging by the amount of times I have made crostini in the last week (3) I'd say we are fans of the wine. Especially the new Pinot Noir. And it worked very well as a component of this crostini.
These crostini may look fancy but they are actually really easy to make. You simply combine the wine, balsamic vinegar and sugar together and let it cook down to form a sauce. Then layer the bread with creamy goat cheese, peppery arugula, savory salami and then drizzle with the sweet pinot noir sauce. It is the perfect bite to take on a picnic. And don't forget to bring along the rest of the box of wine to enjoy along side it.
The only thing as fabulous as enjoying a high quality, award winning box of Black Box Wines is winning a $5,000 shopping spree! "Lose the Bottle" and grab your shopping bag! Enter the sweepstakes by visiting https://www.facebook.com/blackboxwines/
This is a sponsored conversation written by me on behalf of Black Box Wines. The opinions and text are all mine.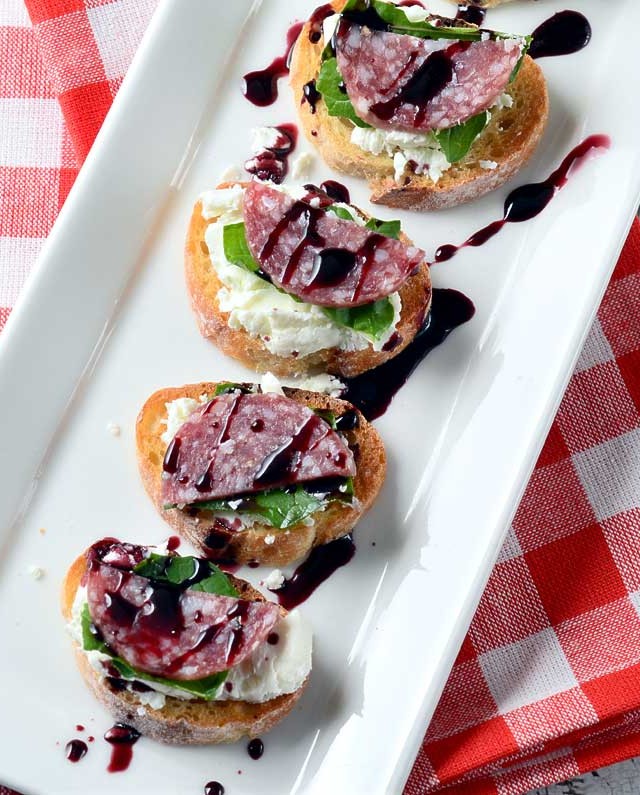 Salami and Goat Cheese Crostini with Pinot Noir Sauce
The perfect bite with crunchy bread, creamy goat cheese, peppery arugula, savory salami and sweet Pino Noir sauce.
Preheat oven broiler.

Combine pinot noir, balsamic vinegar and granulated sugar together in a small saucepan. Bring to a boil and cook until reduced by 3/4. It should be thickened slightly, almost like a syrup. Remove from heat.

Meanwhile broil baguette slices for 1- 2 minutes or until golden brown.

Assemble the crostini by placing a wedge of goat cheese on top of baguette, top with arugula leaves and salami. Drizzle with pinot noir sauce. Serve.
Keywords:
Black Box Wines, crostini, Lose the bottle, salami, Wine sauce