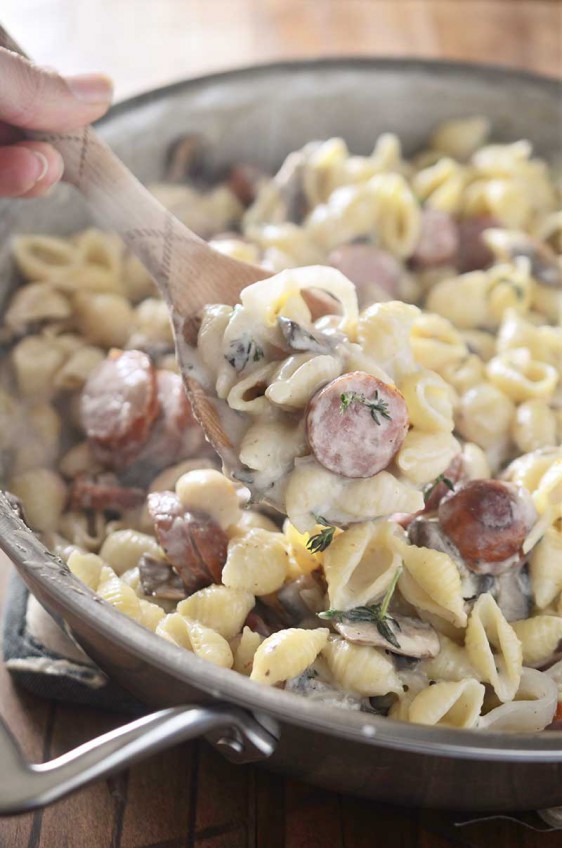 Sausage and Mushroom Mac n' Cheese
Dinner doesn't get more comforting than this Sausage and Mushroom Mac n' Cheese. This pasta is loaded with smoky sausage, mushrooms, swiss cheese and thyme. It's the perfect fall dinner! 
Raise your hand if your kiddos love mac n' cheese! Mine do and to be honest, I do too. It is one of my most favorite comfort foods and I make it, from scratch, a few times a month. Despite my love for the cheesy goodness, it usually gets relegated to a side dish but I am always on the lookout for ways to make mac n' cheese the star of the show. This Sausage and Mushroom Mac n' Cheese does just that.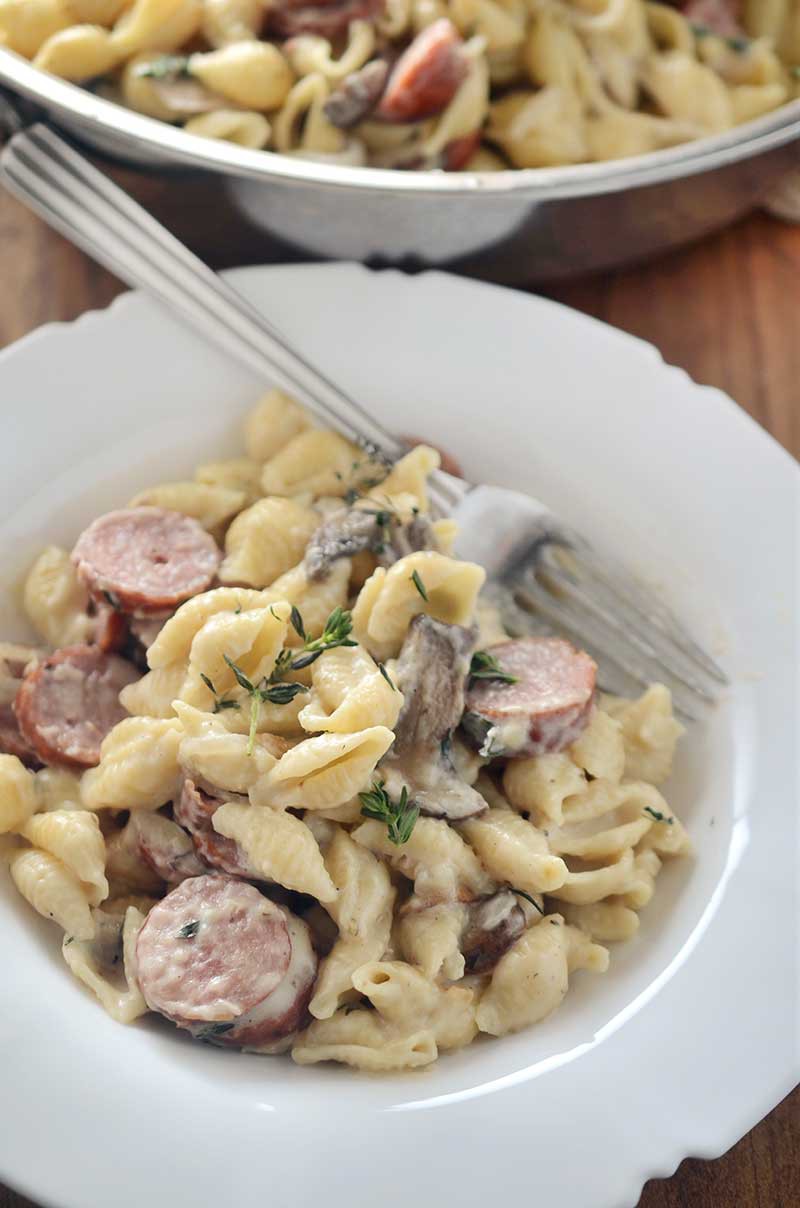 When it comes to mac n' cheese what kind of pasta person are you? Elbow? Spirals? Shells? Penne? There are so many good options. For this sausage and mushroom mac n' cheese, I decided to take the shell route. I love that the inside of the shell is like a pocket of cheese sauce.
Mmm…pocket of cheese.
Speaking of cheese, I use two different kinds in this mac n' cheese: mozzarella and swiss. I picked mozzarella because I love the stringiness that it adds. I picked swiss because swiss and mushrooms just go so well together. If you aren't a swiss fan, you could substitute monterey jack instead. It will have a slightly different flavor, but it would still be delicious.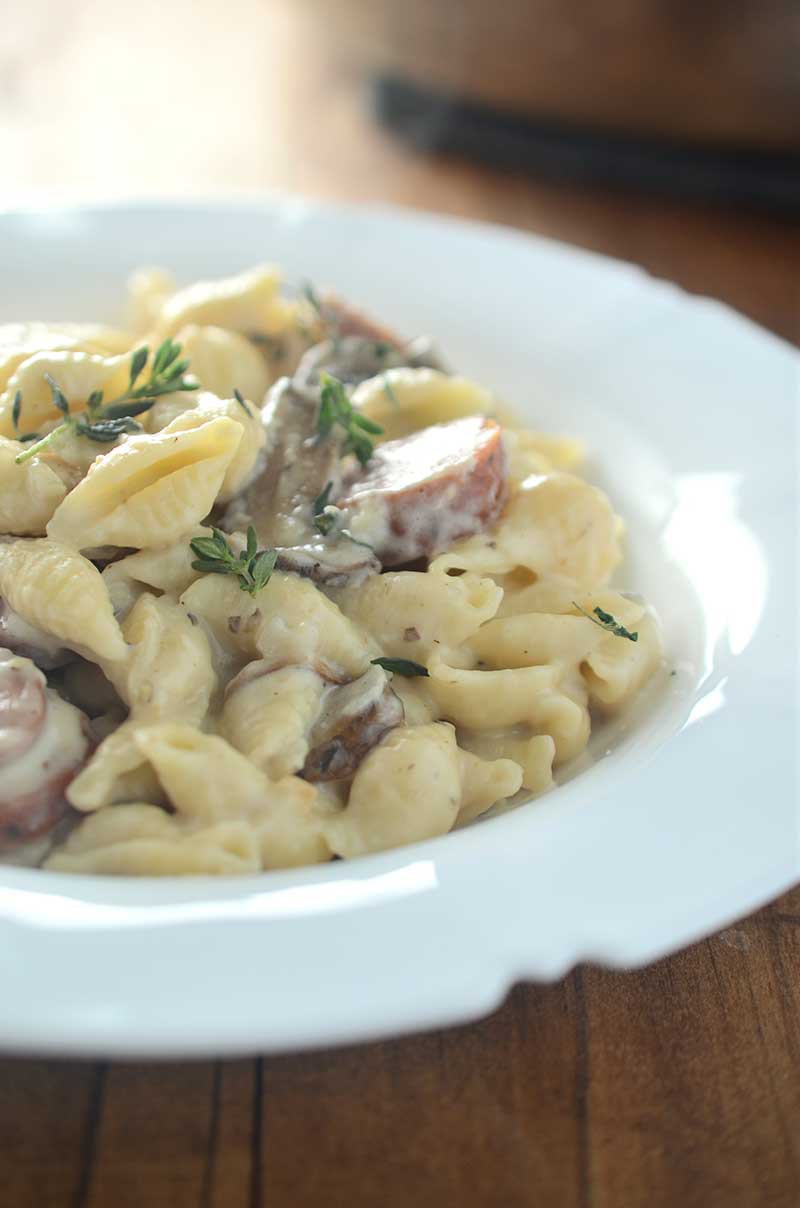 Finally, let's talk about the sausage. In this Sausage and Mushroom Mac n' Cheese, I found a smoked sausage at my local grocery store and decided to use that. I wanted to avoid something that was too spicy, since the kiddos were eating too. I loved the smokiness that the sausage added to this pasta. If you can't find smoked sausage, kielbasa would be a great substitute.

Sausage and Mushroom Mac n' Cheese Recipe
Ingredients:
2 cups dried pasta shells
3 tablespoons butter
3 cups sliced crimini mushrooms
10 ounces cooked smoked sausage, sliced
1 shallot, thinly sliced
2 tablespoons all purpose flour
2 cups whole milk
1 1/2 cups shredded mozzarella
2 cups shredded swiss cheese
1 tablespoon thyme
Instructions
1
Cook pasta according to package directions. Drain and set aside

2
While pasta is cooking, melt butter in a skillet over medium heat. Add in mushrooms and cook 5 - 7 minute or until they soften and start to brown. Add in smoked sausage and shallot. Cook just until shallot wilts, about 2 minutes. Sprinkle flour over the top and stir. Cook 1 minutes. Whisk in milk. Add in cheese, stir until cheese melts. Add in thyme. Season to taste with salt and pepper. Fold in cooked pasta.

3
Remove from heat, let stand 5 minutes. Stir and serve.