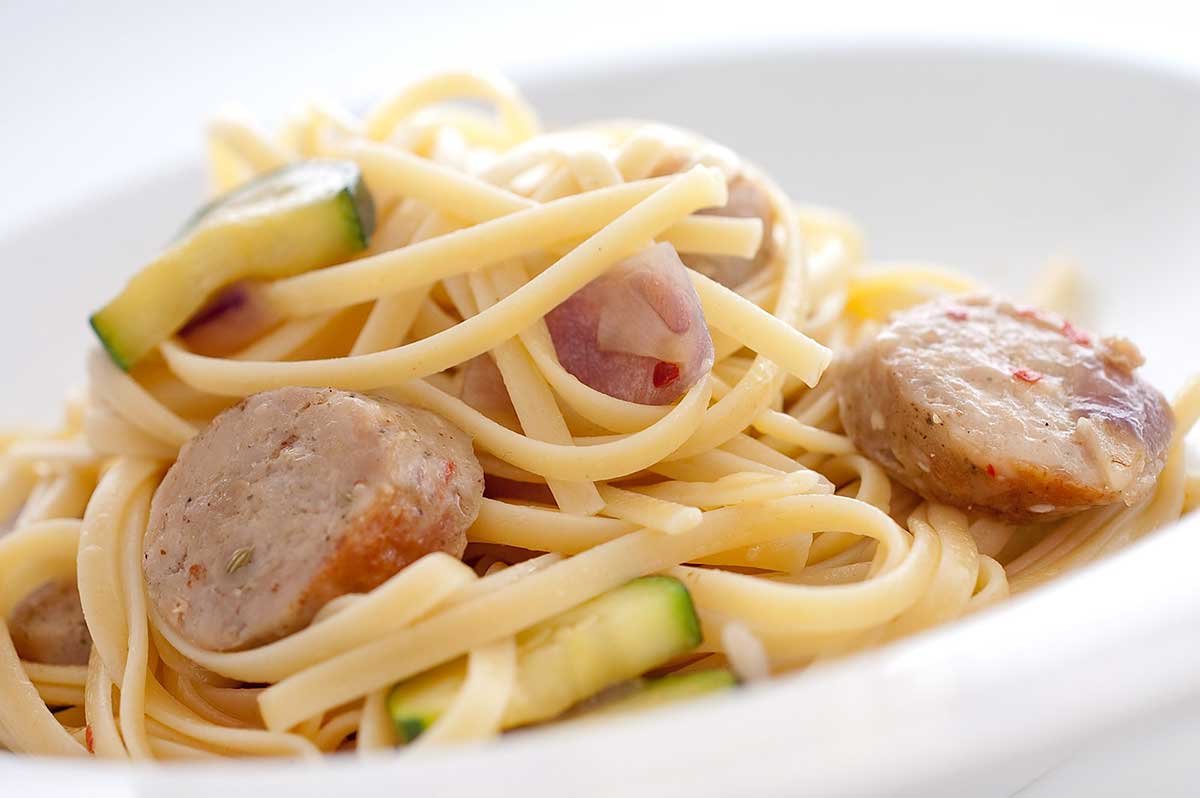 Sausage, Mushroom and Zucchini Pasta
This is one of those "I need to go grocery shopping tomorrow but what can I eat tonight?" kind of dinners. It was really just what I happened to have in the fridge. I just opened the door and started grabbing things that I thought would go well together or that I realized I needed to use. Thus this pasta was born. Quick, easy and delicious.
I seem to be on a bit of a chicken kick lately and happened to have chicken Italian sausage in the fridge. It was a nice change from regular as it still had the same sausage flavors like fennel and garlic but it also was a bit lighter. Depending on your tastes you could substitute turkey Italian sausage or regular pork Italian sausage.
Sausage, Mushroom and Zucchini Pasta Recipe
Ingredients:
1 pound dried linguine
4 chicken sausage links
1 tablespoon olive oil
4 cloves garlic, minced
1/2 red onion, diced
1/4 - 1/2 teaspoon crushed red pepper
1 medium zucchini, sliced
1 cup sliced mushrooms
1/4 cup chicken broth
1/2 cup shredded Romano cheese
kosher salt to taste
Instructions
1
Bring a large pot of water to a boil and cook pasta according to package directions.

2
While pasta water is heating, begin cooking sausage and cook until browned. Transfer to a cutting board and slice.

3
In the same pan that you cooked the sausage in, heat olive oil over medium heat. Add garlic, crushed red pepper and red onion. Cook until fragrant, about 1 minute. Stir in zucchini and mushrooms. Cook 3 minutes or until slightly softened. Return sausage to the pan and pour chicken broth over the top.

4
By now pasta should be just about done. Strain and toss hot pasta with the vegetable mixture. Stir in cheese and toss until it melts. Season to taste with salt. Serve.