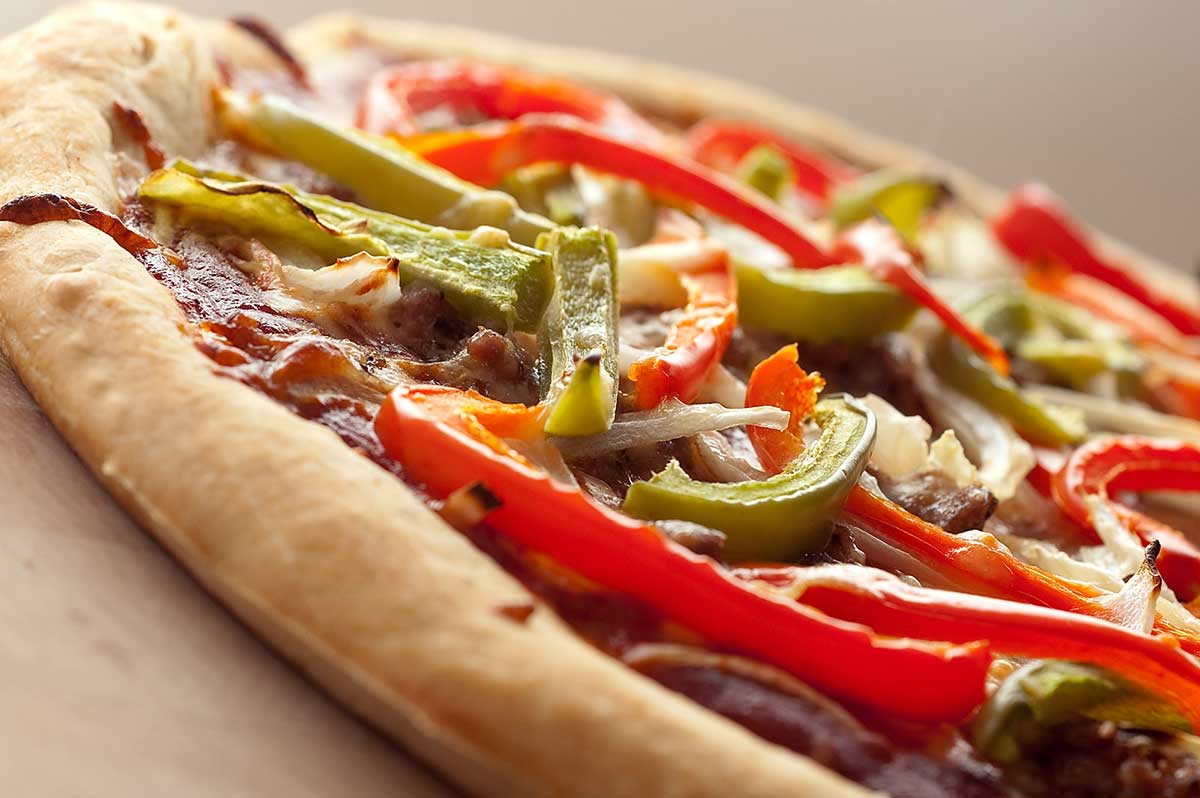 Sausage, Pepper and Onions Pizza
I was craving pizza the other night and didn't really want to go out for it or call the delivery guy so I decided to make some for Ryan and I. Traditionally I'm a pepperoni kind of girl but I didn't have any. I did however happen to have some Italian sausage, bell peppers and onions. From my experience with my Sausage, Peppers and Onions Pasta I knew it would be even more delicious combined with homemade pizza sauce and homemade crust. The result was delicious enough that I think I just may loose the delivery guy's number.
The idea of making your own pizza crust can make this pizza seem like too much work, but it really is more waiting time than anything. It took a little over an hour for me to make my pizza crust, including rising time, and I was really happy with the results. Making my own gave me the opportunity to add my favorite seasonings to to give it a bit of a flavor boost which can sometimes be a problem when eating pizza out.  However, if you don't have the time to make your own, you can always pick up a pre-made dough at the grocery store.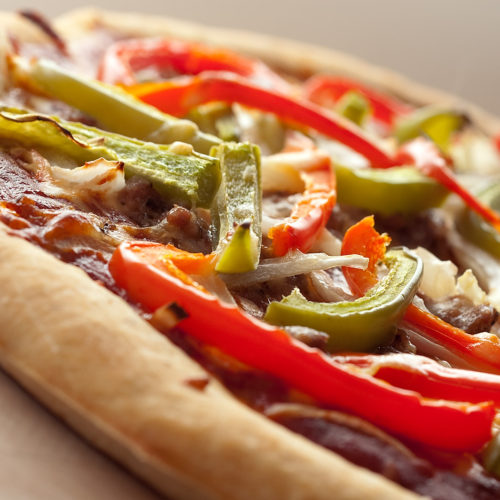 Sausage, Pepper and Onions Pizza
Forget delivery, homemade pizza sauce and crust help make this Sausage, Peppers and Onions pizza perfect.
Ingredients:
1

1/4 ounce envelope active dry yeast

1

cup

warm water

2

cups

all purpose flour

plus more for flouring surface

1/2

teaspoon

dried basil

1/2

teaspoon

dried oregano

1/2

teaspoon

garlic powder

1/2

teaspoon

kosher salt

1

tablespoon

plus 1 teaspoon olive oil

2 - 2 1/2

cups

shredded mozzarella

1/2

pound

Italian sausage

1

red bell pepper

sliced, seeds and stem removed

1

green bell pepper slice

seeds and stem removed

1/2

yellow onion sliced
In a bowl dissolve yeast in warm water. About 10 minutes.

In another bowl combine flour, basil, oregano, garlic, and kosher salt.

After yeast has dissolved, gradually mix in the seasoned flour. Mix with hands until well combined.

On a flour coated surface, kneed dough until soft, about 5 minutes. Add more flour as needed so the dough doesn't stick to your hands or the board.

Grease a bowl with 1 teaspoon extra virgin olive oil. Place dough in the bowl, cover tightly with saran wrap. Let rise in a warm, dark place for 40 minutes – 1 hour or until it has doubled in size. I put mine in a kitchen cabinet.

Once it has doubled in size, punch the dough to release the air bubbles.

Preheat oven to 400 degrees.

On a lightly floured surface, roll out the dough and then using your hands shape into 15 inch pizza pan. Once shaped, brush the dough with 1 tablespoon of extra virgin olive oil.

Bake the plain pizza dough for 10 minutes. Remove from oven and top with pizza sauce, mozzarella, Italian sausage, bell peppers and onions. Bake for 25 - 30 minutes or until the crust is golden brown and the sausage is cooked.

Allow to cool for several minutes, slice and serve.
Keywords:
bell peppers, Food, italian, italian sausage, onions, pizza, pizza crust, pizza sauce, Recipe, sausage, snack