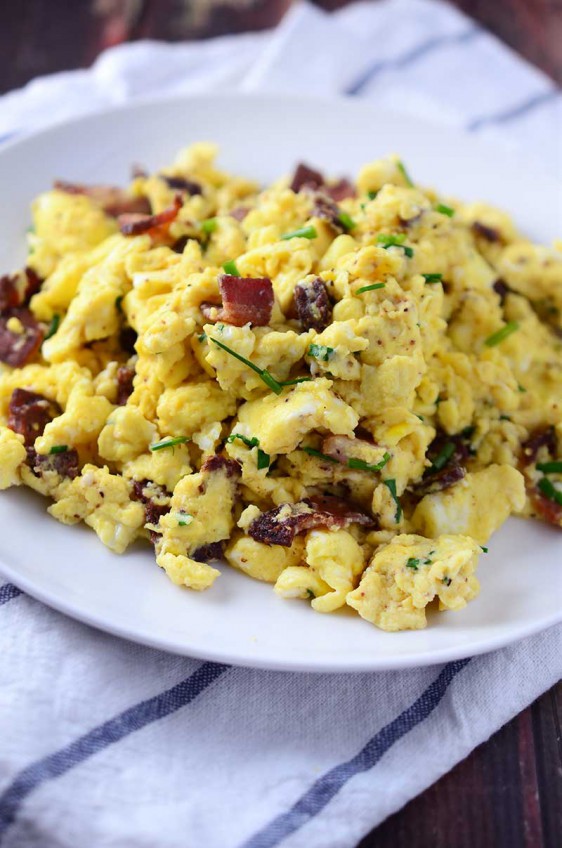 Scrambled Eggs with Pepper Bacon & Chives
This is one of those should I share or should I not share recipes. I think about sharing it and then think "No one needs a recipe for scrambled eggs Des" so I decide not to. Then I make it almost every weekend and think "this is so good I must share it!" So today, the latter wins out and I'm sharing it. I'm sharing it because it's my favorite breakfast. I'm sharing it because it is simple, easy, down to earth breakfast comfort food.
Scrambled eggs and bacon has been my favorite breakfast since I was a kid. Both of my parents would make them for my sister and I. It was actually the only way that I would eat my eggs for the longest time. I have since developed a love for over easy eggs too but scrambled eggs and bacon will always be my favorite.
Sure eating scrambled eggs with a few slices of bacon on the side is all good and well, but there is just something about the fluffy eggs and crispy bacon being cooked together that just makes them even better.
Over the years I have turned this childhood favorite into something a little more grown up.
A couple of years ago, I decided to start adding chives to the mix.
Kid me probably would not have gone for it. They are green after all. And oniony.
Adult me, on the other hand, LOVES them. They add just the right amount of onion flavor without being over powering. And, frankly, they just make every dish prettier, right? That little pop of green color, I just love it!
Kid me probably would not have dug the peppered bacon either. It's smoky and the black pepper is a tad bit spicy. Yeah, I'm pretty sure kid me would've said no, no, no.
Adult me just says: Dude. Bacon.
So without further ado, here is the recipe for my favorite breakfast in all it's eggy, bacon-y and chive-y deliciousness. I hope you enjoy it as much as we do!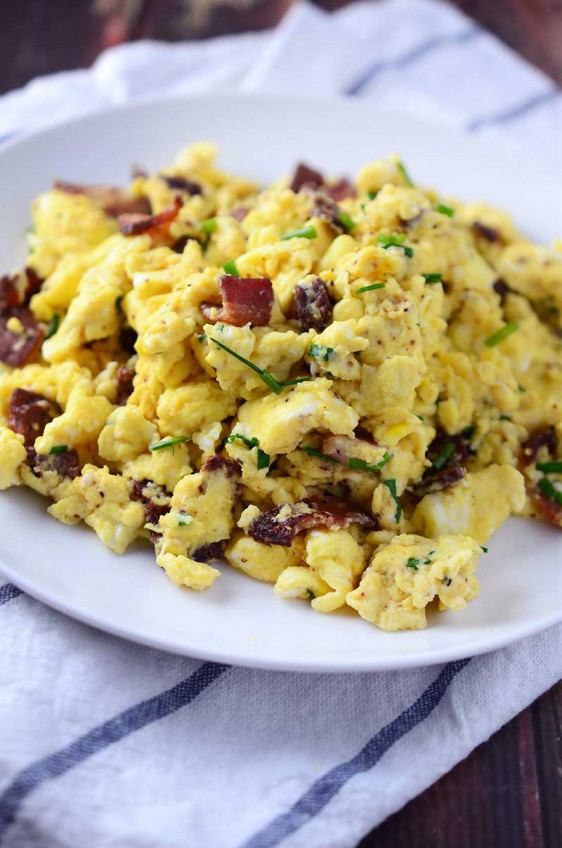 Scrambled Eggs with Pepper Bacon & Chives
Fluffy scrambled eggs with peppered bacon and chives. Simple, easy, down to earth, breakfast comfort food.
Ingredients:
4

slices

thick cut peppered bacon

7

whole eggs

1/2

cup

milk

1/2

teaspoon

salt

non-stick spray

1

tablespoon

chopped fresh chives
Dice bacon into one inch pieces.

Cook bacon in a skillet over medium heat until browned and cooked through. Transfer to a paper towel lined plate.

Whisk together eggs, milk and salt.

Spray a pan with non-stick spray (or use a non-stick pan). Pour eggs into pan. Allow to cook for 1 minute, sprinkle the bacon and chives over the top. Cook eggs and bacon for 5 - 7 minutes, stirring occasionally until eggs are cooked through and fluffy. Adjust seasoning with salt and pepper if desired. Serve.
Keywords:
bacon, Breakfast, brunch, eggs