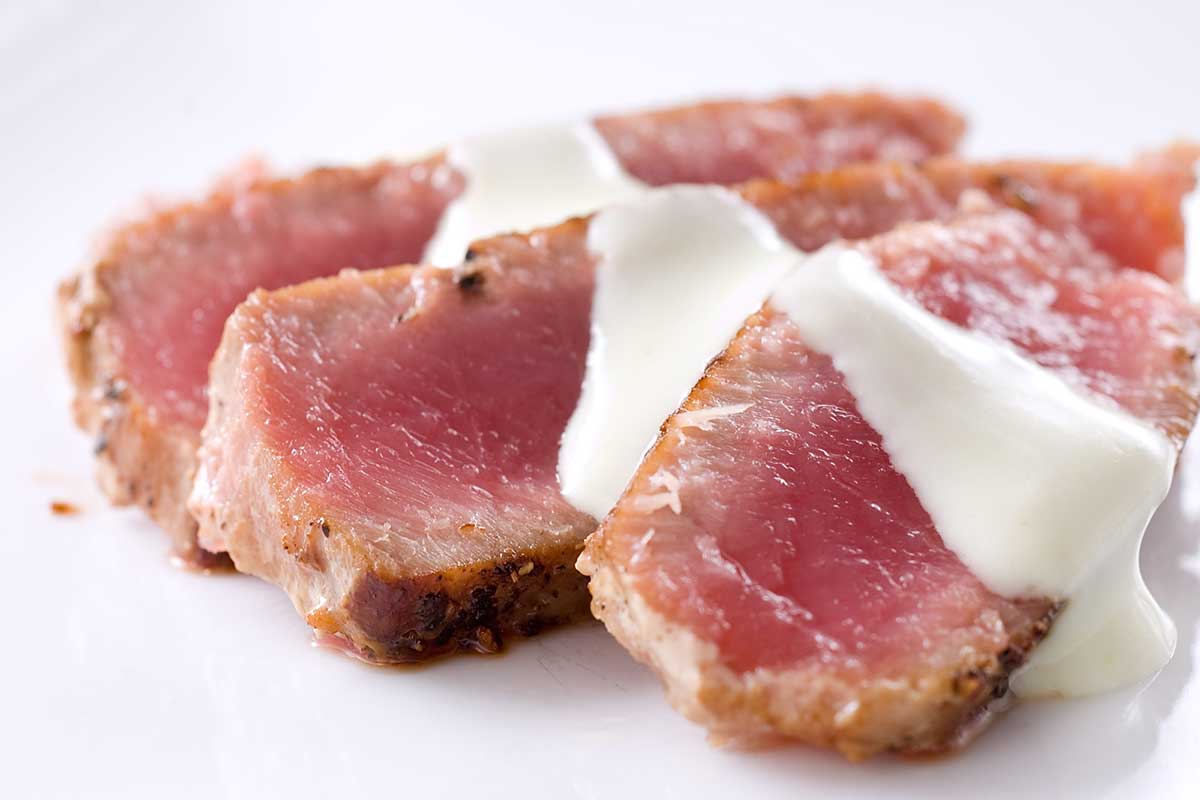 Seared Ahi Tuna with Wasabi Cream
Ryan and I went home to visit last weekend. And while I was there, my mom and I were talking about ahi and the different ways that she prepares it. I don't make it all that often because I usually like to save tuna for when I go out for sushi. And frankly I'm always a little intimidated by it.  However, after talking with my mom curiosity got the better of me and I decided to make it last night. Let's just say, I'm pretty sure I'll be making it at home more often.
My mom gave me the recipe that she uses to make her seared tuna. I decided to use some of the flavors in that recipe and add a few that I thought might be good. The biggest difference is that in my mom's recipe she includes wasabi in the marinade. For my recipe, I decided to omit the wasabi from the marinade and instead made a spicy cream dipping sauce for the tuna. It worked out very nicely. Heck, now I even have imagines of seared ahi tuna sandwiches with this cream sauce as the sandwich spread.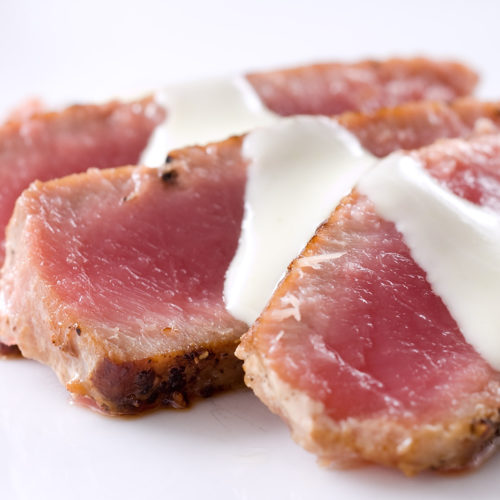 Seared Ahi Tuna with Wasabi Cream
Perfectly seared tuna with a spicy yet cool wasabi cream sauce.
Ingredients:
2

tablespoons

soy sauce

2

tablespoons

Aji-mirin wine

sweet cooking rice wine

1/2

teaspoon

ground ginger

1

clove

garlic

minced

1

teaspoon

sesame oil

2

ahí tuna steaks

2

tablespoons

olive oil

1/4

cup

sour cream

1

teaspoon

wasabi paste

1

teaspoon

rice vinegar
In a bowl combine soy sauce, mirin, ginger, garlic and sesame oil. Mix well. Place ahi steaks in the marinade and turn to coat. Cover and marinate for 1 hour.

Mix together sour cream, wasabi and vinegar. Cover and refrigerate until ready to use.

Heat olive oil in a large heavy bottomed skillet over medium-high heat. Cook tuna 2 - 3 minutes per side.

Slice thinly and spoon wasabi cream sauce over the top. Serve.
Keywords:
ahi tuna, asian, entree, Food, Recipe, seared tuna, tuna steaks, wasabi