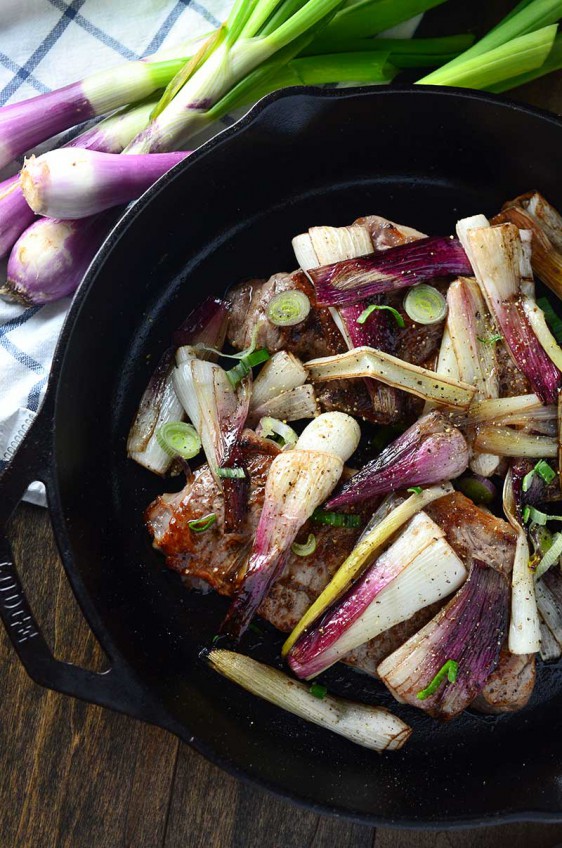 Seared Steak with Balsamic Red Spring Onions
Every once in a while I like to pick up a completely new to me ingredient, take it home and see what I can do with it. Recently I found some red spring onions at the grocery store and decided that they were too pretty to not bring home with me. Once I got home, I knew that I wanted to do something simple with them. Something to really showcase their beautiful color and flavor. Enter: Seared Steak with Balsamic Red Spring Onions.
My first inclination was to grill these whole. I love a good grilled onion. The char on them is my favorite part. I make several batches every year.
Mother nature, however, had other plans when it came to these spring onions. Like making it rain non stop. All. Day. Long.
We Pacific Northwesterners do do a lot of stuff in the rain. There is that ongoing joke that if we didn't do anything in the rain then we wouldn't ever do anything at all. But I draw the line at grilling in the pouring down rain.
I. Just. Can't.
With grilling out of the question, I decided the next best thing to do would be to roast them. For this I cut off the green tops, but I didn't throw them away.  And you shouldn't either. You can totally use them for other things like stir fries, in salads and on top of baked potatoes in place of green onions. I even used them to garnish this dish.
After I cut off the tops, I cut off the root end of the onion and the cut the onions in half. Drizzled them with some balsamic, olive oil and salt and tossed them in the oven.
Next, I cooked a couple of New York strip boneless steaks using the cast iron steak method that I used in this post for Pan Seared Steak with Creamy Herbed Horseradish Sauce . With one minor change: when I put the steaks in the oven to cook, I scattered the partially roasted balsamic red spring onions around them to finish roasting while the steaks cooked.
You guys, it. was. heavenly.
The steak was perfectly cooked but the onions are the star of the show here. They aren't too strong. They are slightly charred. Kind of sweet. And even cooked, the color of the spring onions is still just so pretty.
Almost too pretty to eat.
Almost.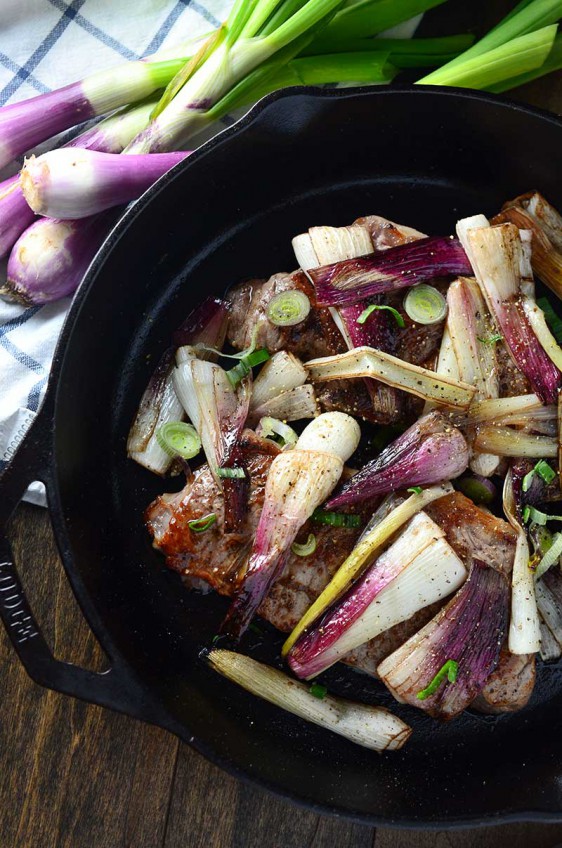 Seared Steak with Balsamic Red Spring Onions
Perfectly pan seared steak topped with roasted balsamic red spring onions.
Preheat oven to 350 degrees.

Cut the onions about 1 inch from where the red part stops. Reserve tops for garnish.

Cut off root bottom of onions and then cut in half lengthwise. Place onions in a baking dish. Pour olive oil and balsamic vinegar over the top. Sprinkle with salt. Gently toss. They may start to separate, that is fine.

Place onions in preheated oven and cook for 15 minutes. Remove from oven.

Heat a cast iron skillet over medium high heat.

Liberally season both sides of the steak with salt and pepper.

Place steaks in skillet and sear for 30 seconds - 1 minute on each side. The steak with come away from the pan easily when ready.

After turning the steaks, place roasted onions around and on top of them.

Transfer steaks, in skillet, to preheated oven and cook for 5 minutes for medium rare. Remove from oven and let rest for 10 minutes. Garnish with a few pieces of chopped tops. Serve.
Keywords:
balsamic, entree, onions, steak