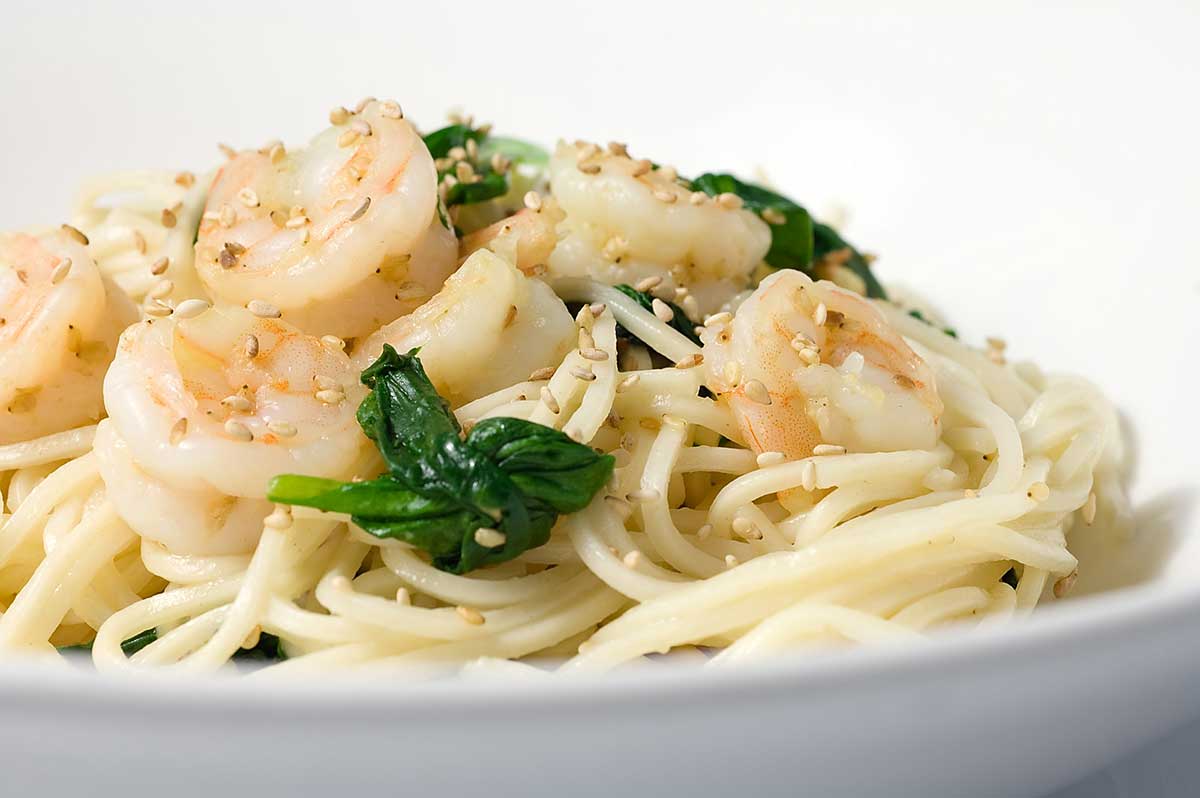 Sesame Shrimp and Spinach Noodles
Is it just me or is there a lot  that goes into returning from vacation? Its almost like  I need another one. Between unpacking, laundry, grocery shopping, decorating for fall and returning to the gym and work, I have been one busy girl. But alas, I still need to eat. I just need to do it quickly. This super easy yet deliciously nutty sesame shrimp and spinach noodle dish helped me do just that.
Remembering my recipe for Sauteed Spinach with Toasted Sesame Seeds , I began to think that spinach, sesame seeds and sesame oil would be a great addition to pasta. Throw in some shrimp and you have a delightfully quick, easy and filling main dish.
Sesame Shrimp and Spinach Noodles Recipe
Ingredients:
10 ounces chow mein udon noodles
2 teaspoons olive oil
2 teaspoons hot chili oil
2 cloves garlic, minced
1 tablespoon sesame seeds
1 pound (51-60) count prawns, peeled and deveined
3 cups loosely packed baby spinach leaves
1 teaspoon sesame oil
kosher salt to taste
Instructions
1
Cook noodles according to package directions.

2
While noodles are cooking, in a large pan heat olive oil and chili oil over medium-high heat. Add garlic and sesame seeds. Cook until fragrant, about 30 seconds.

3
Stir in shrimp, cook until pink, about 5 minutes. Add in spinach and cook just until it wilts, about 2-3 minutes.Add in noodles and toss to combine. Pour sesame oil over the top. Toss once more. Season to taste with salt.

4
Sprinkle more sesame seeds over the top for garnish, if desired. Serve.
Notes
A couple of tips: Be careful not to over cook the noodles as they can get a little mushy. If you find that the noodles are starting to stick together before you add them to the shrimp mixture simply run some cool water over the top. Just be sure to strain them well. Enjoy!