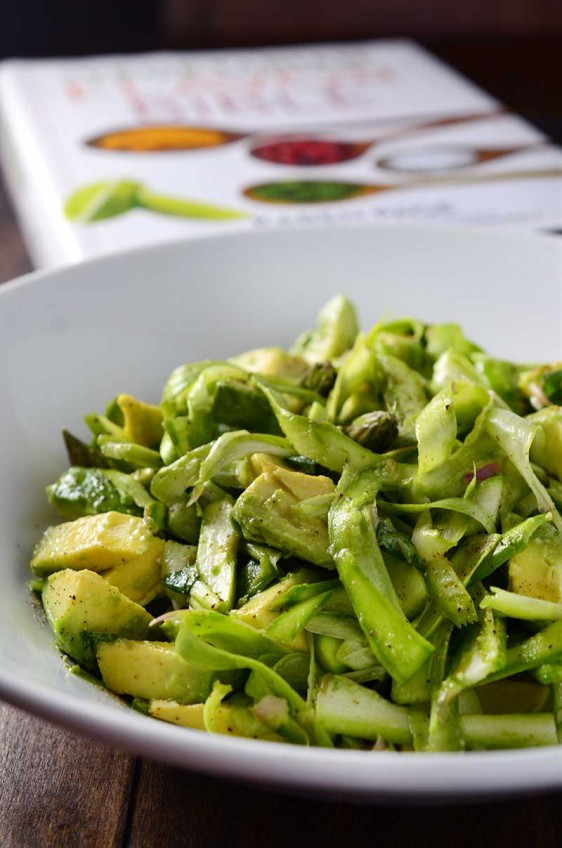 Shaved Asparagus & Avocado Salad + Cookbook Giveaway!
I have professed my love for the Flavor Bible many times on this here blog o' mine. I've even given it away to a few of you. Did you know that last fall Karen Page released a new version? Yep, The Vegetarian Flavor Bible and guys, it's just as good as the original. It is where I got the idea for the simple deliciousness that is this Shaved Asparagus & Avocado Salad with Lemon Basil Vinaigrette.
Guys, I'm super excited because, not only am I sharing this super easy and scrumptious salad, but today I have also teamed up with Jen from Savory Simple, Gerry from Foodness Gracious, Jackie from The Beeroness, Carolyn from All Day I Dream About Food, Marnely from Cooking with Books, Carrie from Bakeaholic Mama, Nik from A Brown Table,  Kim from Cravings of a Lunatic, and Valerie from Une Gamine Dans La Cuisine to bring you our favorite cookbooks. That means that one lucky winner is going to get…wait for it…TWELVE new additions to their cookbook collection. Pretty awesome huh?
Just look at the fantastic books you'll be getting if you win: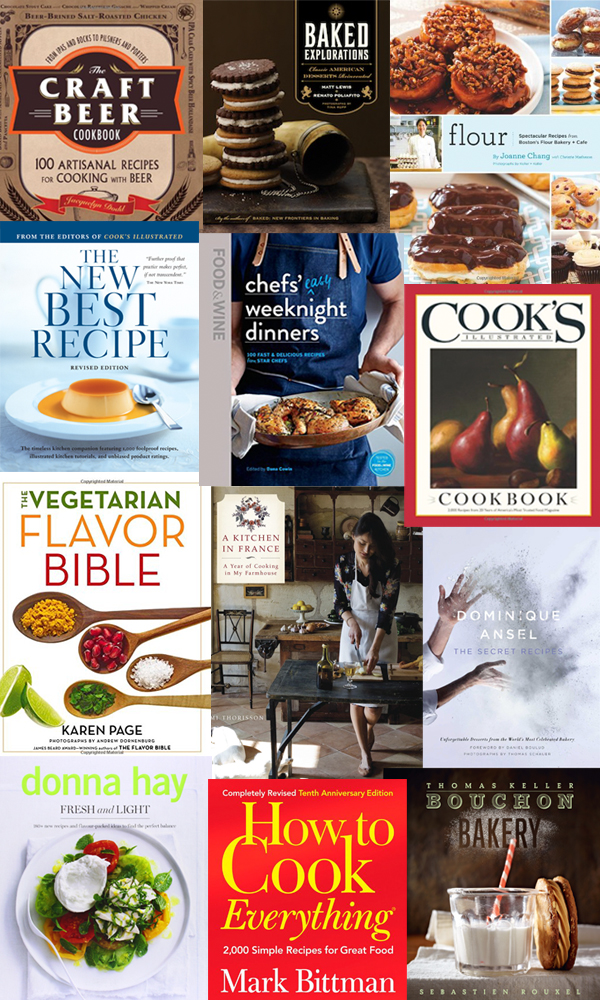 I decided to pick the Vegetarian Flavor Bible as the one to give away because, as much as I didn't think it was possible because I am a carnivore, I love this version just as much as the Flavor Bible. There are different grains and vegetables that aren't in the first book. It also has more nutritional breakdown for the ingredients. It is a truly gorgeous addition to any kitchen cookbook collection. It has become just as inspiring in my kitchen as the original Flavor Bible and totally makes me want to eat more veggies.
It is what I used to develop this Shaved Asparagus & Avocado Salad.
After a trip to Costco last week I had an abundance of asparagus and avocado and I was wondering if I could possibly put them in a dish together. Obviously, I consulted the Vegetarian Flavor Bible to see what I could do and lo and behold, according to the book and the little bold print, they pair well together. According to the book, lemon and basil are also great compliments for both asparagus and avocado.
That was all I needed to know to get the creative juice flowing to create this simple beautiful salad.The avocado is creamy, the asparagus crunchy and the lemon basil vinaigrette is bright and citrusy. It's like spring in a bowl.
And I know it's not Irish. Like at all. But hey it's green! So count this Asparagus & Avocado Salad as my contribution to St. Paddy's Day :)
Just leave me a comment below telling me your favorite cookbook and then use the rafflecopter widget to record that you commented. Once you've done that you can unlock opportunities for bonus entries! Good luck!
Giveaway Info:
One winner will win all 12 cookbooks.
The giveaway will run from 3/16/15 at 12AM EST to 3/23/15 at 12AM EST.
The giveaway is open to US and Canadian Residents.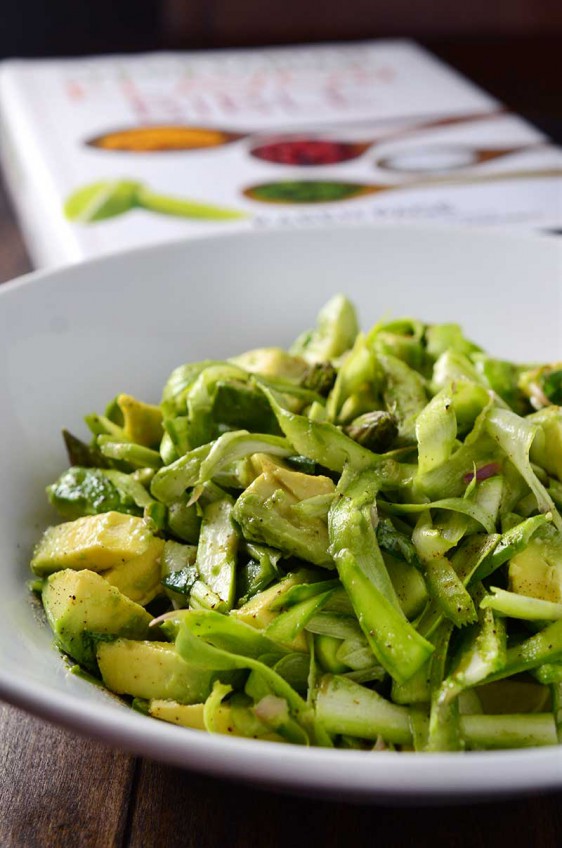 Shaved Asparagus & Avocado Salad + Cookbook Giveaway!
This shaved Asparagus & Avocado Salad tossed with Lemon Basil Vinaigrette is the perfect spring side dish!
Ingredients:
1/4

cup

extra virgin olive oil

2

tablespoons

lemon juice

1/4

teaspoon

salt

6

basil leaves

torn or chiffonade

15

asparagus spears

tough ends trimmed

1

avocado

diced
Whisk together olive oil, lemon juice, salt and basil. Set aside.

Use a vegetable peeler to shave the asparagus. When it gets to thin to shave, chop. Repeat with remaining asparagus spears.

Place asparagus and avocado in a bowl. Whisk dressing once more, pour over salad. Toss to coat. Season to taste with salt and pepper. Serve immediately.
Keywords:
asparagus, avocado, giveaway, salad, Vegetarian