Shredded Beef Sandwiches with Sriracha Mayo
Last Friday when I posted my recipe for Shredded Beef Taquitos, I mentioned that I would share a recipe for the awesome sandwiches I made the next day with the left over beef. First I wanted to jazz up the beef a little bit so I cooked it with some chopped serrano peppers, garlic and sliced onions. However,  it was the addition of a quick sriracha mayo that made this sandwich absolutely delicious.
Sriracha has been one of my favorite condiments since I first found it at the Mongolian grill where Ryan and I had our first date. I know, I know messy food for a first date, but I was 15 and I wasn't one of those girls who would only eat salad in front of boys. Sure I'd eat a salad, if it was followed by a delicious pasta :)  But back to the sriracha. I love sriracha because it adds a nice spicy kick to many different meals. It goes well with stirfries, pizza and even eggs. Heck my little sister would even squirt some on potato chips. For this meal, I mixed it with a little rice wine vinegar and some mayo to make a perfect spread for my sandwich.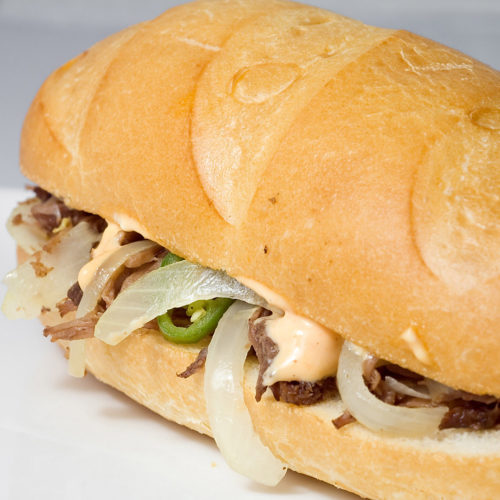 Shredded Beef Sandwiches with Sriracha Mayo
Shredded beef cooked with onions and serrano peppers, piled high on crusty bread with a spread of sriracha mayonnaise.
Ingredients:
1/2

cup

mayonnaise

1

tablespoon

rice vinegar

1-2

tablespoons

sriracha

depending on how spicy you want it

kosher salt and fresh cracked pepper to taste

1

tablespoon

olive oil

2

cloves

garlic

minced

2

serrano peppers

diced

1

onion

sliced

2

cups

cooked shredded beef

3

french bread rolls or hoagie rolls
Whisk together mayonnaise, rice vinegar, sriracha, salt and pepper. (Note: Mayo will be thin , but should be spreadable. If it appears too thin add a little more mayo.) Chill for 30 minutes.

Preheat oven broiler.

Heat olive oil in a pan over medium heat. Cook garlic, peppers and onions until slightly softened, 3-5 minutes.

Stir in shredded beef. Cook until warmed through. About 3 minutes.

Toast bread under broiler just until browned.

For each sandwich, pile meat mixture on bottom half of bun. Spread sriracha mayo on top of bun, place on top of meat mixture. Serve
Keywords:
beef, onion, rice wine vinegar, sandwich, serrano peppers, shredded beef, slow cooked shredded beef, sriracha mayo, sriracha sauce