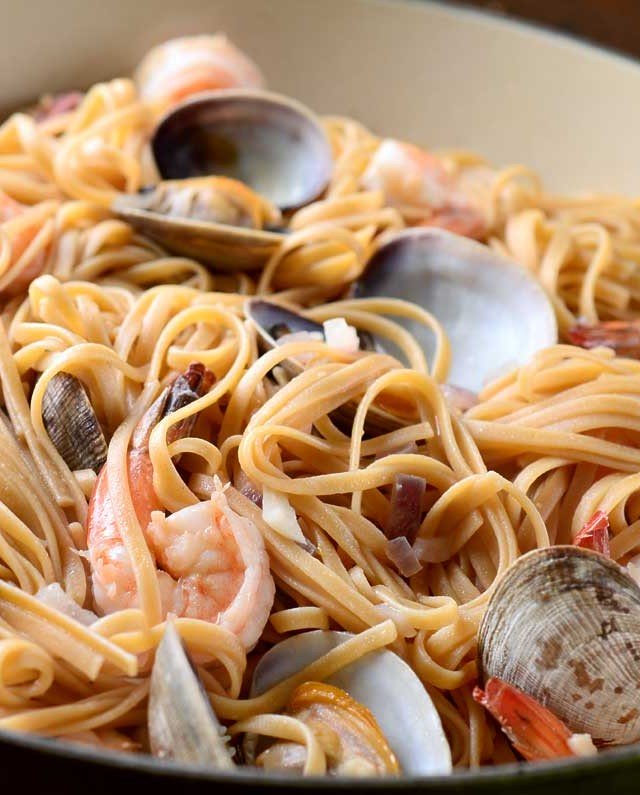 Shrimp and Clam Linguine
I know it's Thanksgiving week and this recipe isn't very Thanksgiving-ish but it's a dish that my grandma would've loved. And when we lost her almost a couple of weeks ago, I dealt with the sadness the best way that I know how: Cook.
The last week and a half has been kind of a blur honestly. My grandma's passing wasn't unexpected but it still hurts nonetheless.We had her funeral this past Saturday and I couldn't bring myself to speak. It's easier for me to do it here. And just as healing I think.
I am just trying to remember her and all the wonderful memories that we had. My grandma was a very fun and funny lady. And she was also that grandma that was always offering you food. Even after you said no 3 times, she still gave you some and say "you should eat."
And the food that grandma always, always loved were shrimp and clams. Every time I would see her, which was once or twice a year, there was bound to be a batch of steamer clams or sauteed shrimp around. I would say "are you hungry grandma? What should we have?" And she would get this little smile on her face and say "Let's have grandpa takes us to get some clams!"
I cherished those times.
I will cherish those times forever.
And I will miss her. I will miss her laugh. I will miss her smile. I will miss the way she just liked to sit on the couch, watch movies and hold hands. I will miss the way that she would pretend to get so offended and tell my grandpa when I would stick my tongue out at her when he wasn't looking. It was a game we played from the time I was a little girl. I will miss her always insisting that she was 39 years old.
I will just miss her. Forever.
And whenever I make this pasta, it'll be like I'm dining with her one more time. I love you grandma, always.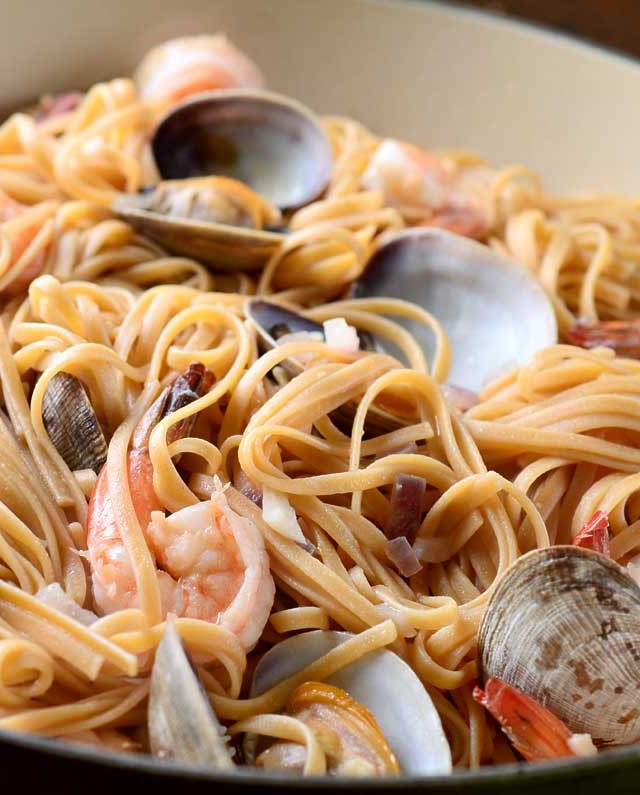 Shrimp and Clam Linguine
Remembering my grandma with her favorite dish garlicky, shrimp and clam linguine.
Bring a large pot of water to boil and cook pasta according to package directions. Drain.

Heat oil in a skillet over medium heat. Add in onions and garlic. Cook just until the onions soften, about 2 minutes. Be careful not to burn the garlic. Add in the clams and wine. Cover and cook for 5 minutes. Add in the shrimp cover and cook for 3 - 5 more minutes or until the clams have opened and the prawns are cooked through. Add linguine to the pot and toss to combine. Serve.
Keywords:
clams, entree, pasta, seafood, shrimp