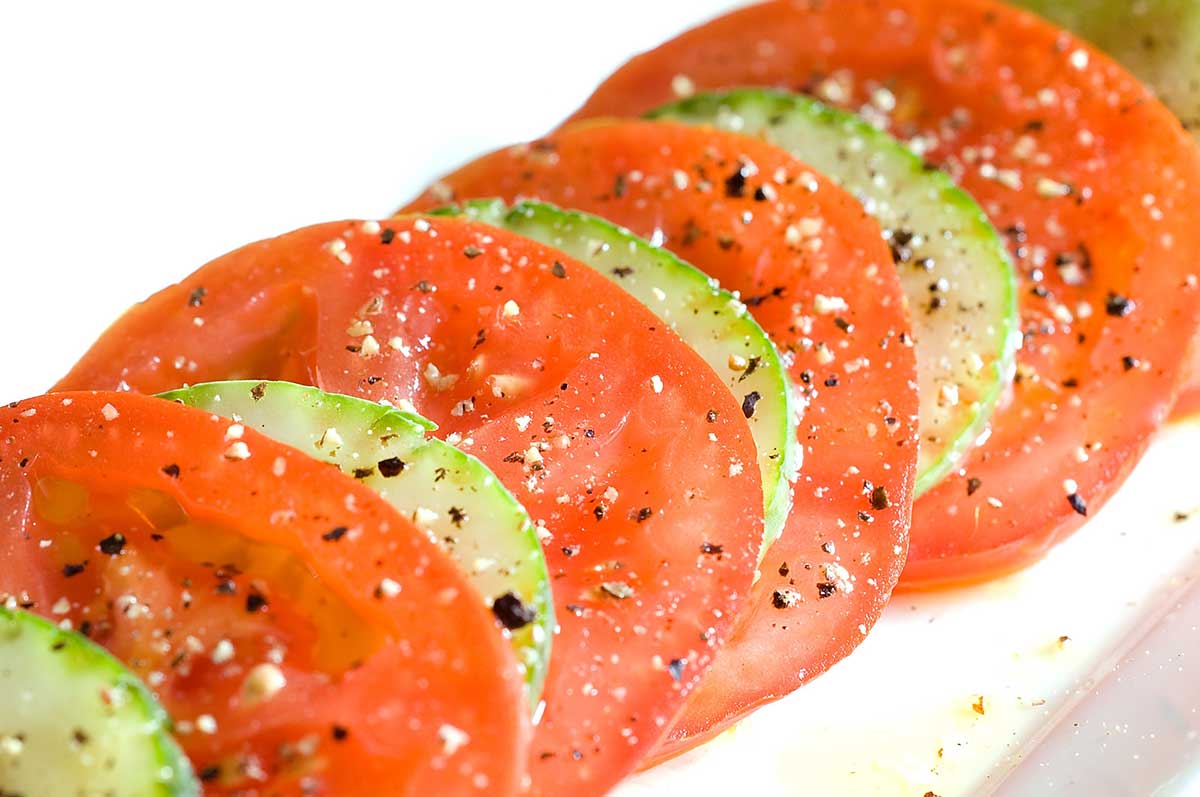 Sliced Cucumber and Tomato Salad
After yesterday's tummy warming comfort food, Meatballs in Mushroom Cream Sauce, I thought I would share something a little lighter for those of you still enjoying the hot summer weather.  All you need for this quick and easy salad is a couple ripe tomatoes, a cool cucumber, salt, pepper and good quality extra virgin olive oil.
Do you remember that episode of Full House when Uncle Jesse jumps out of a plane on his wedding day and lands in a tomato truck smack dab in the middle of "Tomato Country"? Everyone there, including the police officer that arrests him for ruining the tomatoes he landed on, was obsessed with tomatoes and constantly eating them. I always thought I would fit in quite well there since tomatoes have always been one of my favorite summer time snacks. I would simply slice them, sprinkle them with a little salt and chow down. I have recently started to enjoy cucumbers the same way. Put the two together with a little olive oil and you have yourself a perfect summer salad.
You may notice that I say "good quality" extra virgin olive oil. Since there is no cooking involved with this recipe,  the flavor of the olive oil really stands out in this dish. Nothing ruins a good salad more than a bad batch of olive oil. A good bottle will last you a while and is worth the splurge.
As for peeling the cucumber, the choice is yours. If I were to use a regular hot house cucumber I would probably peel it since the skin can be a little tough. If I were using an English cucumber, which I prefer, I wouldn't peel it.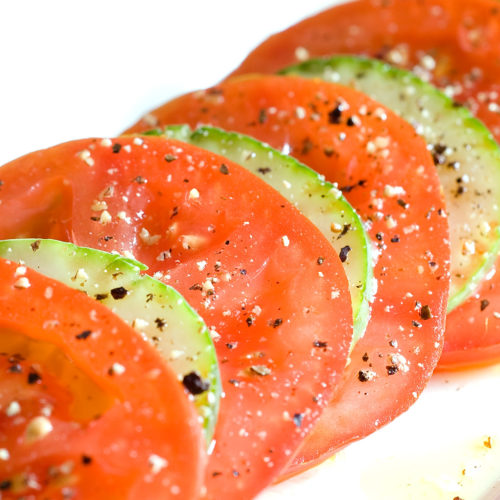 Sliced Cucumber and Tomato Salad
A simple salad of sliced cucumbers and tomatoes.
Ingredients:
2

ripe medium sized tomatoes

cut into 1/4 inch slices

1/2

medium cucumber

cut into 1/4 inch slices

1/4 - 1/2

teaspoon

kosher salt

1/4 - 1/2

teaspoon

fresh cracked black pepper

1

tablespoon

good quality extra virgin olive oil
Sprinkle the tomatoes and cucumber evenly with salt and pepper.

Layer on a serving plate. Drizzle with extra virgin olive oil.

Refrigerate for 30 minutes.

Serve cold.
Keywords:
4th of July Recipes, cucumber, diet, extra virgin olive oil, Food, healthy, kosher sald, pepper, Recipe, salad, summer, tomato