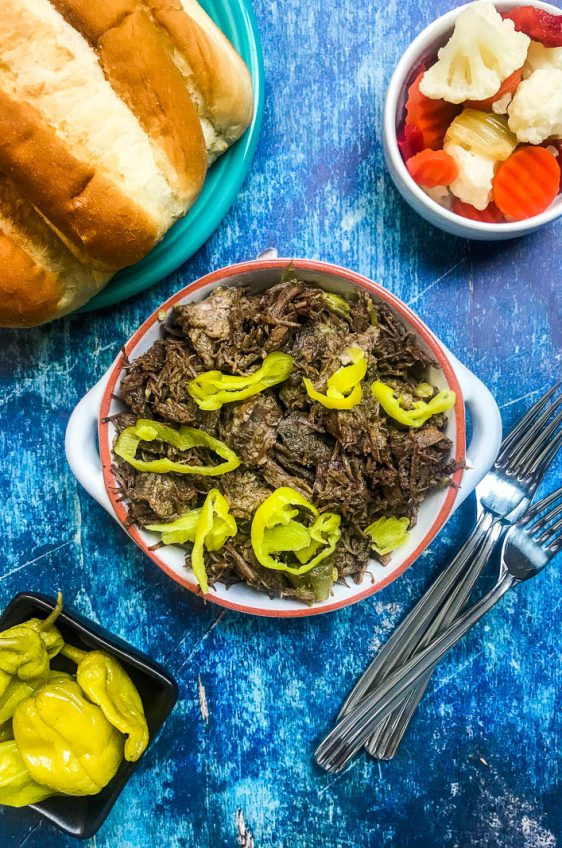 The BEST Italian Beef
Italian beef  is the perfect party food for a large crowd. This easy slow cooker recipe is the food that game day fans crave!
Looking for a great game day meal? I've got the perfect meal: Italian Beef
We make a lot of Slow Cooker Pulled Pork around here. Which means that we eat lots of pulled pork sandwiches. Why I never thought to give Italian Beef a try until now is beyond me.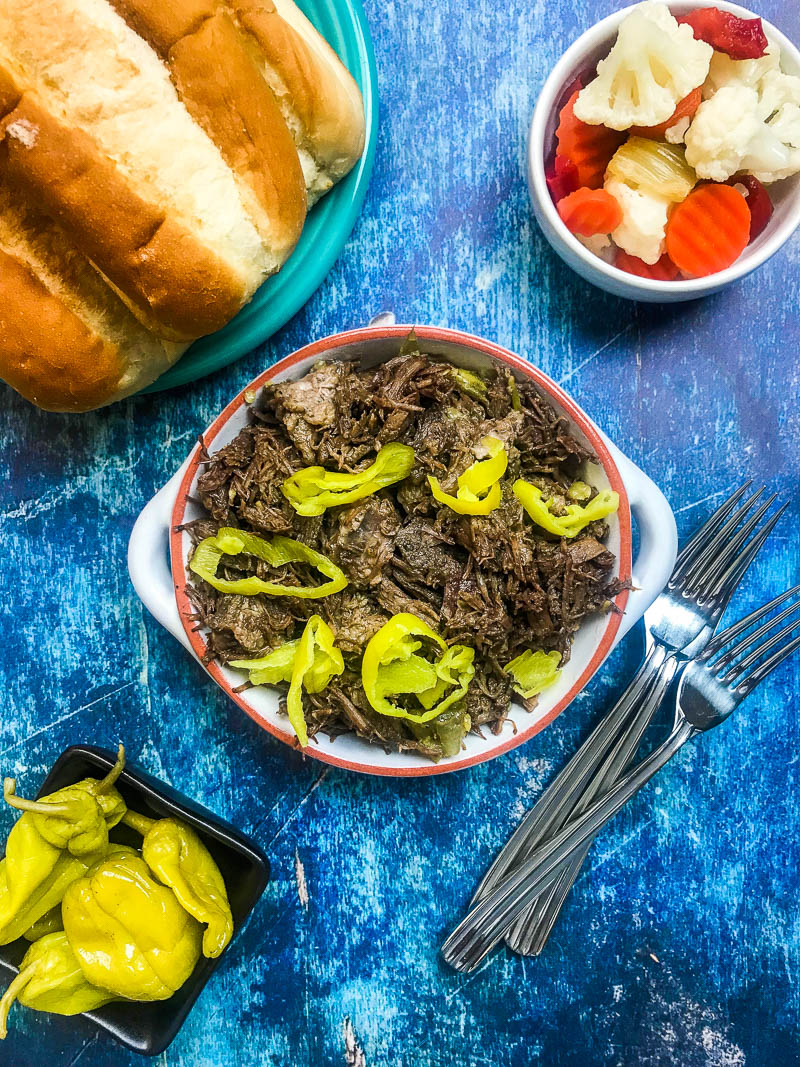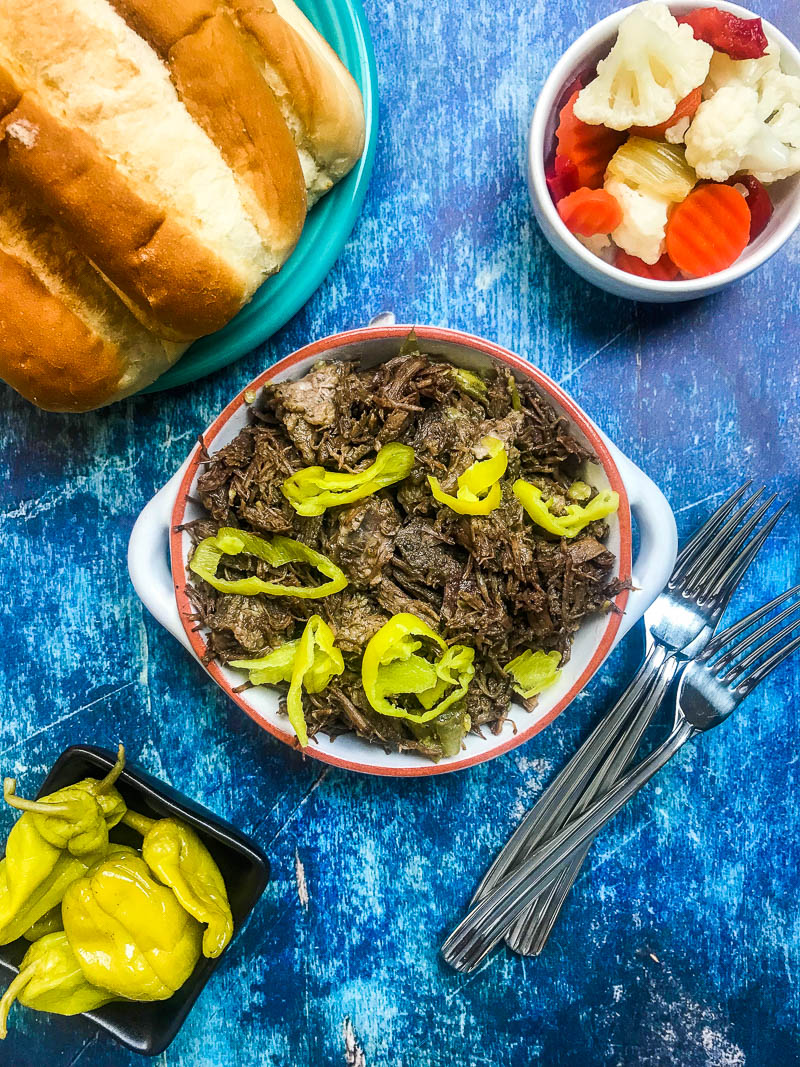 And you can even make this version in the slow cooker OR the Instant Pot.
How do you make Italian Beef?
To make Italian beef, you're going to want to use a chuck roast. The same roast that you'd use if you were making a pot roast.
Then you'll want to season the roast generously with salt, pepper and Italian seasoning.
When it comes to cooking it, you have two options. You can cook it in the slow cooker or you can cook it in the pressure cooker.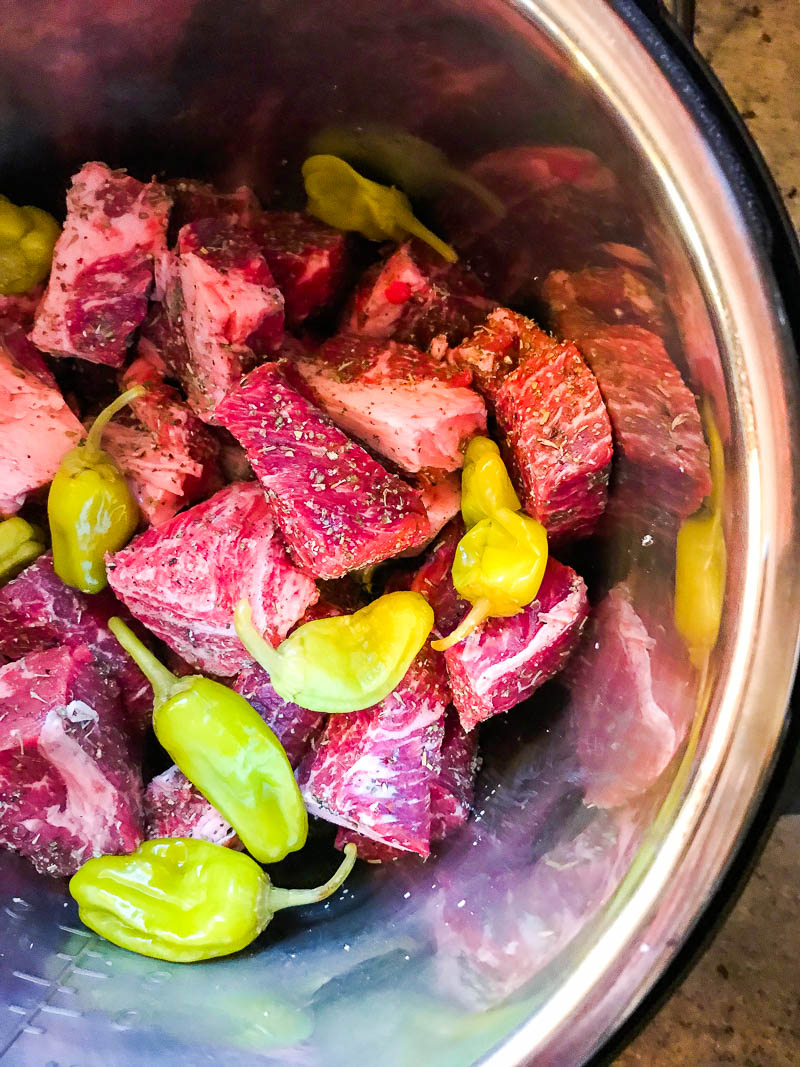 If you pick the slow cooker, place the seasoned beef in your slow cooker, scatter some pepperoncini over top, pour in some beef broth and juice from the pepperoncini and cook for 5 /1 hours.
If you want to make Instant Pot Italian Beef, you will place all of the ingredients in the instant pot, seal it and cook for 90 minutes.
Both cooking methods will get you tender, melt in your mouth Italian Beef.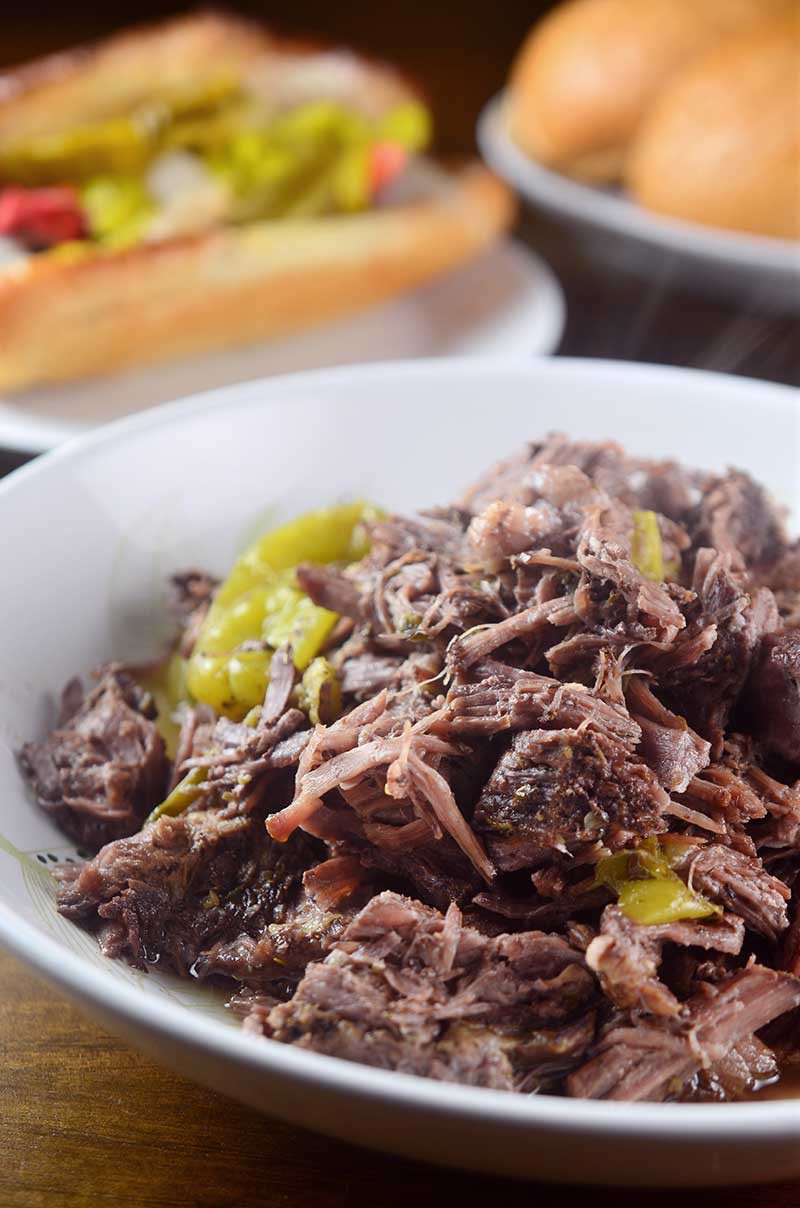 What do you make with Italian beef?
One word: Sandwiches.
More Words: Totally loaded and delectable Italian Beef Sandwiches.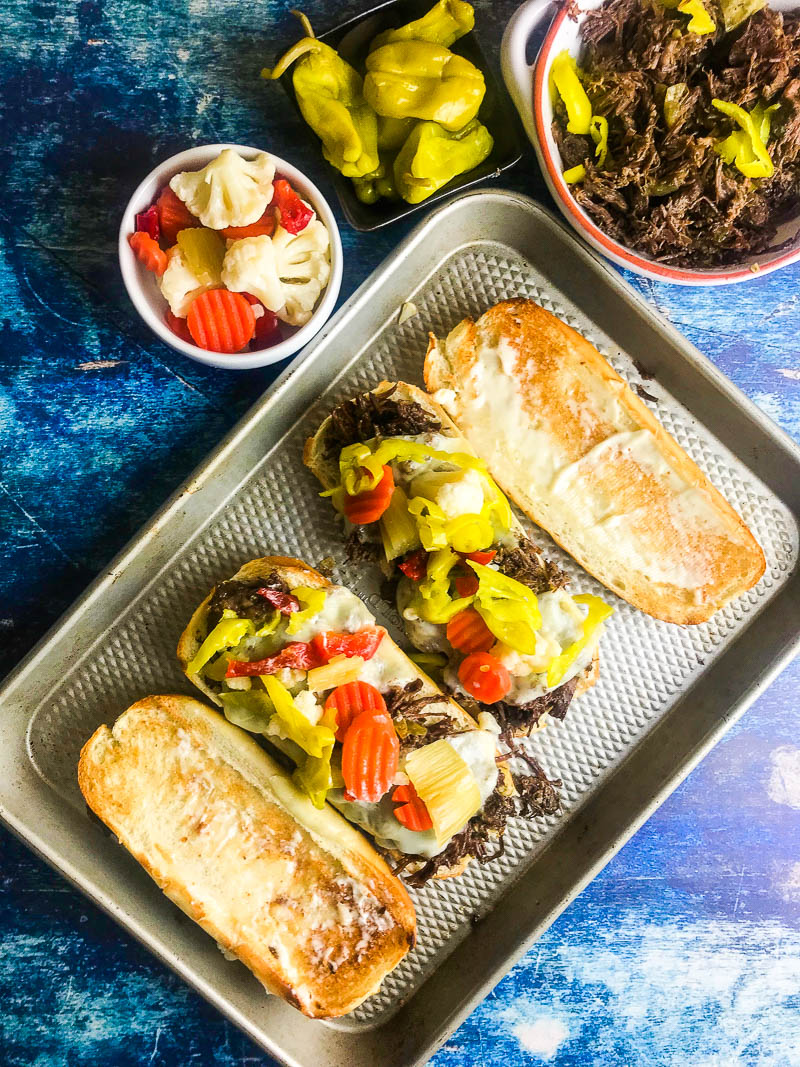 I just love all of the goodies piled on these things.
For the toppings, I chose thick cut smoked provolone , pepperoncini and giardiniera, spicy if you can find it. The added heat is perfection. If you want to make your own pepperonicini you can too!
Finally,  with all the goodies, I highly recommend toasting the bread under the broiler before you assemble the sandwich. And once more, after you add the cheese.
Because…melted cheese.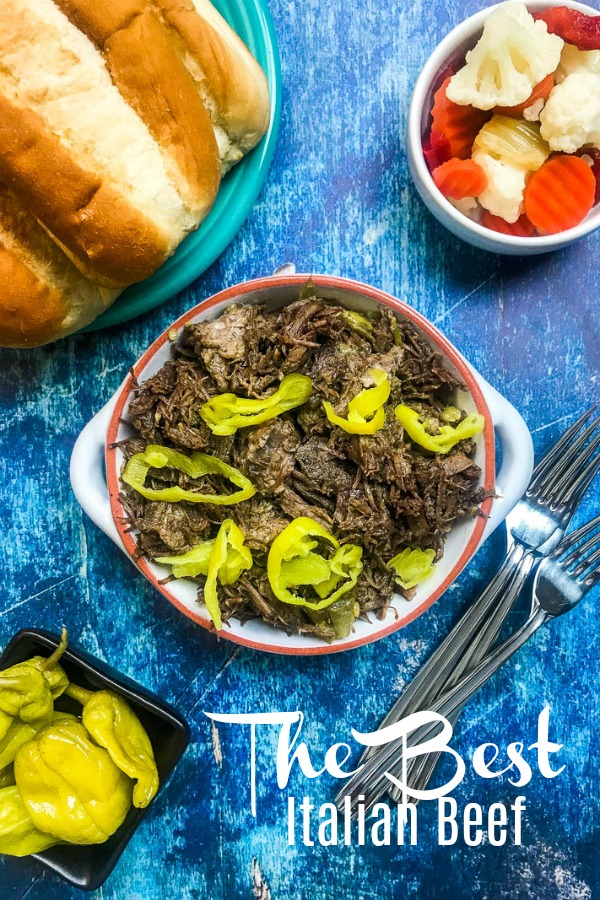 Note: Originally Published 2016. Updated photos and Instant Pot instructions 2019.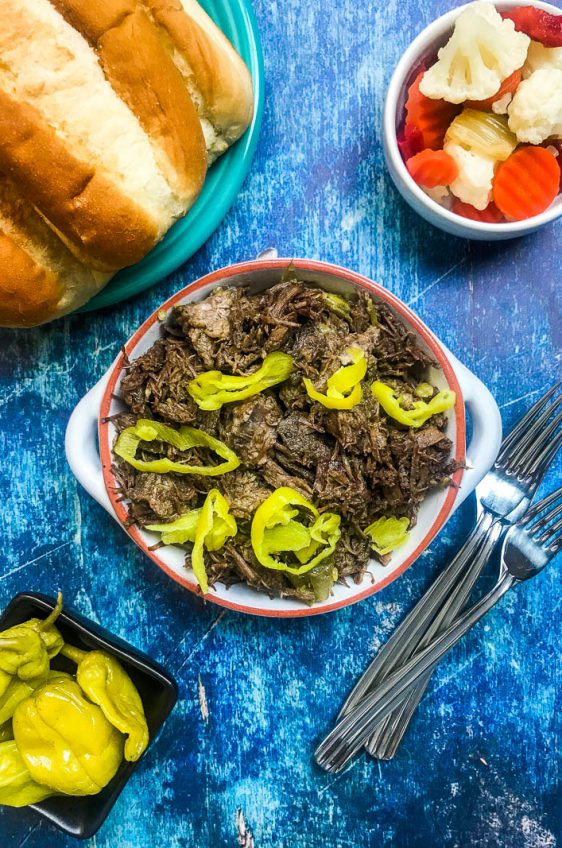 The BEST Italian Beef
Slow Cooker Italian Beef Sandwiches are piled high with shredded beef, provolone, giardiniera, spicy pickles and pepperoncini. Such an easy crockpot recipe!
Ingredients:
2

teaspoons

salt

1

teaspoon

black pepper

1

tablespoon

Italian seasoning

1

3 pound chuck roast, cut into large chunks

8 - 10

whole pepperoncini peppers

plus 1/4 cup liquid from peppers

1/2

cup

beef broth

hoagie rolls

mayonnaise

thick cut smoked provolone

sliced pepperoncini

giardiniera

spicy pickles
Combine salt, pepper and Italian seasoning together in a bowl.

Place roast in the slow cooker. Sprinkle seasoning over the beef and toss to coat. Add in whole pepperoncini. Pour in juice from peppers and beef broth. Cover and cook on high for 5 1/2 hours.

After cooking, use a slotted spoon to remove the beef from the slow cooker. Shred.

Toast hoagie rolls under broiler.

To assemble a sandwich: spoon a generous portion of beef onto one half of hoagie roll and top with provolone. Place back under broiler for 1 minute or until cheese melts. Top with pepperoncini, giardiniera and spicy pickles. Spread mayo on the other half of the hoagie roll. Serve immediately.
Keywords:
beef, crockpot, slow cooker