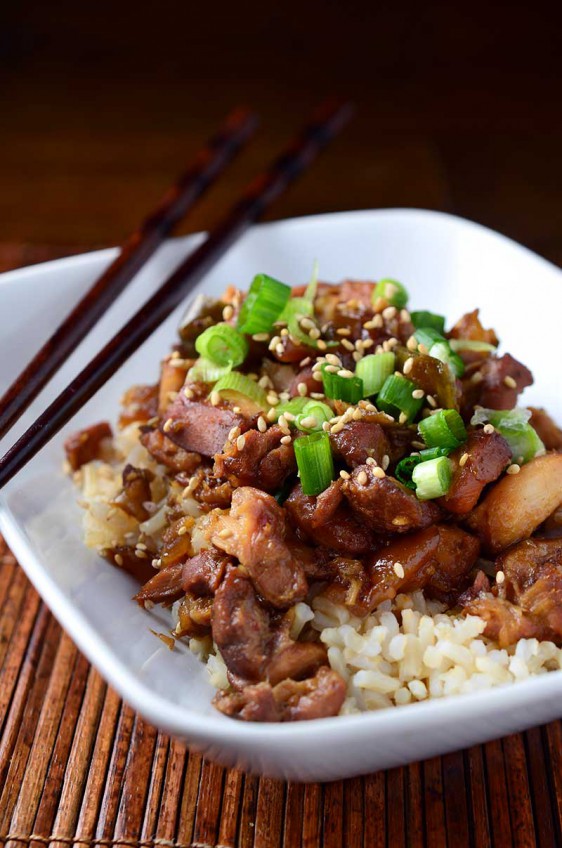 Slow Cooker Sesame Bourbon Chicken
We've almost made it through winter. Only a couple more weeks to go. Yay! But please, don't put your slow cookers away just yet. Not until you've had the chance to make this Slow Cooker Sesame Bourbon Chicken. It's the perfect dish for weeknight meals and sure to quickly become a family favorite.
We usually always have bourbon in the house. It's one of Ryan's go to drinks when he wants a cocktail.
Me? It's WAY too strong. I'm kind of a lightweight and can't drink the stuff.
Cooking with it however, that is a different story. It is great to cook with. I don't do it a whole lot because then I get the "whyyyyyy are you cooking with my bourbon??" Question from the hubs. But when I do, I love the smoky sweet flavor it adds. I've used it before in recipes like this Steak with Bourbon Caramelized Onions  and in this messy wonderfulness Bourbon BBQ Sauce Cheeseburgers. And now, I'm using it to make this Slow Cooker Sesame Bourbon Chicken.
When I set out to make this dish, I was inspired by the Bourbon Chicken that you can get at the restaurant in the mall. You know, the one where it's already cooked just waiting for them to scoop it up for you. It's actually one of Ryan's favorites and that is why I wanted to make it.
I did some research and realized that, with only a little over a tablespoon of soy sauce, I didn't have nearly enough soy sauce to make the traditional recipes so I decided to work with what I did have. What I did have, thanks to not checking my pantry before going to the grocery store, was an abundance of sesame oil. I thought that the nuttiness of the sesame would taste really good with the sweetness of the bourbon so I gave it a shot.
Ryan devoured it.
I immediately wished I would've doubled the recipe to ensure we had some leftovers. I imagine it would only be better the next day. Next time I will. And you better believe there will be a next time. If I can convince Ryan to share is bourbon with me for cooking purposes of course. :)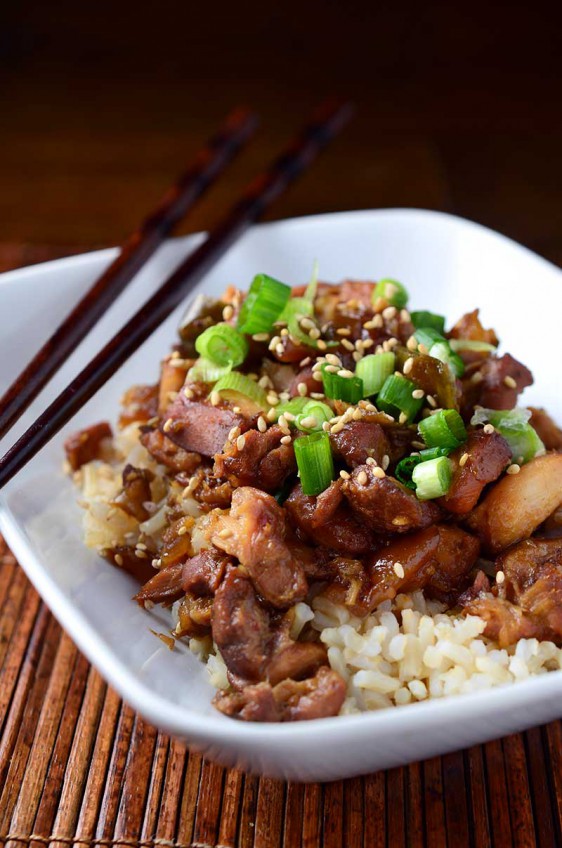 Slow Cooker Sesame Bourbon Chicken
Easy and packed with flavor this Slow Cooker Sesame Bourbon Chicken is perfect for weeknight meals.
Ingredients:
3/4

cup

bourbon

1/2

cup

dark brown sugar

2

tablespoons

distilled white vinegar

2

tablespoons

sesame oil

1

tablespoon

plus 1 teaspoon soy sauce

1

tablespoon

sesame seeds

1

teaspoon

ground ginger

1/4

teaspoon

crushed red pepper

3

garlic cloves minced

6

boneless

skinless chicken thighs cut into bite size pieces

1

yellow onion

diced

1

green bell pepper

diced

Cooked rice for serving

chopped green onions
Whisk together bourbon, brown sugar, vinegar, sesame oil, soy sauce, sesame seeds, ginger, crushed red pepper and garlic.

Place chicken, onion and green bell pepper in the slow cooker. Pour sauce over the top. Cover and cook on high for 4 - 5 hours. During the last 30 minutes remove the lid and allow the sauce to cook down slightly. Serve over rice, garnish with green onions.
Keywords:
chicken, entree, slow cooker